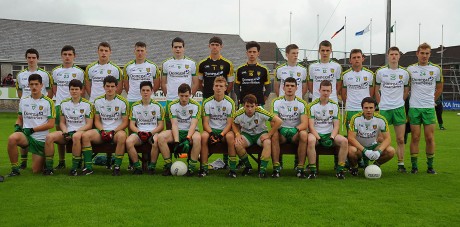 THE Donegal minor team will hope to do what no other Donegal minor team has done before and reach the All-Ireland Minor decider this Sunday.
Declan Bonner's team will face Dublin at 1.30pm in the curtain-raiser to the senior semi-final between the same counties.
Donegal's record at the All-Ireland minor semi-final stage makes for pitiful reading. On five previous occasions they have reached the last four, but they have never managed to progress to the decider.
Bonner is well aware of Donegal's poor record, but his team are unbeaten this season and he believes they have what it takes to make it to the All-Ireland minor final.
"It's been well documented that we should be doing better at minor level," said the Donegal manager.
"It's been a great season so far and we're just sixty minutes from the final.
"I don't know in the past if teams were happy just to win an Ulster title, but we'll be going up there to win. We want to move on and get to an All-Ireland final."
Donegal's preparations have been hit by the injury to star defender Eoghan 'Ban' Gallagher. The Killybegs player lined out the Donegal Senior Championship final last year for his club and the loss of that big game experience is a blow.
Gallagher picked up the injury last week and Bonner has ruled him out. Conor Doherty and Stephen McBrearty came off in Kilcar's Minor Championship defeat to Naomh Columba, but the   Donegal manager is hopeful that they will have recovered in time to play.
"Eoghan 'Ban' played a match with his club on the Monday night and we trained on the Tuesday and he got a serious enough tear on the hamstring.
"He will be out. Conor Doherty came through a light session so we'll look at him again now before the weekend. Stephen McBrearty looks to be ok and everyone else seems to be fine and going alright, so we're looking forward to it," said the Na Rossa clubman.
Bonner and his backroom team of Sean Noonan, Davy McLaughlin, Robert Farren, Gary Walsh, Anthony McGrath and Oisin Cannon split their season into three stages and they are happy with the progress they have made so far.
"We lined the season out in stages. We looked at the Ulster Minor League and our first priority was to get a team organised and fit and playing to a system. That's what we did and we went through that league undefeated and beat a very good Tyrone team twice.
"We parked that away and moved onto stage two which was the Ulster Championship and again we came through that relatively well.
"We won our three matches and the championship. That was stage two over and done with and now we move on to the All-Ireland series and stage three.
"That was our goal once the Ulster final finished to see how far we could go in this, because we feel we're as good as any team left in the competition."
Donegal defeated Roscommon in the All-Ireland minor quarter-final but it was far from a vintage performance.
They led by six points midway through the second half, but struggled for a large spell and had to fight off a late onslaught from the Rossies to reach the semi-final.
Bonner acknowledges that they could have done better, but when the opposition gains momentum, they can be hard to stop.
"It was a difficult day for us. We led by six points and we should have killed the game off. People say we should have done this and we should have done that.
"But if you look at last weekend and take the Kerry-Mayo game. Kerry were four points up at half-time with an extra player and you're thinking they'll kill it off.
"Mayo came back at them and got a five point lead with time nearly up and you're saying they should kill it off, but they didn't.
"That's football and that's what happens. Every game is different and they don't all just go with logic. Sometimes games take on a life of their own and you just have to go with it."
Donegal have been excellent at times this year, but they haven't delivered for the whole hour in any of their games during the championship. They will need to improve significantly when they face a promising Dublin team.
"Hopefully we can get the lads playing for sixty minutes on Saturday and we'll need to play for sixty minutes because Dublin are a good side.
"I had them watched in the Leinster final and I went down to Thurles for their quarter-final with Cork.
"They're a good side and they play like their senior team. They're mobile, very athletic and they have good forwards.
"They have a very good full-forward line, led by their captain Con O'Callaghan, who is a very good player, and they have a super centre half-forward as well. It's going to take a massive effort."
Bonner has been the manager of this group since under 16 level and he made a point of arranging a game against Dublin every year.
"We have played Dublin three times over the last couple of years because it was a very good gauge of where we were at.
"It's well known about the hard work that Dublin are doing at underage level and we need to be at the same level if we are to compete with them.
"We won our game at under 16 level and they beat us at under 17s and funny enough, we played two weeks before the Ulster final in a game in Cavan and we drew with them.
"That was a really good workout. The boys know what they are like and they do not fear them. That's not being cocky or over-confident, they just have a belief in the team and their own ability."
The minors will step into the lion's den on Sunday, but Bonner does not view playing in Croke Park as a disadvantage.
It's a big game and he expects a lot of his players to be playing in big games in Croke Park in the future.
"I could say it's not fair that we have to go to Dublin and play them in Croke Park as they've played there three or four times, but that's only making up excuses.
"We knew once we got over the quarter-final that the games would be in Croke Park and that's where we want to be. We're not going to blame the Hill, or the match being in Dublin.
"This is our first time playing in Croke Park. It's a great occasion and I do believe that the lads will deliver on the day.
"If you're going to be playing football at a high level and I would expect a lot of these lads to play at a high level, this is where all the big games will be."
Donegal are a fast, mobile team and playing at headquarters should suit the style of the team. However, Bonner insists it will take a massive effort from all of his panel.
"We have a fair bit of mobility – we have a fair bit of pace. Croke Park would definitely have suited Eoghan 'Ban' with his pace, but we have lots of quick players to come in.
"It's probably going to take a 21-man effort. It's a big park and it can drain you fairly quick. The whole day and the build-up can drain you and we're trying to keep a lid on that and let the lads relax.
"Our preparation will remain the same as it has for every game to date and that will settle the lads and keep them calm.
Like the senior game, the Donegal minors will go into the semi-final as underdogs. Bonner is not worried about that and he believes if they perform, then they will reach the decider for the first time in the county's history.
"Dublin go into the game as favourites, but we're going up there looking for a performance, and if we get that performance, I have no doubt we'll reach the All-Ireland final."
Posted: 8:30 pm August 30, 2014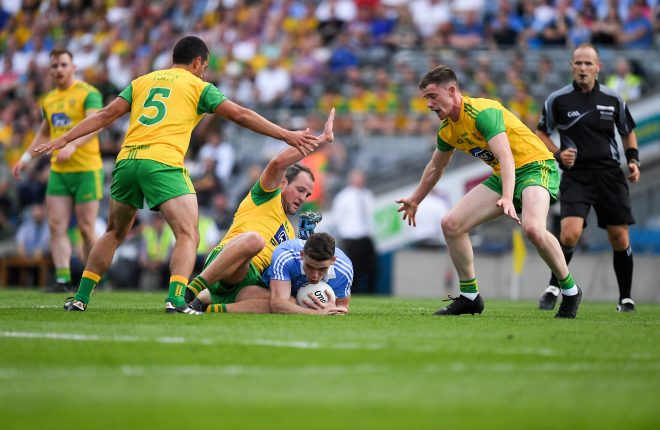 There were high hopes ahead of the first weekend of the Super 8s, but unfortunately the football didn't live...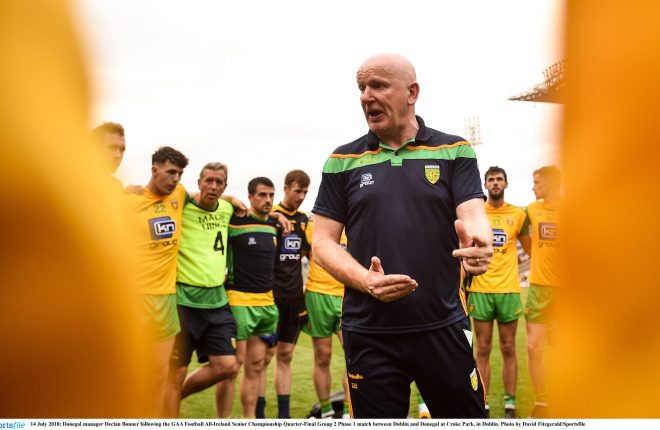 Donegal face Roscommon in Dr Hyde Park on Saturday at 5pm.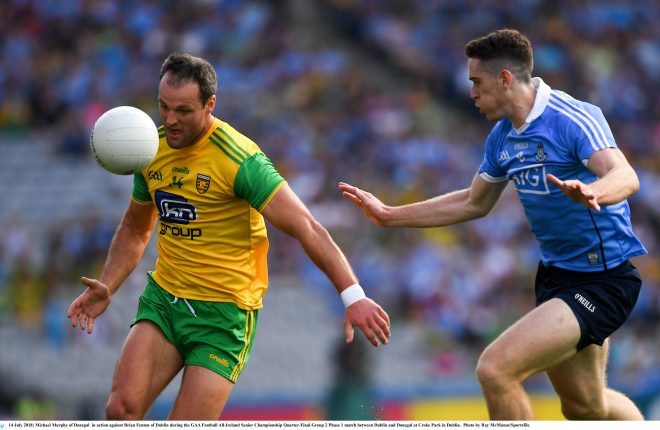 Dublin too strong in Croker.