THE latest in a long line of stars from the entertainment industry, Audrey II, has been enjoying time in Donegal.
Famous for his role as the raunchy flesh eating plant from Little Shop of Horrors, Audrey II has spent the past four weeks in rehearsal for his lead role in Donegal's first production of this Broadway favourite, at The Balor Arts Centre, Ballybofey.
Speaking at rehearsal Audrey II said: "The schedule is obviously pretty intensive but there are some days off planned and I intend to make the most of them and sample the best of what Donegal has to offer." 
Audrey II's family are rumoured to have 'roots' in Donegal and he intends to do some research and meet up with some long lost relatives while he's here.
He's already sampled his first pint of Guinness and other plans include scaling Errigal and taking in a Donegal GAA match.
Keep your eyes peeled for Audrey and his exploits in the coming weeks!
A major Hollywood star, Audrey II was first catapulted to fame in the 1980's with the original Broadway stage production of Little Shop Of Horrors which ran for over five years.
He was then signed up to appear in the film version alongside the likes of Rick Moranis and Steve Martin. 
Fans of Little Shop of Horrors will know that Audrey II is the man-eating plant grown by Seymour, the hapless employee of a Skid Row florist in the darkly comic musical.
Originally a 1960 Roger Corman film, Little Shop of Horrors was transformed into a rock 'n roll stage musical in the 1980s before being made into a 1986 film featuring Rick Moranis and Steve Martin.
Audrey II is staying in the Archway Suite at The Villa Rose Hotel for the duration of his visit and says that the staff there have been most welcoming. The hotel is also next door to McConnells butchers which is ideal for a flesh-eating plant!
You can follow Audrey's exploits with pictures posted on the Balor Arts Centre Facebook page or on Twitter using the hashtag #wheresaudrey
You can see Audrey II in his starring role in Little Shop Of Horrors at The Balor Arts Centre, Ballybofey from Wednesday August 6th to Sunday August 10th at 8pm nightly – ring 0749131840 or log onto www.balorartscentre.com
Posted: 12:30 pm August 4, 2014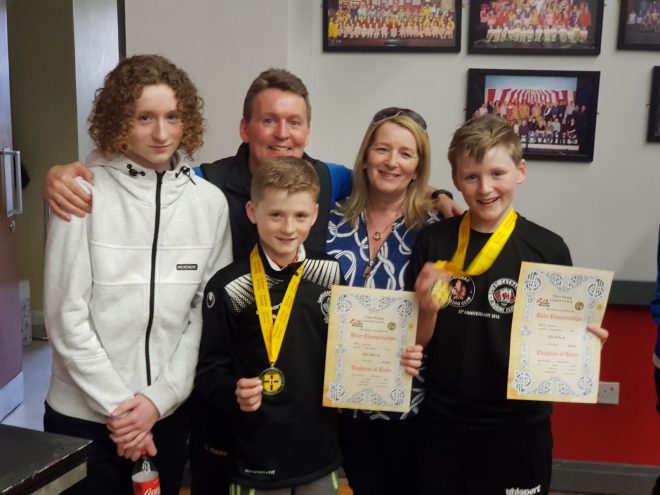 Seán Brady Devenney (11) and older brother Cathaír (12) from Corgary, Ballybofey, now progress to the All-Ireland finals in...
Inspired by the patchwork quilt 'Love Across The Waves' by Arranmore and Tir Boghaine Women's Groups, At The End...