BY CHRIS MCNULTY AT CROKE PARK
JIM McGuinness made a quick getaway on Saturday evening to run the rule over the game between Dublin and Monaghan, but speaking on Sunday the Donegal manager insisted that there is 'a lot more in us'.
Having just booked a place at the All-Ireland semi-final, McGuinness made a hasty dart from the Cusack Stand dressing rooms over to the Hogan Stand's premium level to take in the last of the quarter-finals. Damian Diver was dispatched to media duties and McGuinness began the onerous task of plotting for a meeting with Dublin.
His own team had stumbled home, winning by a point against rugged Armagh, but McGuinness wasn't satisfied with his team's performance, but credited the manner in which they came strong to win it.
"When the real threat came and Armagh hit the front we were sharp, clinical and emphatic," he told the Donegal News.
"That is how I hope we would react in a situation like that, but we shouldn't have been in that position and we have a lot of things to work on. We conceded a very soft goal that let Armagh back into the game again. That made it competitive.
"There is a lot of the performance levels that we wouldn't be happy with. I think, as a group, there were a lot of things that we took for granted and we ended up doing some silly things.
"It's probably a good thing that we've just won an All-Ireland quarter-final and we aren't happy. There is a lot that we can add to our game. That, for me, is a positive. Within 24 hours we'll have got over that performance. We are where we want to be and we'll get back to training in good spirits on Tuesday night. We have a three week window until a game to savour for these players.
"We feel that there is a lot more in us."
Donegal led by two points at half-time thanks to Odhrán MacNiallais's goal, a superbly-executed strike by the young Gaoth Dobhair man.
McGuinness said: "It was a fantastic finish by Odhrán and he's really stepping up to the plate. That goal was a very important moment in the game for us. It gave us a chance to build some momentum."
Donegal's wide count was startling; 15 in total over the 70 minutes.
When Stefan Campbell goaled for Armagh it was game on and Donegal were on tenterhooks.
McGuinness said: "We wanted to push on in the third quarter and we were in a good position. We felt comfortable. We had a lot of wides and, in general, our decision making wasn't what we'd hope it to be.  Those are things we are usually very good at. Our shot conversion is usually very high so that was uncharacteristic, but we will get our teeth into that over the next three weeks."
Armagh attempted to rough Donegal up, but Donegal did well to hold the nerve, although there were occasions when the mercury did rise above the tolerated line.
McGuinness said: "We held our composure well in front of a brave, physical challenge, although we got sucked into a few bits and pieces. Overall, we're just delighted to get through into an All-Ireland semi-final."
Now they and the Dubs joust for the right to advance to an All-Ireland semi-final after Jim Gavin's side hammered Monaghan 2-22 to 0-11.
McGuinness said: "We are seventy minutes from an All-Ireland final. That's the reality for us now. Dublin will go in as raging hot favourites, but we'll live with that. We will go about our business as we normally do. We will get the heads down and work hard.
"We have things to work on and if we can follow through and get a performance hopefully we can make the game competitive."
Posted: 3:49 pm August 12, 2014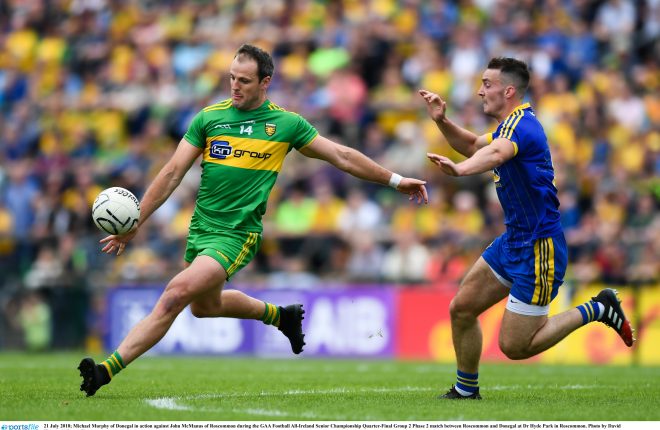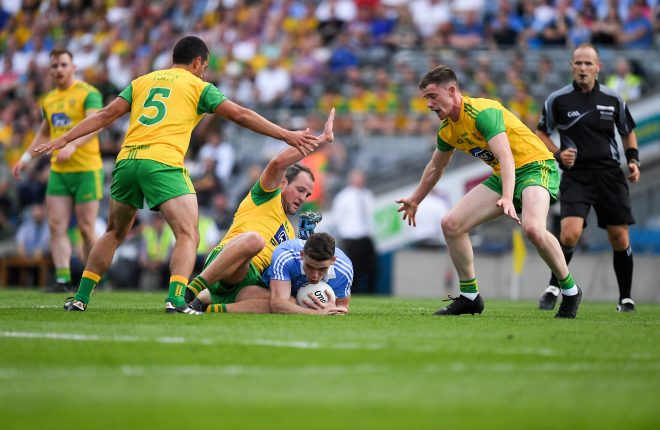 There were high hopes ahead of the first weekend of the Super 8s, but unfortunately the football didn't live...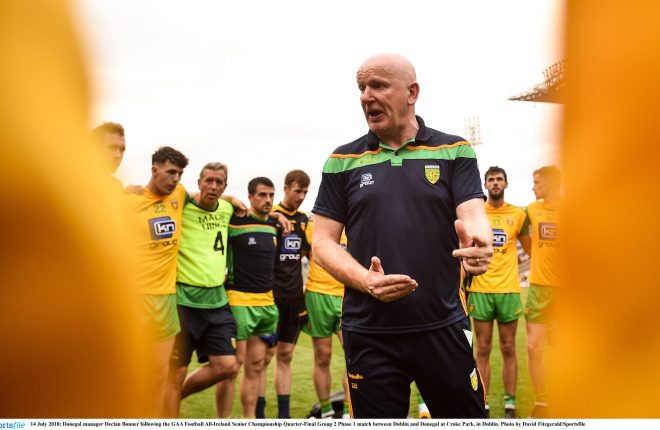 Donegal face Roscommon in Dr Hyde Park on Saturday at 5pm.