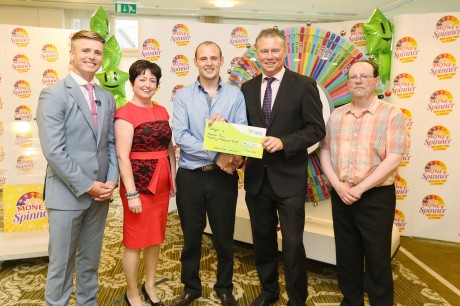 AN INVER man won €20,000, including a city break, at the National Lottery's Money Spinner event held at Lough Eske Castle in Donegal on Saturday night.
Eamon Foy got married four months ago to Martina who is also from Donegal. They met outside the tourist information office in Donegal town eight years ago! He is an engineering teacher in Deele College in Raphoe.
Martina bought the Scratch Card for Eamon and posted it. When he got the phone call from the National Lottery to say he was going on the show he thought it was a prank call!
Eamon helps out on the family farm in Inver and also likes to restore machinery. He restored his father's tractor that he had for over 25 years. Eamon has not won anything in his life and he is very excited about getting to spin the wheel. He intends to use the winnings to upgrade the car and maybe go on holiday.
The National Lottery's eleventh Money Spinnner event was presented by Brian Ormond, took place at Lough Eske Castle. Five players from Meath, Donegal, Cork, Dublin and Longford won prizes to the value of €87,000. The biggest winner on the day was Sandra Forde from Longford who won prizes to the value of €25,000.
Twelve Money Spinner events will take place throughout the summer in both Dublin and around the country. Five players will be drawn each week to attend a special Money Spinner event presented by Brian Ormond, to spin the Grand Prize Wheel for a chance to win up to €250,000 instantly. In addition, winners will also win other prizes valued between €500 and €10,000. These include luxury holidays, city breaks, shopping sprees, smart televisions and tablets.
Money Spinner Scratch Cards are available now at National Lottery agent stores nationwide, priced at €3. Players have the chance to win instant prizes of up to €50,000
Posted: 12:42 pm August 18, 2014