BY SEÁN P. FEENY
LAST Saturday, August 2, hundreds braved the torrential rain to climb Errigal with a Donegal fundraiser as he took to the county's highest mountain for the 1,000th time.
The Errigal 1000 Hike was the brainchild of Henry O'Donnell to raise funds for a new 4×4 team vehicle for Donegal Mountain Rescue Team (DMRT).
Henry, who divides his time between his native Carrickfinn and Letterkenny, knows only too well the hard work the DMRT volunteers 'do morning, day and night'.
"Although, thankfully, I have never needed to call DMRT myself, I know many people who have and I have seen them in action many times while out training myself."
Initially intended to be a family event to celebrate his 50th birthday, Henry decided that he would make is 1,000th climb a charity event where he was joined by close to 300.
"The event was a total success, although the weather was really nasty. But our planning was meticulous in that we had prepared for both good and bad weather and had all the facilities necessary in place and thankfully there was not a single incident."
Henry said they set out to raise €2,000 for the voluntary group, a target they easily surpassed. "We have easily exceeded this target and couldn't be more delighted about and we want to thank everyone that came out on the day.
"The volunteers of DMRT are the salt of the earth and don't get enough praise, that's why we set about to do this, not just to raise much-need funds, but to give them recognition."
See Friday's Donegal News for pictorial coverage of the event
Posted: 2:13 pm August 6, 2014

A Scottish couple got into difficulty while walking on Muckish Mountain.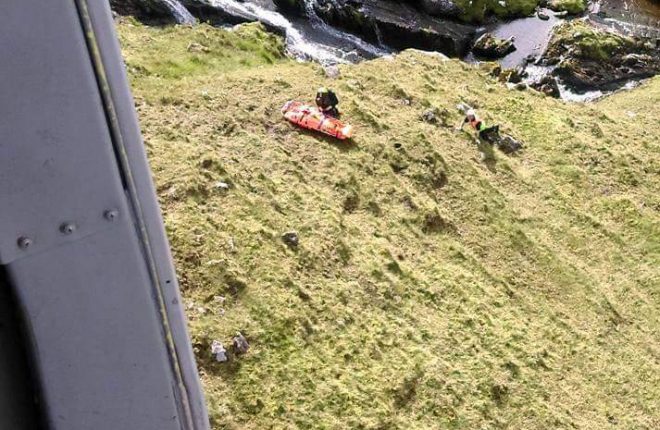 The female casualty suffered a lower limb fracture, wrist and facial injuries.
THE August Bank Holiday weekend 'Errigal 1000' event by Carrickfin businessman and adventurer Anraí Ó Domhnaill has raised an...