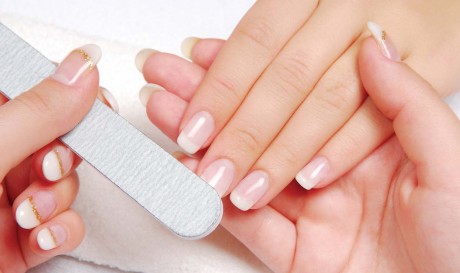 WE ALL know that nails can reveal a lot about a person, from the colour they choose to the way in which they wear their nails, whether it is short or long, square or oval.
But while the health of our nails is something we usually take for granted, there are a growing number of people who are less fortunate when it comes to nails.
Nails should be a healthy beige or pale pink colour, they should be flexible and have a smooth surface. The edge of the nail known as the free edge should be even and smooth.
If nails are neglected, they can become dry, flaky, brittle, bruised, pitted, ridged and the free edge can split, flake or break.
The time of year can also have a dramatic effect on the condition of your nails; the nails begin to suffer as soon as the cold weather is upon us.
But it is not just the cold harsh winter weather that affects our nails; the drying effects of central heating and lack of vitamins they get from shorter periods of sunshine can be just as big a factor as skin and nail damage as well.
Many women find that as soon as the weather begins to turn their nails can start to peel, become brittle and snap. The skin around the nails dries out and sometimes tears which can result in infections and unsightly cuticles.
The most common nail conditions are brittle nails, nails that just will not grow and are prone to peeling, cracking and splitting. We all know that diet and lifestyle have a big influence on our nails but there are some really good professional products and treatments available to improve the condition of the nails. Brittle nails are a common nail problem.
It is rare for an internal illness or a drug to cause brittle nails, the primary cause is typically environmental. There are two types of brittle nails- hard and brittle nails and soft and brittle nails. Hard and brittle nails are caused by too little moisture with older people more prone to this condition.
This type of brittle nails can make nails feel dry and chipping and flaking commonly occurs anywhere on the plate.
Dry skin is also common in people with brittle nails and the condition occurs more frequently in the winter from dry heat used to warm indoors and in very dry climates with little humidity which results in breakages.
Putting essential moisture back into the nail plate at the root through the use of oils is vital; not only to keep the exposed nail healthy but also to ensure that new nail growth is strong and rich in the essential moisture that will prevent peeling and drying from occurring.
At the other end of the spectrum, soft and brittle nails are thought to be caused by too much moisture and can affect people of any age, but are most common in young people particularly those who wash their hands frequently – including medical professions and chefs.
While soft and brittle nails don't feel dry they tend to layer more at the end of the nail plate when they chip A lot of people will find that their nails just don't seem to grow especially in the cold winter months.
These nails are pliable and are likely to break before they can grow long, they need a specialised product which can be recommended by a professional to help strengthen the nails to grow long and strong, but boosts growth to get them to the perfect length more quickly.
Ridged nails sometimes known as Beau's lines, this condition is often indicated by furrows or wavy horizontal lines across the nails and may result from infectious diseases, emotional shock, injury or alcoholism: Mild cases may be treated carefully by gently buffing to help smooth out furrows or apply a ridge filler basecoat designed to fill out ridges and bumps for an even colour application.
Depending on the severity, the nail should be treated gently avoiding too much pressure, as some nails may also be fragile if it is caused by illness or old age.
Dry cracked cuticles another common condition which starts with dry skin around the nail plate which can lead to tearing of the skin and subsequent infection.
Daily exfoliating of dry skin around the nail plate will prevent this tearing from occurring and therefore minimise the risk of infection, the cuticle needs to be nourished with a rich cream or oil and gently pushed back.
Fungal infections are caused by a fungus which affects a fingernail or toenail, this is known as Onychomycosis. Infections can make nails thick and discoloured and cause them to be brittle or change their shape. Prescription medication is usually required to cure a fungal infection.
People suffering from a common nail condition should visit a professional to get advice and information on whether it is a basic manicure or a luxury manicure that is needed, where the nails are then assessed, identifying the condition and a treatment plan with recommended products is devised for the individual.
Others that have got long, well shaped nails and are not currently experiencing any problems should really consider using a nail treatment at home to prevent any breaking or peeling from occurring. Prevention is definitely better than cure!
With summer in full flow the flip flop and sandal season is upon us and the pedicure treatment has risen up through the ranks to become a luxurious and desirable treatment.
At Genesis we offer a luxury foot spa treatment in a relaxing pedicure chair with optional vibrating massage which provides a full massage for the upper and lower back while the foot muscles are relaxing, exfoliate and moisturise the skin, softening toenails making them much easier to file and treat.
Mary Ferry is the proprietor of the Genesis Skin Care & Laser Clinic in Upper Dore, Bunbeg. Tel 07495 32575, www.genesissalon.ie. If you have a query you would like answered in Mary's column confidentially, e-mail healthandbeauty@donegalnews.com
Posted: 7:30 am August 2, 2014