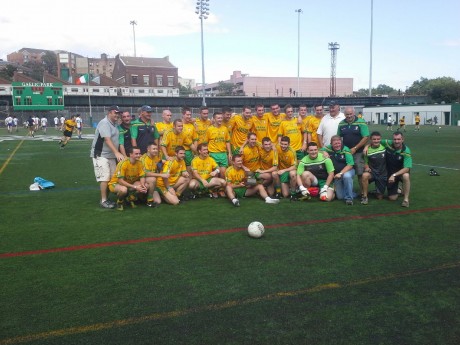 Revenging a last game of season 5 point loss to Manhattan Gaels, Frank "Chief" Molloy's Donegal NY Junior side produced a 10 point NY Final victory Sunday, finishing 3-14 to 2-06 to take the silverware at Gaelic Park.
Not even the loss of a man slowed the Donegal lads once they broke a 03-03 deadlock at 15 minutes. A trademark Donegal NY flurry of scores quickly made it a 2-06 to 0-3 match and the Gaels never got a foot into it.
Molloy, Assistant Manager Mike Hegarty, and Cathaoirleach Keelan McLaughlin put together a sparkling combination of NY senior veterans Kevin Lilly and Antoin O Duibher, Junior stalwarts Tommy Moran and Jack Donnelly, homegrown products Kevin Purce, Brian Hegarty, Brian Sweeney, Brian Giveney, and Ed Myers, with the import talent of Daniel Shovlin, Donal Dunnion, Simon Gillespie, Stephen Cunningham, Brian Breslin, Jamie McHugh, Conor Regan Pol Murrin, and others from Donegal and other counties.
Their 9-2 record (the other loss a 1 pointer that mattered not at all) saw them finish with 170 points scored to only 81 scored against them. a point differential clearly showing how dominant Donegal NY's Junior panel was in 1014.
Posted: 3:01 pm August 26, 2014