BY RYAN FERRY
IT'S been a turbulent season for the Donegal ladies team, but they appear to have come through the worst of it and they head into their qualifier match with Kerry in Birr today (throw-in 4pm) with confidence.
Donegal were relegated from Division 1 and new manager Margaret Foy stepped down after just five weeks in the job.
Davy McLaughlin came in as manager towards the end of the league, but he could not save his team from relegation.
As a result of the managerial switch, the team were not as prepared as they would have liked for their Ulster Championship semi-final against Armagh and they were defeated by the Orchard county, who would go on to claim the Ulster crown.
That defeat was disappointing, but McLaughlin was able to take positives from his team's display.
"We were disappointed with the result against Armagh but not with the performance. We led by a point at half-time, but they were just a bit too strong in the end," McLaughlin explained.
"We've done a lot of work since that and we actually beat Armagh recently in a challenge game and that will give the girls a lot of confidence.
"We have worked very, very hard since that and we trained Tuesday, Thursday and Saturday this week and everyone is in good tune ahead of the game," he added.
Kerry won the Munster Championship in 2013, but they were hammered in this year's decider by Cork. William O'Sullivan's team will be determined to bounce back from that defeat this week.
"In fairness, that was a big surprise. I wouldn't say that we'd be expecting a backlash from them, but there will be a bit of the wounded animal about them, no more than ourselves," said the Donegal boss.
"I believe they've closed ranks too and there's no talk to the media or anything like that.
"But we're not going to get too concerned or worried about them. Obviously, we're not going to underestimate them, but our girls have a point to prove as well and we'll be up for it."
Donegal – who have doubts over the fitness of Therese McCafferty (back) – failed to win a game in the league this year, but they did pose some questions of Kerry before losing by 3-13 to 3-8.
"We played them in the last game of the league and to be honest it's hard to know if you can take too much from it. Geraldine (McLaughlin) and Niamh McLaughlin weren't there that day and a few others didn't travel because of exams.
"They were seven points up at half-time, and they won by five. So I suppose you could say we won the second half by two points.
"The league certainly didn't go to plan and there's no point saying otherwise. I came in with two games left and really the damage had already been done.
"But the girls were a bit unlucky. They weren't too far away in some games and they were unlucky to be relegated with how things panned out in the end.
It was a tough ask for McLaughlin to come in and turn around the fortunes of the team in such a short period of time, but the Moville man believes that they have good foundations set in place now.
"When I came in we had ten weeks to the Armagh game which might sound like a fair bit of time, but it's not near enough to get things settled again, build a team, get them playing the way you want them to play and get the fitness up at the same time.
"It's been incredibly challenging, but the girls have dug in. And if we are beaten on Monday as much as we will be disappointed, I do think we will be in a better position for next year," he concluded.
* Today's game will be shown live on TG4
Posted: 10:00 am August 4, 2014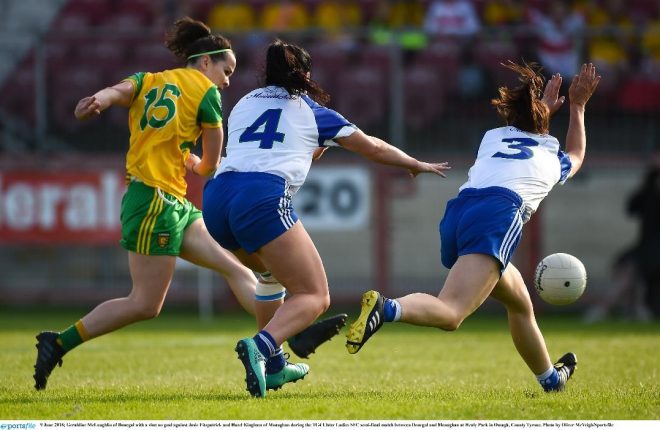 Geraldine McLaughlin is back to her devastating best and is gunning for Ulster SFC glory once more.
McKenna is hoping Donegal can beat Cavan 24 hours before the senior men go head-to-head in the same fixture...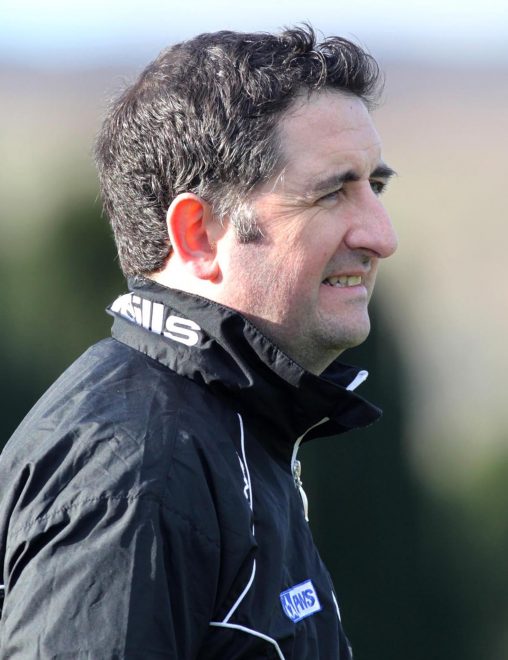 Donegal have been drawn to play Monaghan in the Ulster Championship semi-final, a game which has been pencilled in...