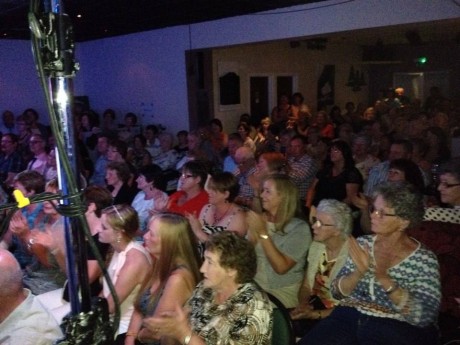 BY C.J.MCGINLEY
FANS have described Daniel O'Donnell's concert in Arranmore on Thursday night as one of his best ever gigs.
For over four hours he entertained fans from as far away as Australia, America and all over Britain.
"This is where it all began for Daniel, many years ago," one fan said.
"He was just brilliant tonight. What a show. I've been to over 1,000 of Daniel's concerts and this was up with the best," the fan added.
The concert took place in Early's Bar and it was rocking during the four hour spectacle. Daniel was joined on stage during the show by Mary Duffy, Andrew Early, Teresa Rodgers and many other local musicians including bar owner, Jerry Early.
"Daniel told Jerry Early after not to remove the stage- for he will be back again next year," the fan said.
"The show was something else. The atmosphere was brilliant. Daniel was so relaxed and clearly enjoyed himself," she added.
Posted: 12:46 pm August 8, 2014