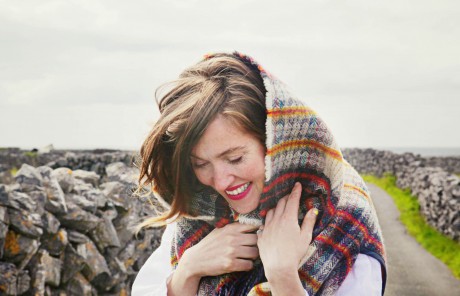 AN ARDARA woman who is passionate about Donegal tweed, linen and hand-knits is putting the county on the global map with her innovative design approach.
Aoibheann MacNamara got together with Galway stylist Triona Lillis of Astor Vintage and created a small range of clothes which are already proving popular with fashionistas. It is called The Tweed Project.
The unusual Donegal tweed blanket coats and McNutts linen shirts were featured in last weekend's Irish Times magazine. They are taking the classic Irish fabric well beyond The Quiet Man look.
Having grown up in Ardara, the daughter of Catriona and Brendan, Aoibheann is passionate about ensuring the future of the indigenous tweed and linen industry.
She also want to see a major revival in the Donegal's renowned knitting traditions.
Speaking to the Donegal News from Iceland this week, Aoibheann said that today, more than ever, people need to buy Irish.
"No one minds paying more for a quality product they know will last. Donegal is the epicentre of tweed and the world seems to be embracing it and we need to do the same. If we allow these traditional skills to die out, they will not come back. We need to learn from the older knitters before their skills vanish too.
"We are working on ideas for knitwear that will be produced here. We have got to get producing here," Aoibheann said.
The energetic entrepreneur started the popular Ard Bia, Galway's funky restaurant and gallery at Nimmo's.
The Tweed Project offers a small clothing range in tweed and linen designed and made in Ireland and motivated by international interest in contemporary Irish culture.
The tweed in the collection is made by Molloys outside Ardara, whose name has been associated with weaving for more than five generations.
The linen is from McNutts through Baird McNutts, a company associated with quality linens and tweed for more than half a century.
MacNamara and Lillis travelled to Ardara in February to start work with the Molloys on the blanket tweeds and they are hoping to develop further lighter weights.
This modest collection comprises just seven items in basic shapes – a dashing and colourful blanket coat, grey tweed trousers and shorts, two types of white linen shirt, a linen T-shirt and a leather strapped tweed tote lined with linen. Prices start at €65 for the bag up to €240 for long trousers.
Island launch
The Tweed Project made its debut at the Drop Everything cultural festival on Inis Óir in May and already five to six of the blanket coats are selling every week in Nimmos.
Given that blanket coats are a key winter trend and feature prominently in collections from Burberry to The Row, the style was inspired.
Aoibheann is about to renovate an old carpenter's warehouse in Galway where one of the out houses will become the design and production headquarters of The Tweed Project.
In October she heads to Berlin to develop further ideas with Starstyling, an arty street wear shop and brand, on a collection using foil on tweed.
"It is an ambitious project and you are fighting against The Quiet Man look but these new designs are already proving popular," she adds.
Further information contact Aoibheann at ardbia@gmail.com and thetweedproject.com.
Posted: 10:09 am August 10, 2014