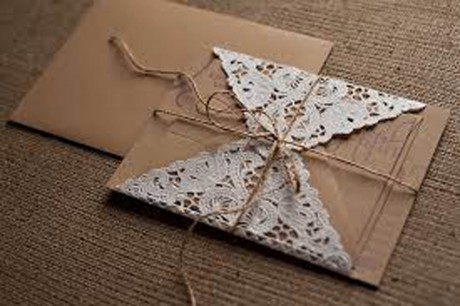 MOST brides-to-be want their invitations to be perfect! One great way to get a perfectly customised and one-of-a-kind, unique invitation, is to do it yourself.
For many first-timers the typical imagery that pops up in their mind is something that looks maybe vintage, home-made, the shabby- chic look and that they can make on the cheap!
Yes, making your own wedding invitations is one of the most popular of the many ways to cut costs from your wedding budget.
Some brides-to-be reading this will dismiss the idea with the thought that they are just not creative enough to make an elegant handmade invitation.
In this feature I want to share with you an easy step by step tutorial on making a shabby chic handmade wedding invitation with style and class.
I will show you how you can create your own handmade wedding invitation that is affordable without looking cheap.
Of course, things will be a lot easier for you and less time consuming if you round up the troops, that being your hubby- to- be and your every ready bridesmaids!
In fact, this year I helped my boyfriend's sister to make her wedding invitations which turned out to be very classy and elegant.
I will admit there were a couple of sore fingers from twisting the wires attached to the paper flowers, but I think you will all agree the results were worth it.
Thankfully, there was a 'team' of us working on them and this was a big help! So, crack open a bottle of bubbly and plan a couple of evenings with your loved ones making your beautiful handmade invites.
I promise you this is one of the most fulfilling things you can do, and as I have mentioned above it will help cut costs from your wedding budget which always gets a thumbs up!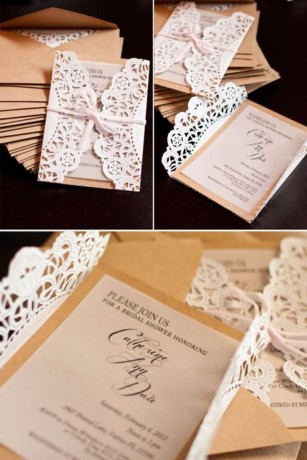 DIY lace wedding – doilies and craft paper
What you will need:
Brown Card
Doilies / lace
Ribbon/twine (in your colour preference)
Craft glue/ glue-gun
Scissors
Rulers
Access to a printer for the text.
Patience
Champagne!
Step by Step guidelines:
Step 1: For the paper buy 250 8.5×11 craft paper sheets. You can find these in any art and crafts shop. You will need around 90 sheets (which you can cut down to size), but that will depend of how many invites you want to make.
Step 2: Choosing your font style. This is the trickiest part of the process! It is definitely worth practising this with some regular printer paper & run through the printer a few times, measured to size of course before using the good card! Next, you will fold your paper doily around the card as you can see in the photos and secure at the back with craft glue (not too much, you don't want glue pouring out at the sides of the card!). Also, be very careful that your hands are clean so you don't leave fingerprints on the card!
Step 3: After the hard bit is done putting it all together is pretty simple. Centre the doily around the invite, fold it then use a craft paper cutter to remove the excess doily on the top and bottom.
Step 4: Tie some twine or ribbons (in any colour you like) around the card and doily. It's best to secure the ribbon at the back of the card with a dot of craft glue so it doesn't slip off. This could be one for the bridesmaid's duties! Men's fingers are just not cut out for these sorts of things…
Step 5: For the RSVP postcards, use similar card if you like, cut & measure slightly smaller than your invites and add your text. Again, being very careful that the text is in line. Definitely practice this a few times first.
Zara McDaid can be contacted on Facebook, search 'Zara Mc Daid Art', www.zaramcdaid-art.blogspot.ie or e-mail is zaramcdaid@hotmail.com
Posted: 6:30 am August 27, 2014