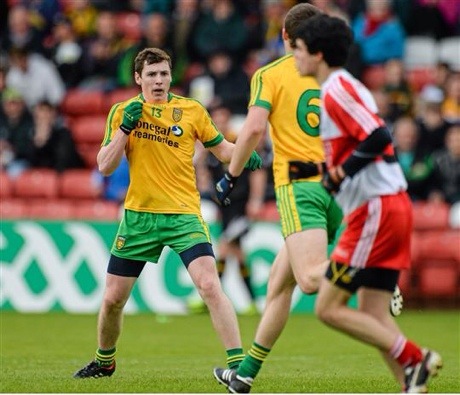 BY CHRIS MCNULTY
IN A county that has won just five Ulster minor football titles (never so much as contesting an All-Ireland minor final), Declan Bonner's comments seemed misplaced.
From the moment the Lettermacaward man was appointed to the position of minor team manager last year, he made no apologies for setting the bar high.
"Make no mistake about it, we are looking to win an Ulster title," he said in this newspaper at the time.
Bonner and the class of 2014 are just an hour away from realising their dream as they prepare to face Armagh in Sunday afternoon's curtain-raiser at St Tiernach's Park.
"We set our targets high from day one," he says.
"It wasn't a case of me coming in and just shouting from the roof about winning an Ulster title. I've worked with these lads and know what they're capable of. We had to set the bar high.
"We know all about Donegal's record at minor level, but we have worked on getting the lads physically stronger and their minds stronger. We have worked on an awful lot of aspects.
"We had a very successful Minor League campaign, which was part one of the programme. Winning an Ulster Championship was part two and we've sixty minutes to go. Titles aren't handed out easily and we know that. We know we have to carry through the work we've done in training."
Centre-back Tony McClenaghan from Moville remains Bonner's biggest injury concern ahead of the final, but the manager is hoping that he overcomes an Achillies problem. Ciaran Gillespie, Niall Harley and Cian Mulligan have all been laid up at various stages of recent weeks, but all three have been passed fit.
It looks as if the Donegal boss has a clean bill of health as they chase Donegal's first Ulster Minor title since 2006.
It has been remarked that this group is the best-prepared minor team to leave Donegal's boundaries and it's hard to disagree.
Nothing has been left to chance. Last Tuesday, Caolan McGonagle picked up a leg injury during a challenge game against Dublin in Cavan. Upon his return to Donegal, around 11 o'clock at night, Mr Kevin Moran attended to the player in Letterkenny General Hospital.
"He's a busy man but any time we have asked for anything he has been on the ball, 100 per cent," Bonner says.
His backroom staff is a vast array of men. Bonner's 1992 team-mate Gary Walsh is the goalkeeping coach; Sean Noonan from Lifford is the team's coach who has them in tip-top shape; Robert Farren looks after the analysis with David McLaughlin on strength and conditioning while Gary Boyle has been in now and again since taking the senior team manager's post at Naomh Muire.
The team's physio is Paul Coyle from Downings while Oisin Cannon will be on the line, wired for sound to relay any important instructions to or from the manager. The Donegal Children's Officer, Mick McGrath, takes care of logistics and Maxi Curran, the Donegal Under-21 manager, has done video analysis.
Even then, the list is incomplete. Buncrana man Ronan Doherty is the squad's nutritionist and Anthony McGrath – a Ballyshannon man who played for Donegal in the 1992 Ulster minor final – comes in as a psychologist.
"We have a huge team working with us and, while that doesn't guarantee success, it does give us a chance," Bonner says.
"It takes up a huge amount of my time and the same can be said for the back room team. There is a massive amount of work being put in by everyone involved.
"The players have been outstanding. They have done everything that we've asked and have been very committed. It has been really heartening to see them develop. Every single one of them is playing senior football with their clubs.
"These lads are good enough, strong enough and their minds are right for senior football. They are now standing out in adult club games which is fantastic."
Bonner started off on this cycle looking after the Southern Board's Under-15 Development squad. In 2012, he managed the Donegal Under-16s to winning the Buncrana Cup before winning the Jim McGuigan Cup, the Under-17 Ulster title, last year.
It was Donegal's first go at under-17 level.
Bonner says: "We nurtured a squad at Under-17 level once a week. They were guys who had won the Buncrana Cup. There were eight or nine lads who moved up to the minor squad, but I took in a few more and worked with them last year."
Caolan McGonagle was only taken into the Under-17 panel last season having not played for Donegal at Under-16 level. Ciaran Gillespie was on the fringes of the Under-16 panel, came into the Under-17s and is likely to start Sunday's minor final at full-back.
The likes of Michael Carroll, Ethan O'Donnell, Gary McFadden, Stephen McMenamin and Conor Doherty were part of last year's Buncrana Cup-winning side and are on Bonner's minor squad. Sixteen-year-old Carroll, from Gaoth Dobhair, has been in a rich vein of form of late while his cousin,
Danny Rogers, who plays for Dungloe, is the minor goalkeeper having not been involved last year at any grade because of soccer commitments.
Bonner says: "They have really freshened the squad up and kept the other lads on the toes. They're all fighting for starting places."
The return to fitness of Stephen McBrearty, who came back from a cruciate injury to play against Derry in Celtic Park, has been a real fillip for Bonner's brigade, while Lorcan Connor and Jamie Breennan are in fine scoring form.
Donegal are unbeaten in 2014 having also won the Ulster Minor League and Bonner believes that it's down to the winning mentality they've picked up thanks to their exploits.
"Every game we have played, whether it's a challenge game or an Ulster final, we've gone out to win it," Bonner says.
"We have tried to create a winning mentality and you can see that has rubbed off on them. They have such a strong desire to keep winning.
"The League was very important for us and we treated every match the same. The guys will have seen the same preparation now for Championship as we put into the League games. Nothing has changed and the routine is the same.
"The lads have bought into that and they know what winning is about. They have become better players because of that, no doubt about it.
"You have to get belief into a group – and winning games is the way to do that. You can't just turn up and expect that to happen."
Tony McClenaghan has been struggling with an Achilles injury, but it is unlikely to keep the Moville man out of action. Bonner is reporting a full-strength panel.
Armagh are expected to come armed with a similar defensive strategy to that which kept Donegal scoreless for most of the first half in the Minor League semi-final earlier in the year. A John Campbell goal late in the half paved the way for a Donegal win.
Bonner said: "These lads haven't had many defeats. We have been on a great journey and we don't want it to end.
"We know that Armagh will pose a lot of questions for us and we'll need our 'A' game with us or they'll punish us. People have mentioned the word complacency – absolutely not. We address that every evening in training. Every time those lads go out, be it in training or in matches, they want to improve and get better.
"We will go out with the belief that if we get our performance to the level that I want then we can win the Ulster title."
Posted: 8:45 pm July 19, 2014