DONEGAL Creameries, proud sponsors of the Donegal GAA, want to celebrate the countless Donegal GAA fans who support their county and local team through thick and thin, people who never miss an opportunity to cheer from the side-lines or those who dedicate their free time to working behind the scenes to make GAA in Donegal the best it can be.
Have you followed Donegal from MacCumhail Park to Celtic Park, from Clones to Croke Park. Have you cried tears of sorrow at missed points and tears of joy when Sam came back to Donegal? Can you name every club player in the county? Do you book your holidays around match fixtures and dread a family wedding that clashes with a big game?! If that sounds familiar then you might be the perfect candidate for 'Donegal's Biggest GAA Fan' – a new search for the ultimate GAA fan from Donegal Creameries.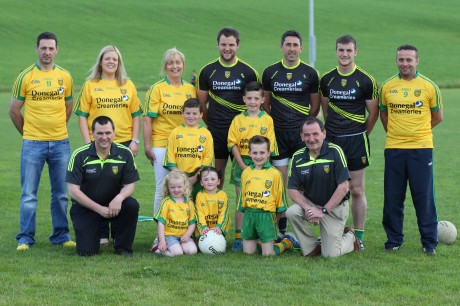 The winner of 'Donegal's Biggest GAA Fan' will receive an amazing VIP package including an overnight stay for two people in the team's hotel the night before the Ulster Final. A meet-and-greet and photo opportunity with Jim McGuiness and some of the players ahead of the Ulster Final and a pair of tickets to all of Donegal's remaining matches of the 2014 season up to and including the All Ireland Final if the team progresses. The winner will also receive a framed, signed jersey and two of the new team jerseys.
To enter, simply email gaacomp@donegal-creamery.ie and tell us why you or someone you know is 'Donegal's Biggest GAA Fan'. Entrants are asked to keep their entry to approx. 150 words and are encouraged to include a photo to support their application.
The closing date for entries is Monday, the 14th of July so get the entries in now! A shortlist of semi finalists will be posted on Daisi's Facebook page, people will be encouraged to 'like' their favourite and the top 5 will then judged by a panel of GAA experts.
Speaking about the campaign, Lydia Rogers, Brand Manager, Aurivo Co-operative Society said: "As proud sponsor of Donegal GAA, Donegal Creameries want to reward the fans who support the team with the recognition that they deserve. We have witnessed first-hand the lengths people have gone to in order to show the pride and passion they have in their team, from standing in the rain on Sunday, cutting the pitch grass every week, to flying half way across the world for an important match – we know that there are some die-hard GAA fans out there so we are looking forward to seeing the entries come in."
For more information visit Donegal Creameries Daisi Facebook page www.facebook.com/DC.Daisi or email gaacomp@donegal-creamery.ie
Posted: 9:46 am July 2, 2014