MY physiotherapist Lorraine Boyce decided that she would make 2014 count and so far she is doing a great job. She set up the Zero to Hero Challenge with an aim to raise €10,000 for the Children's Ward in Letterkenny General Hospital.
The challenge began in March and runs until December and involves her completing ten 10k runs, which is one a month, participating in the gruelling Tough Mudder in Dublin and to top it all, a climb up the tallest free standing mountain in the world, Mount Kilimanjaro in Tanzania.
As a chartered physiotherapist, Lorraine created the Zero to Hero Challenge in a bid to look at exercise and lifestyle in a practical way and to examine people's views on physical activity. Ireland has gone fitness mad in recent years with bootcamp programmes now being offered by most fitness centres but exercise is still a sore point for many people.
Lorraine wants to change this. She is encouraging the public to join her campaign and become better educated on the subject that is fitness. She devised an ABS-solute Challenge which is a four week programme that involves people completing a daily ten minute routine.
Although Lorraine's work schedule is quite gruelling in itself, she has kindly offered to hold free instruction classes for the general public which are held in her clinic. Exercising correctly is of the utmost importance to Lorraine so she is encouraging people to avail of these classes as they will provide a better understanding of certain muscle groups and core stability etc.
I have been a patient of Lorraine's for just over a year and I will be honest, I knew nothing about the core and its importance in so many areas such a posture, exercise, even singing!
I know sit better, exercise better and have stronger control of my singing voice all thanks to the knowledge I have obtained from Lorraine.
She is a fantastic instructor who really listens to each client. For example, there are certain exercise movements that I cannot do due to hip restrictions but by adapting them with Lorraine's help I can still get the most out of each workout.
If you are in a similar situation Lorraine will talk you through what will work best for you so I would encourage you all to attend her classes.
As I mentioned they are free of charge but donations are welcome. Her main aim is to raise 10,000 for the Children's Ward and with our help she will succeed. 
If you would like more information Lorraine can be found through her website lorraineboycephysio.ie just click on her blog. You can also contact her clinic on Tel (074) 91 61453.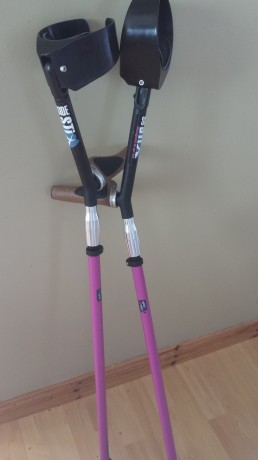 SIDESTIX ARRIVE
I have been waiting for this day with the excitement levels of a small child discovering sweets for the first time. A courier van drove past my house yesterday and I nearly fell over myself getting to the window to see if it was for me, but it wasn't.
Today, however, was a different story, once I heard a knock at the door I all but threw myself down the stairs to open it. I will start by saying this: I love them!
They are sleek, shiny and best of all, they are pink. I requested that my logo would be put on them and I am delighted with the result.
I have been advised to allow a couple of days to get used to them and I admit they will take a little while to feel fully comfortable but I always expect that with new crutches so I don't mind. If you are looking for crutches I would recommend you do your research first.
When I first discovered SideStix I decided to contact current users and ask for their honest opinion, as I knew they would be able to offer non-biased feedback.
I also wanted to be sure that I wouldn't regret the purchase as it was expensive getting them delivered to Ireland from Canada. The first thing I noticed was the silence.
I do not make a sound when I walk which is important. My Ergobaums became loose at the bottom which caused a loud clicking sound with each step.
You may not think sound is overly important but when you use crutches all day every day these things begin to grate on you. With my SideStix I now have the power to sneak up on people ninja style which should provide sufficient entertainment for the forseeable.
As I am the first crutch user in Ireland to experience SideStix the company has asked me to be their featured user on the SideStix website. I am delighted to have been asked and will let you know when my review goes live.
 
AND FINALLY
I have decided to give away one of my Ergobaum crutches. The right crutch has not been used that much and is still perfectly intact and safe to use.
I want someone to get the same use out of it as I have with the left one. If you know of anyone that currently uses a right-handed crutch or walking stick please get in touch. It comes with a spotlight and alarm button (for some reason) and the grip is extremely sturdy. 

Nikki Bradley is the founder of Fighting Fit For Ewing's, a campaign to promote awareness of Ewing's Sarcoma. Nikki is sponsored by All Sports in Donegal Town. Support her campaign by giving 'Fighting Fit For Ewing's' a LIKE on Facebook or follow her on Twitter @nikkibradley59
Posted: 6:30 am July 30, 2014