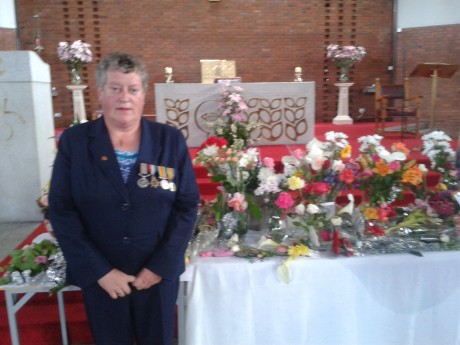 NEWTOWNCUNNINGHAM woman Hillary Roulston was in Dublin on Sunday where she attending a First World War Commemoration to remember those who survived and returned home.
Hillary Roulston is involved with the group who organised the commemoration at the ecumenical service in St Laurence's Church, Upper Kilmacud Road, Stillorgan in memory of veterans of the First World War from Ireland.
The website, dedicated to recording their names, already has more than 31,000 names with more than 800 of those from Donegal. The website is worldwar1veterans.com.
Ms Roulston explained that this was the first time such a service was held for those who returned with a turn out of almost 400 with people from all parts of the island in attendance.
Each person was asked to bring a single-stem flower to be placed at the front of the church in memory of their relative.
Paul Clarke from UTV read a piece about his grandfather, who was in the Royal Dublin Fusiliers.
Hillary told the Donegal News how she came to be involved with the group.
"I was asked to read a piece about my relatives who served in the War. My grandfather, Sergeant Robert Roulston from Gortree, Newtowncunningham joined the 11th Royal Inniskilling Fusiliers and was later transferred to the Labour Corps. On 1st July 1916 he saw one of his friends, Private James Quigley from St Johnston killed next to him.
"His cousin, Corporal James Hunter from Dooish, Newtowncunningham was with the Canadians. My great-uncle, Lieutenant Samuel Cole from Killea was in the North Irish Horse and later the Leinster Regiment. All three survived the war, despite my great-uncle being gassed at the Battle of Messines. They all went on to live normal lives although they rarely spoke of their experiences," she recalled.
Many of those who attended the commemoration wore their relatives' medals, possibly, for the first time.
They kept them safe all down the years and never had a chance to display them until now as well as giving them the recognition they deserve.
"Perhaps even many of the returning soldiers didn't have an opportunity to wear their medals after the war, owing to the situation in Ireland at the time."
Ms Roulston explained that they add names to their project which have been submitted by members of the public who had family members or who may know of other persons who were World War 1 veterans. They also research World War 1 names from other sources and add them to their database.
"We estimate that around 100,000 to 150,000 returned home to the Ireland. We are hoping to complete the extensive list during the centenary years of World War 1. Our aim is have a wall of honour using the names listed and gathered on our project located in a central location in Dublin and Belfast.
"If anyone has names of relatives or any others who survived and returned from the War, they can contact the project through the website and those names will be added to the list. The list can be checked to see if the name is already there, as we have already accessed many records and memorials.
"I would reiterate that we are only looking for those who survived the War and not casualties, as they have already been commemorated," she said.
One local man mentioned at the event was Private James Duffy from Letterkenny, who despite having won the Victoria Cross, was treated with suspicion and hostility in his own town, when he returned.
"We feel that those who came back were in many cases forgotten and their memory erased from history, " she said.
They too should be recognised and remembered. As the words of the Glenties poet Patrick McGill, who was also in the WW1 so poignantly expressed it:-
'I wish the seas were not so wide that part me from my love.
I wish the things men do below were seen by God above
I wish that I were back again in the Glens of Donegal'.
Posted: 10:41 am July 6, 2014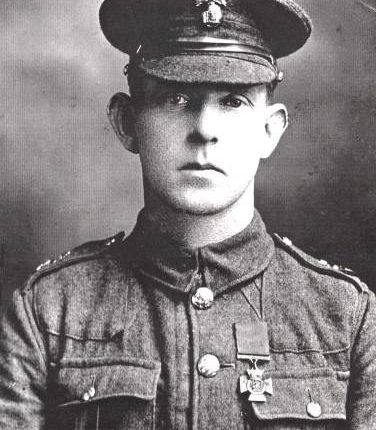 A FIRST World War hero from Donegal will be remembered this week as a Blue Plaque in unveiled in...