BY CHRIS MCNULTY
c.mcnulty@donegalnews.com
A CENTRE-BACK right out of the old school, Keith Cowan has been delighted in recent weeks with Finn Harps grinding out three one-nil wins.
Harps have proved hard to beat this season, although manager Ollie Horgan has cautioned that his team also 'find it hard to beat teams', but teak-tough defender Cowan believes they're on the right track.
The 28-year-old netted the winner on Sunday as Harps scored a one-nil win over Shamrock Rovers B at the Tallaght Stadium. It was the Ramelton man's second goal of the season. That might have been three, but he had what seemed a perfectly good goal against Wexford Youths chalked off in the first half.
At the end of May, he made his 100th Harps appearance in the two-all draw at Wexford and his statistics now show six goals in 104 appearances for the Ballybofey side – not bad for a man who missed two seasons because of back-to-back cruciate injuries in his left knee.
"It's been down to hard work and dedication; a lot of it comes down to doing that extra wee bit," he says.
"I'm not blessed with a lot of football talents, but I make the best of what I have and use that well. You have to work hard at this game and use your good points well."
The 2-0 away defeat in Waterford in April remains the only night that Harps have got a runaround. In Tolka Park, Shelbourne only scored the second goal in the dying moments with that 2-2 in Wexford only the third time that Harps conceded twice in the League this year. Their problems have been putting the ball in the net at the other end.
The addition of Caoimhin Bonner to the squad has seen Harps move to a 5-3-2 formation of late with Cowan partnering Bonner and Packie Mailey at the heart of a rearguard that has become difficult to breach.
He says: "The defence has been doing pretty well. The system does change every now and again, but he's gone with myself, Caoimhin Bonner and Packie Mailey in the last few games. It seems to have paid dividends.
"I don't feel that I'm in my favourite position, but we're keeping clean sheets and have won a couple of games so obviously it's working. I say it's not my favourite place, but I suppose the other way is all that I've known.
"Playing as the left-sided player in a three-man centre-back unit has made me adapt and it's improved me too. I've got used to it. It's something now I'd advise all young players to do – be adaptable and not just stick to one position."
You have to go away back to 2005 for Cowan's Harps debut.
His early promise was knocked back when he suffered a cruciate ligament injury. Within six months of his return, he heard a familiar snap again.
"It was as if I was just back and then I was a goner again," he says.
"The first time I was very young and it was a case of: 'Yeah, this is serious, but I'll be ok'. The second one was a real low point for me. I had to do so much to get back from the first one. I was thinking about what to do and wondering: 'Is there much point in this?'
"It takes time, it takes patience, but it also takes an awful lot of hard work."
He laced the boots again having agreed to dip his toes into the Ulster Senior League with Swilly Rovers.
"John O'Connor was the Swilly manager and he took me in to see how I'd get on," he says.
"Swilly are my home club so I went along. It was a bit more relaxed down at Ulster Senior League level. I always had ambitions to move back into senior football again, but I'll always be grateful to Swilly for helping me to find my feet again."
At the time, he was studying in Cardiff and playing for the university team. Christian Edwards, the ex-Nottingham Forest and Swansea City defender, was managing the college team and was the manager at Aberystwyth Town (who played Derry City in the Europa League this week) at the time. Edwards invited Cowan to sign the following season at Aberystwyth, but he had his mind set by then on returning home.
"I spoke to dad (Davy, a former Athlone Town centre-back) and spoke to James Gallagher, who was the Harps manager. I played with him at Harps for a bit so he knew me. I trained for a while with them around Easter and when I finished my degree in Cardiff I went back again to Harps."
Cowan is employed as a teacher at Coláiste Ailigh in Knocknamona, Letterkenny, who made a big move themselves this year, transferring into their state-of-the-art premises. "The timetable has worked out perfect for me with Friday afternoons off, but the school overall have been very supportive. I couldn't ask for any more," he says.
Cowan describes the campaign as 'frustrating, definitely frustrating' so far, but Harps aren't too far off the pace. A win against Cobh Ramblers would have them back in contention again.
"We're not paying much notice to the table," he says.
"I don't like using cliches, but really Ollie just has us focussed on who we're playing next. Himself and James have it down to a tee. We prepare week-to-week and look at what we can do best to beat whatever team we're playing. Nothing is left to chance.
"There are teams that we respect, yes, but we don't fear anyone. Teams are improving now all the time. Cobh strengthened in the transfer window and we can't take them lightly at all.
"In certain games we haven't got decisions or decisions have gone against us. We haven't had much rub of the green at all. It can become frustrating because there are times where you're focussing on not getting beaten rather than trying to win the match. In games we have had to settle for a point, albeit by battling, when we knew we could win. We battled so well to get ourselves into good positions. Credit to the management, they've given us the belief that we can win when the chips are down.
"We have been down to ten men a few times, but we haven't panicked. We're very well organised and well set up with a good system."
Cowan was slapped with a four-game ban by the learned folk of the Football Association of Ireland's disciplinary committee following his red card against Wexford Youths in Ballybofey. Himself and Danny Furlong, the Wexford striker, got involved in a squabble and Furlong fell theatrically after Cowan wagged a finger in his cheek.
"Four games was a bit over the top, but I've learned a lesson from it," Cowan says. "We're all the same now. We need to keep the focus on the game and not get involved. The squad is thin so we'll have to avoid these situations where we're losing a man or two."
Posted: 12:00 pm July 11, 2014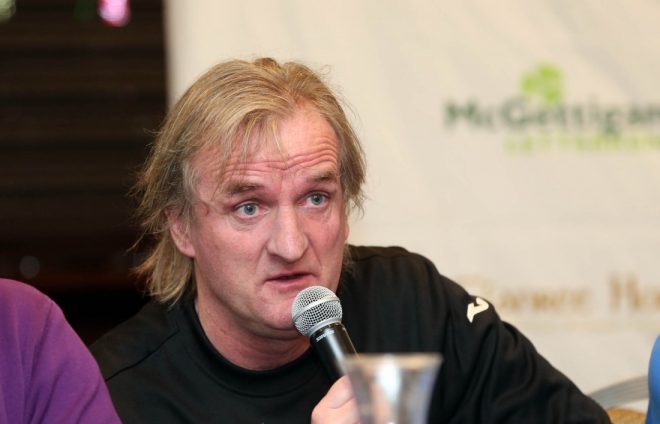 With the summer transfer window opening this Sunday, July 1, the Harps boss is instead content to spend every...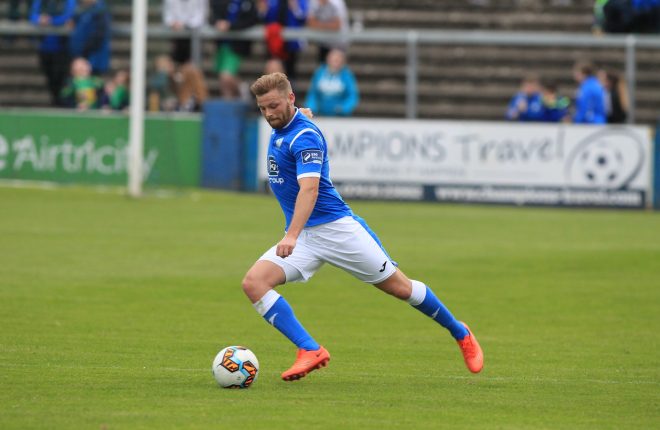 Cobh made the long journey home with the three points.
Ciaran O'Connor netted the winner.