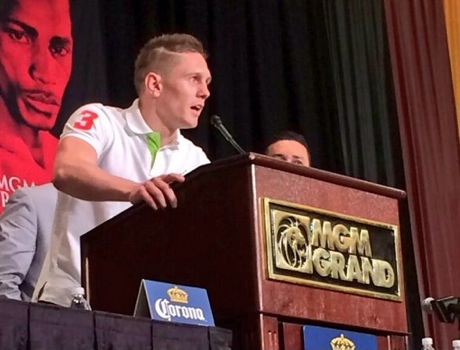 BY CHRIS MCNULTY
AT A press conference in the MGM Grand Arena, Las Vegas on Thursday evening, Oscar De La Hoya took to the podium to introduce to the American public 'a fighter you really want to watch in his progression'.
"He is explosive, fast and experienced," De La Hoya said of his new prodigy.
Even De La Hoya, a ten-time World champion across six different weights in a glittering career, couldn't have foretold the haste with which Jason Quigley would make him stand up and take note: 82 seconds was all it took for Quigley to inflict defeat on Howard Reece on Saturday night.
In a pre-fight interview, De La Hoya predicted that he'd be able to map out Quigley's chart by the time the bell went for the end of the first stanza.
"I'll know in the first minute of the fight how fast we're going to move Quigley," he said.
He got his answer.
Fighting out of the blue corner, Quigley – who had his father and coach Conor in his corner – unleashed a volley of shots that were just too much for Reece, a 26-year-old Irish-American who has now lost seven of his nine professional contests.
He had dropped him to the canvas for a count after 45 seconds. When another of those blistering volleys came from the iron-fisted Finn Valley man, Reece could take no more and the referee, Jay Nada could watch no more.
One minute and twenty-two seconds in, Quigley was the victor.
"I'm absolutely buzzing," Quigley beamed.
"I'm delighted to be on a show like this and win is unbelievable."
It now seems as if a second bout will come down the tracks fast for the 23-year-old from Ballybofey.
Quigley is expected to be announced on the undercard for the IBF welterweight title showdown between Kell Brook and Shawn Porter on August 16 in Carson, California.
Quigley has not gone Stateside to admire the views from his Los Angeles base. He has a five-year contract with De La Hoya's Golden Boy Promotions and is determined to make a mark.
He said: "I'm here to let the American people know who Jason Quigley is.
"I'm proud of my performance. It was great to be on the biggest stage."
They don't come much bigger for boxers than the MGM Grand. By the end of the night, a sell-out crowd had converged for the junior middleweight fight, as Canelo Alvarez won a close split-decision victory over Erislandy Lara.
With his father, Conor, who is his coach, in his corner, Quigley was roared on by delighted fans who travelled from Donegal, including his mother Muriel and sisters Holli and Jade. Others with a ringside perch in the MGM Grand were Peter O'Donnell, the President of the Donegal Boxing Board, his son Paul, as well as Frank and Francis Cassidy and John Gildea.
"He has built up a big fan base already," said a delighted Peter O'Donnell, who worked Quigley's corner alongside Conor for the Irish senior final in 2010, a bout Quigley lost against Darren O'Neill.
"Everybody knows him now. Anyone who doesn't know him wants to get to know him.
"Anything he gets out of the sport he deserves. He will adapt to the pro game no bother.
Quigley was snapped up by Oscar De La Hoya's Golden Boy Promotions after he rose to the top of the amateur ranks. He has three European golds to his name as well as a World silver medal.
On Friday, he took to the scales in Vegas and weighed in at 160lbs.
Reece, out of Ocala, Florida, was on the back foot from early on and Quigley smelt blood and got his kill.
De La Hoya has ambitions to mould a star in America before returning him across the Atlantic for a homecoming bout.
He said: "Ireland is a huge fight town and we feel it's very important to take him back there. Maybe when he's 10-0, 11-0, we'll fight him there. We're going to take his career one step at a time."
The young Jason Quigley always dreamed of following his idols onto the big stage and competing for the big belts.
On Saturday, a star was born in Las Vegas.
Now they'll watch it rise again.
As Peter O'Donnell put it: "He has captured their imagination and they seem him as a future world champion."
Posted: 9:00 am July 14, 2014