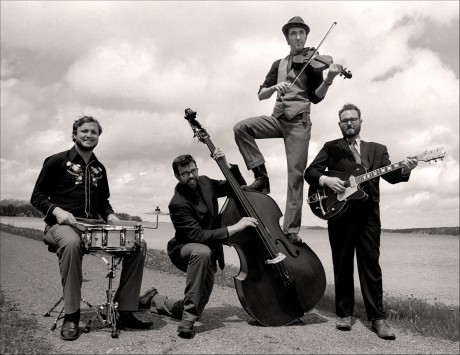 THE latest in an impressive line of bluegrass/roots/Americana gigs at The Balor Arts Centre, Balybofey takes place this week with international old time roots sensation Gordie MacKeeman and his Rhythm Boys.
Hailing from Prince Edward Island on Canada's east coast, this multi award winning act serve up old time roots music with an energy level that practically yanks you out of your seat by the collar.
They not only sound fantastic, they're also a sight to behold. Gordie's on stage exploits have earned him the nickname 'Crazy Legs.
His thrilling dance style while simultaneously playing the violin is one of the more impressive sights you'll see.
Musically, there's a wonderful mix of great close harmony bluegrass vocals augmenting the blistering guitar solos of Peter Cann and the multi-instrumental talents of Thomas Webb and Mark Geddes.
Gordie MacKeeman and his Rhythm Boys are an international sensation earning standing ovations everywhere they go – a guaranteed rollickin' old time rock 'n' rollin' treat. They were awarded the Roots/Traditional Group Recording of the Year at the 2014 East Coast Music Awards. They were given the Galaxie Supernova Award at the 2012 Ottawa Folk Festival for their outstanding performance.
Tom Power, host of CBC Radio's Deep Roots, called them his "Best Discovery Band" at the 2012 East Coast Music Awards. The group toured the United Kingdom three times last year, including performing on one of the main stages at the Glastonbury Festival. They also toured Australia and Belgium in early 2014.
Their new album, Pickin' n Clickin' delivers original compositions ("Gonna Get Out," "Jim's Lament," "Hay Boys," "Scrape the Paint," "Working Title") as well as covers such as Lawrence Welk's "Champagne Polka" and Two Hours Traffics's "Heroes of the Sidewalk."
It's roots music that sets its goals much higher than simple reproductions of the past. MacKeeman overseas the alchemistic mixture of stringed acrobatics like a modern day Bob Wills.
"These lads from PEI have taken their great musical skill and love for the repertiore and added engaging, sometimes jaw-dropping, stagecraft and showmanship. Man for man there may not be a better roots band playing in Canada today. Booking them is a no-brainer." – Matthew Large, Montreal's Folk Festival on the Canal
Gordie MacKeeman and His Rhythm Boys play The Balor Arts Centre, Ballybofey on Thursday July 3rd at 8.30pm. Admission is €15 and tickets are available from the Balor's box office on 0749131840 or online at www.balorartscentre.com
Posted: 1:00 pm July 1, 2014
Inspired by the patchwork quilt 'Love Across The Waves' by Arranmore and Tir Boghaine Women's Groups, At The End...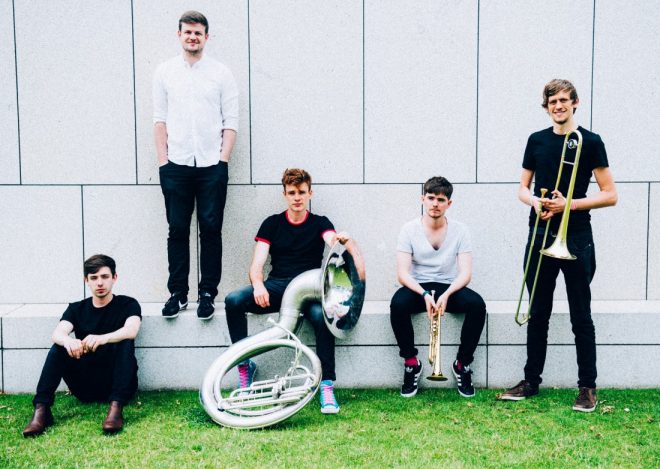 THE Balor Arts Centre in Ballybofey plays host to two of the best live bands in the country over...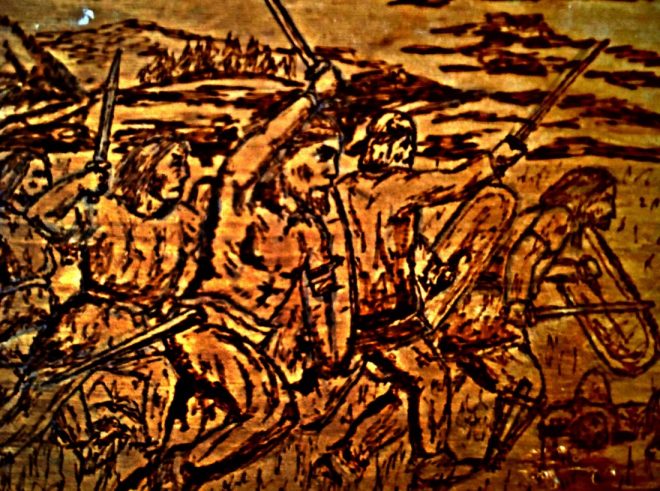 A YOUNG Convoy artist has burned images of local mythological legends on to old chairs in order to promote...