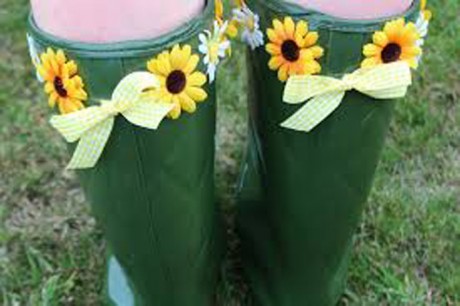 Wellington boot décor
RUBBER boots don't have to be boring, with a few design tweaks they can become a fashion statement as well. Many trendy rubber boots are decorated with designs and images, but they can be expensive and it can be difficult to find a design that fits your taste.
Attaching flowers or bows to the top of sides will also add something interesting to your boots. By making your own hip designs on rubber boots you save money and can customise the boots to match your personal style.
Instructions
1. Start by visiting your local craft store and ask for either Tulip acrylic paints or Krylon fusion paints. Tulip acrylic paints are in a handy tube that makes it easier to use them.
Make sure to read the packaging and check the guidelines before use. Tulip acrylic paints dry quickly and won't drip or run.
Alternatively, you can use Krylon fusion paints which you spray onto the boot or easier again your can use a Sharpie marker, these are really easy to use and can be found .
2. Select a variety of colours and purchase masking tape. Explain to the person in the craft store what you are doing and ask if they have any tips or advice.
3. Put some newspaper on a flat surface where you will work. Be sure to cover the whole area. It would be best to use the Krylon fusion paint outside or at least in a well ventilated area.
4. Decide on a pattern, colour scheme or design for your wellies. Maybe start off with a few sketches, I find that always helps.
Mark out shapes and patterns with masking tape and secure stencils if you are using them. Tulip acrylic paints dry almost instantly, which allows you to change colours fluidly.
Krylon fusion paints take up to 15 minutes to dry so you will need to wait before adding another colour to keep the design crisp.
5. When you have decorated your willies leave them to dry for a few days. This will make sure that the colours stick properly. After a few days go and find some puddles to try out your snazzy revamped wellies!
Floral Crown
Floral crowns are in in a big way. From Lana Del Rey to style bloggers such some of my favourites Erika Fox's 'retro Flame' blog across the nation adorning this trend, floral head pieces are the new must-have accessory.
The best way to rock this look is to do it yourself! These are so easy to make and you can create a few of them with different colour schemes for different outfits or occasions. Play around with different flowers and different colours to create a look that's truly your own.
Instructions
1. Start by plucking the stems off of the fake flowers and cut off the remaining stem so that they can lay flat.
2. Cut circles out of the felt and glue them onto the back of each flower. Make sure that the circles are small enough that they don't show through the petals.
3. After the glue has dried, place the flower onto the brown wire or headband and glue another circle behind it to secure the flower to the crown.
4. Fill in the sparse spaces with smaller flowers by wrapping some of the green floral wire around the smaller stems then wrapping them around the crown.
I wrapped and glued enough flowers to stop at the ears and then wrapped some leaves around the back, but you can choose to place the flowers all over the entire crown, too!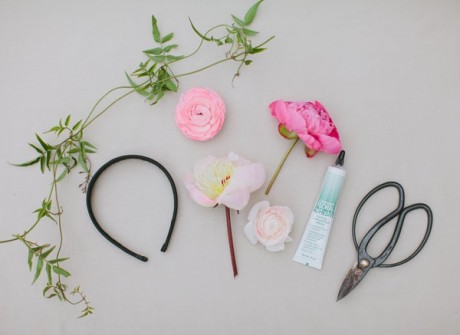 Zara McDaid can be contacted on Facebook, search 'Zara Mc Daid Art', www.zaramcdaid-art.blogspot.ie or e-mail is zaramcdaid@hotmail.com
Posted: 7:31 am July 2, 2014