To quote Nelly's "It's getting hot in herre" its important to remember that while removing clothes will keep you cool, applying sun screen will keep you safe.
Here are a few tips from us that should help you to stay safe in this glorious Irish sunshine.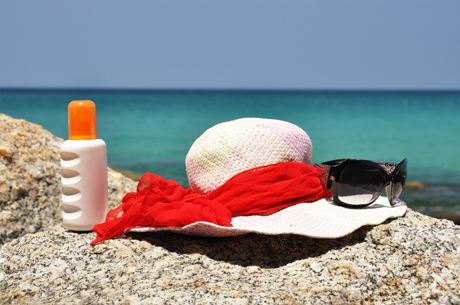 1. Use at least factor 15 sunscreen with a high star rating
Sunscreen rubs off easily if you sweat, swim or change clothes. So whether you're in your back garden or abroad, when the sun is strong remember to apply generously and reapply regularly. Cancer Research UK recommends you use at least factor 15 sunscreen with a high star rating.
2. Cover your whole body
It's easy to forget areas such as your ears, eyelids, lips, nose, hands, feet, and the top of your head, so make sure to include them when applying sun screen.
3. Look for both UVA and UVB coverage.
This means that the sunscreen will block both kinds of damaging ultraviolet light.
4. Use waterproof sunscreen
This will make sure it stays on longer, even if you perspire or get wet.
5. Protect your kids
Young skin is delicate and easily sunburnt. Make sure your children are wearing t-shirts and wide-brimmed hats when out in strong sun and cover any exposed areas with sunscreen, factor 30 or 50 is recommended. Encourage them to have breaks in the shade for a game, cold drink or an ice lolly, particularly between 11am and 3pm
6. Put on a hat, wear a t-shirt and sunglasses when the sun's strong.
A wide-brimmed hat, long-sleeved top or maxi dress will not only help protect your skin but will keep you at the height of summer style! Wear sunglasses that provide 100% UV protection to safeguard your eyes.
7. Stick to the shade between peak sun times
If your shadow is shorter than you are, then the sun is strong. During the Irish summer, the sun is at its strongest between 11am and 3pm
8. Drink Drink Drink
Your body needs fluids to cool itself down. If you don't sweat enough, your body temperature will rocket and this can quickly lead to dehydration or heat stroke, so make sure you drink plenty of fluids.
9. Don't be fooled by clouds
Just because it's cloudy, doesn't mean the sun can't reach you. Cloud cover does reduce the risk of getting burnt, but only by a fraction and UV rays can penetrate cloud cover. A cloudy day is not an opportunity to give sun screen a miss!
10. Have fun
As long as you have all of the above covered you can relax and make the most of this fantastic sunshine.
Here at the Donegal News we wish you all a great summer, whatever the weather!
Posted: 3:59 pm July 23, 2014