A UNIQUE new education initiative in as part of Science Week 2014 will take place in Letterkenny later this year, it was confirmed this week.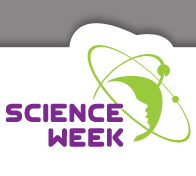 What happens when you cross a scientist with an artist? Well, the answer will be revealed this November with the launch of a new science through art outreach and education initiative due to take place in Letterkenny Town Park as part of Science Week 2014.
'Earth Festival 2014' will take place over three days and will be centred around a series of illuminated sculptures inspired by cutting edge scientific research accompanied by a programme of workshops, seminars and tours tailored to a secondary school student audience.
The park and sculpture trail will be open to the general public over three days, 11 to 13 November, and each sculpture will be accompanied by an audio recording of the relevant artist and scientist discussing the inspiration and interpretation behind the piece. It is envisioned that this will be the first in an annual festival aimed to encourage children and young people to engage with, and participate in, STEM (Science, Technology, Engineering and Maths) activities outside of the formal education system.
This is a collaborative venture between UCD Earth Institute, An Cosán Glas, UCD College of Science, Letterkenny Institute of Technology, Ealain na Gealtachta, Donegal County Council and the Earth and Natural Sciences Doctoral Studies Programme and is funded by Science Foundation Ireland through the SFI Discover Programme.
Dr Fiona Doohan, UCD Earth Institute and UCD School of Biology & Environmental Science said: "The SFI Discover Programme is providing the means and impetus to bring a truly exciting and original Science outreach initiative to Letterkenny. Current UCD PhD students will be able to reach out, engage and encourage the science students of the future through the media of art communicating their work in a new and inspiring way."
Artists from An Cosán Glas have made a number of trips to UCD to meet with researchers in their 'natural environment' to gain inspiration for their sculptural work and the project had its official kick-off meeting on Wednesday 4 June, in Letterkenny. A number of the pieces will subsequently be brought to UCD in December as part of the inaugural Science and Solutions for a Sustainable Environment Conference 2014.
Posted: 4:23 pm June 16, 2014