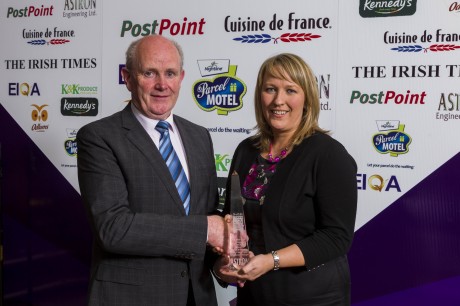 Marian McGarrigle of Tobin's SPAR in Letterkenny won a sought after Grocery Retail Management Award at the recent Shelflife awards ceremony.
Marian beat off stiff competition from hundreds of other retail managers to win Delicatessen/Food To Go Manager Of The Year 2014.
The Shelflife GRAM awards are the only awards in the country that highlight exceptional grocery managers, and Marian said she was delighted to be chosen to receive the honour.
She said, "I'm so pleased to win, not just for myself, but for everyone in Tobin's SPAR in Letterkenny who supported me all the way. I'd like to thank my fantastic colleagues in-store, I couldn't have done this without them."
Only the cream of the crop can take home a coveted Shelflife GRAM award, with just 16 awards given out to retail managers across the entire country.
Malachy Hanberry, Sales and Retailer Advisory Services Director, BWG Foods (owners and operators of the SPAR brand), said, "I would like to congratulate Marian and all the team at Tobin's SPAR Letterkenny on her fantastic achievement in winning this award. To be singled out to receive a national award such as this shows the hard work and dedication to duty she brings to the store every day. We're delighted to have her on the SPAR team."
Pic caption: Thomas O'Dowd, managing director, Astron Engineering, presents the award for Delicatessen/Food to Go Manager 2014 to Marion McGarrigle, Tobins Spar/Topaz, Letterkenny, Co. Donegal at the ShelfLife GRAM Awards 2014
Posted: 2:26 pm June 9, 2014