THIS week I would like to talk about something that we have all experienced at some stage in our lives – Pain. It can come in many forms and we all deal with it differently. We also have different pain thresholds so what may be excruciating to some could be bearable for others.
As I am sure you are aware, I have had various types of pain for many years now and I would like to start by sharing some of the experience with you.
When I was a child I was a massive hypochondriac. My poor mother was driven demented by my constant moaning about small ailments. If I banged my finger on the table I would have to lie down for about a week to get over the 'trauma'.
When I got sick, however, my mentality changed completely. I had found myself in a situation where pain was necessary. In order to get better I had to undergo invasive surgery to remove my tumour. Without it I would have died, simple as that.
When faced with those odds you learn to accept a certain amount of pain as it is the only option open to you. I carried that way of thinking with me through my teenage years and still have it with me today. Don't get me wrong though, it is not a pleasant experience.
My daily routine is tough. Tougher than most people will ever know and yes, I get frustrated with it all occasionally. Sometimes I find great comfort in screaming out loud at my situation.
Then I remember I have neighbours, which is awkward! My point is this, my pain is going to be there regardless of whether I scream the house down or not. The secret is finding a way to function and live your life through the pain. 
Here are a few tips that make my life a bit easier, I hope they are useful for those of you currently suffering from some form of pain.
NERVE PAIN
• When travelling, nerve pain can be a nightmare as the motion of the car can be very painful. I have damaged nerves so this is a common occurrence for me. I find that if I put pressure on the nerve by holding my leg it eases the pain.
• Another exercise you could try involves sitting on the edge of your bed or on a chair, whatever is more convenient. Tie a belt around a heavy object and when you are satisfied the object isn't going to move put the belt around whichever foot has the leg with nerve pain.
Pull back against the belt for a couple of seconds at a time. You should notice a dramatic difference. The reason the pain lessons is due to the nerve becoming blocked somehow.
My physiotherapist Lorraine Boyce gave me that tip and I use it religiously! Note: You could try a similar exercise if the pain is in your arm but I would recommend you check with your physio first.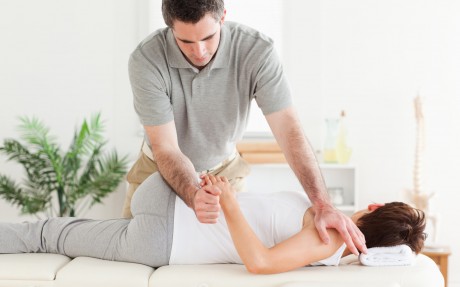 • Heat/Cold. Depending on the type of nerve pain you are experiencing the addition of either hot or cold compresses can be very efficient.
Technically, I should use a cold compress due to the fact that the damaged nerves cause my hip to radiate quite a lot of heat but strangely I prefer heat on my hip as I find it works better for me. That is a point I wish to highlight. Do what works for you.
Nerve pain is one of the most difficult to explain to people. It is also difficult to locate as it travels around the area that is damaged.
The nerve itself is like a train (or Luas if you prefer) it is going to travel up and down and bring that pain with it. I often experience pain in my knee and ankle even though the source of the problem is my hip. My back is affected as much as my hip due to the fact that it leads down to the hip. Back pain is very debilitating as it can quite literally stop you in your tracks.
When you throw a damaged nerve in on top of that, well let's just say, it's not a great mix. Heat or cold applied to the area will help though.
There is a psychological side to this too. Sometimes just knowing the heat is there can trick your body into thinking it feels better.
      
JOINT PAIN
• Heat. Joint pain differs from nerve pain as it is best described as a low, dull ache. Don't get me wrong, it can be just as painful but it is a different sensation.
The way I can best describe nerve pain is a sharp, surface pain. Joint pain however is buried deeper into the bone. People with arthritis will understand this. It is a long term pain.
It stays with you, sometimes in the background and sometimes it decides to come out and ruin your day. The weather can have quite an impact on this type of pain.
You will probably notice you get stiff and sore during the winter more so than the warmer months. This can be helped by applying heat.
Hot water bottles and heat patches are great for joint pain. Due to the two hip replacements, I usually have joint pain all year round but find that it eases with heat. You may be surprised to learn that sun beds are quite comforting for people with joint pain.
I went into Bronze Age a few months ago and spoke with the girls about this topic and they said the amount of elderly people that use the beds is staggering. They are using them to ease the pain. Not everyone is a fan of sun beds so it may not be something you are willing to try and that is entirely your decision but it is an option nonetheless.
         
• Swimming. Water is great for joint issues. Swimming in the sea if you can is best. It is fantastic and fun too! I personally prefer swimming in lakes as I love the flat water but if I am very sore I would opt for the sea. Something about the salt seems to be better for the joint. Swimming pools are a perfect option too I just hate the chlorine. 
• Epsom Salt. I will admit I have not tried this yet but I am very curious. I have heard a lot about these salts recently, they are meant to be very good for pain relief. A few cups sprinkled into a hot bath is all you need. I will try it out before next week and let you know how I get on.
• Oil. This one is a tip from my granddad. He puts a small amount of olive oil into an eggcup and heats it in the microwave until it is warm but not roasting.
He then applies the oil to the joint. He has found it to be a good healer so I would recommend you give it a go. He told me once that he uses the left over oil to make a fry so it's win win!  
These tips will hopefully help you cope with ongoing pain. It is important to learn to live with pain instead of always hoping it will go away like I did. 
I would love your feedback on this so feel free to get in touch if you have found your own remedies or if you have found the secret to pain relief. Share it with us!

Nikki Bradley is the founder of Fighting Fit For Ewing's, a campaign to promote awareness of Ewing's Sarcoma. Nikki is sponsored by All Sports in Donegal Town. Support her campaign by giving 'Fighting Fit For Ewing's' a LIKE on Facebook or follow her on Twitter @nikkibradley59
Posted: 7:30 am June 11, 2014