A FEW months ago I was accepted onto the Donegal Business Bootcamp Programme. This is a results-focused programme which aims to provide practical assistance to people in business or thinking about going into business.
It is run by Gerry Faloona and Patricia Keane who organise workshops and business connections events for us to attend. I have made great connections through this programme and feel I am getting closer to making my business dream a reality.
As part of the bootcamp, we are allocated a set number of hours with our business mentor Gerry. This time is invaluable as it allows us to discuss our plans one on one with Gerry who has 37 years of business experience.
The programme is free of charge and it is open to anyone aged 16-35. Last Wednesday we attended a workshop in the CoLab in Letterkenny.
We learned all about finance which is a vital factor for any new venture. I would highly recommend the bootcamp to anyone thinking about going out on their own. For more information contact patricia.keane@enterpriseni.com
Training with the Donegal team
I had an idea recently for an interesting challenge. The Donegal team train in Optimal Fitness so I thought it might be fun to have a training session with the guys just to see if I could in any way keep up with them!
I received a message from Michael Boyle last Thursday informing me that Jim McGuinness has given the go ahead, which is great news.
My hip has gone downhill recently however so this may set things back but I am hoping that between myself and my trainers we may be able to devise some kind of training programme for the occasion that won't cause further damage. Stay tuned!
Fundraiser for SideStix
Fireman Mark Porter contacted me a few months ago offering to organise a fundraiser for my new crutches. I was blown away by his kindness and excited to see what he would come with.
I spoke with Mark last week who informed me that the event, which is in association with Fighting Fit For Ewing's, will be an emergency services clay pigeon shoot held in Buncrana Gun Club on Saturday, June 28, 12noon.
It is open to the general public and you are encouraged to participate if you wish. Personally, I cannot wait to get shooting!
I have the worst aim in the world so this is your official warning. Stay well out of my way! Entry is €25 and there will be spot prizes on the day as well as a summer barbecue. It will be a fun family day out and I hope to see you all there!
Nikki Bradley is the founder of Fighting Fit For Ewing's, a campaign to promote awareness of Ewing's Sarcoma. Nikki is sponsored by All Sports in Donegal Town. Support her campaign by giving 'Fighting Fit For Ewing's' a LIKE on Facebook or follow her on Twitter @nikkibradley59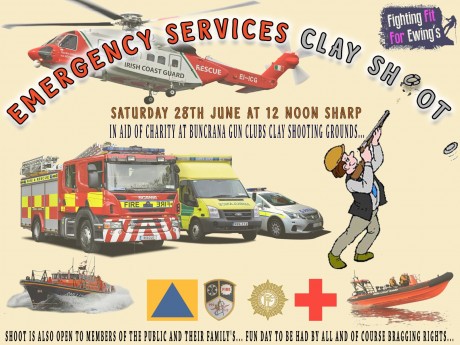 Posted: 8:30 am June 18, 2014