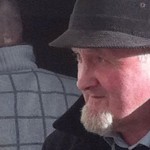 THE investigation into the death of well-known Churchill man Seamus Doherty was raised in the Dáil on Tuesday as senior gardai denied reports that a senior Garda brought in to examine that investigation later resigned due to a lack of co-operation by Donegal Gardai.
Deputy Padraig MacLochlainn who raised the issue of the investigation into the death of the 67-year-old Churchill man in the Dáil said he was not aware of any garda resigning over the investigation
Mr Doherty was found dead in the bathroom of his home on June 17, 2012.
The father-of-four's death was only declared a murder three days after his death.
Sinn Féin Justice spokesman Padraig MacLochlainn raised Mr Doherty's death in the Dáil today and is awaiting further information from Minister for Justice Francis Fitzgerald question on the matter.
Members of the Doherty family have expressed serious concerns about the investigation into the death.
Minister for Justice Frances Fitzgerald told Deputy MacLochlainn that gardai will co-operate with the Garda Siochana Ombudsman Commission (GSOC) investigation.
Deputy MacLochlainn's question asks the Minister for Justice and Equality if she is aware of the lack of co-operation by senior level Donegal garda and the GSOC investigation relating to the murder of Mr Doherty.
The victim's family made complaints at a local level to An Garda Síochána and additionally lodged a complaint to GSOC in November 2012.
Posted: 5:39 pm June 24, 2014
GARDAI in Letterkenny cannot confirm reports that two sex offenders from Northern Ireland have reportedly registered as staying...