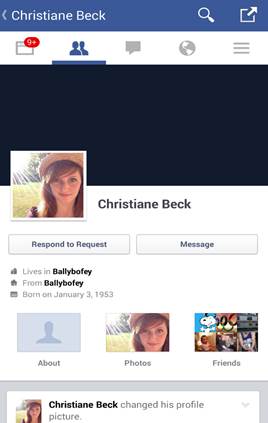 WE always need to be on our guard when we use social media platforms for privacy and security reasons that is if we are concerned about security.
Facebook is no different, it may have 1.2 billion users on its database at the moment with signs of rapid decline, but it's still the most used social media platform for Irish people with 2.4 million Irish users.
Approx. 100,000 of these Facebook users are in Donegal and these are only figures for people over 13 years of age.
Knowing that 38% of children under 13 are on Facebook according to report by Minor Monitor (2012) and Facebook close down 20,000 children's accounts daily, we need to be aware of what is going on so our children do not get mixed up with the wrong people or influenced by the wrong material.
It is not always children that make the mistakes when making friends on Facebook, us adults can be ignorant to who really are the people behind the requests of fake Facebook profiles.
Fake Facebook Friend Requests from strangers more common in last 2 months
I have noticed on my own Facebook account the number of Facebook requests coming from bogus accounts over the last two months has dramatically increased to a few a week, from maybe a few a month. Other Facebook users I would know have mentioned they have seen a few strange "Friend Requests" also in the Donegal area.
Be careful who is making requests to be your friend now more so than ever. It's common to see the same "Mutual Friends" come up to try prove to you that is safe.
Two examples of Friend Requests yesterday from 2 females with Date of Birth 1958, but both look younger and have only joined Facebook in March with little to no other detail on their accounts.
Also, the account is a male account, reference to "HIS PROFILE". These are some of the clues of imposter accounts.
Getting Facebook Friend Requests from attractive people of opposite sex
One of the most common characteristic of a face Facebook profile, is a profile image of a person of the opposite sex who is very attractive. The subconscious of the lustful thoughts of the human being are to say yes to the friend request solely on the image.
This reason is why most scammers use this technique to get people's online private information from their Facebook profile.
What information can scammers get from my Facebook profile?
Even if a person's Facebook profile privacy restraints are set to "Private", friends can often see more information that is intended.
The art of social media is to share with others what we are doing and how we are feeling. So why post something on Facebook if no-one is going to see it?
This therefore lets most people share at least photos, status updates, shared images, locations visited, hobbies, sports activities, date of birth, address, where they go to school/college, work and lots more.
Think of what can be manipulated and used against someone with all this information, not to mention the financial loss that could be accumulated.
Adults are getting caught out, not only children
When we see these, we would think no adults would fall for this, this is just what kids would fine funny.
Believe it or not, there are lots of adults out there that accept many friend requests from people they do not know. Then, we ponder the question, why children fall for this? Well, I guess if they were to mirror their parents, we would have a lot to answer for their actions. So for parents, be extra vigilant.
I deliver workshops to parents, children and teachers around Ireland and this is a topic in it that has most parents worried. To hear more and learn more, contact Niall Mulrine 086-2377033 to offer 1-2-1 consultations or class workshops.
"Niall spoke with my son Ryan when he was getting bullied on BBM and immediately it changed his negative thoughts. I cannot recommend Niall enough and his service." – Liz King, parent, photographer with King Klix Photography, Mayo.
For more information & tips on Cyber Bullying & Internet Safety log on to www.CyberSafetyAdvice.com and www.PcClean.ie or ring 086-2377033
Posted: 9:26 am June 17, 2014