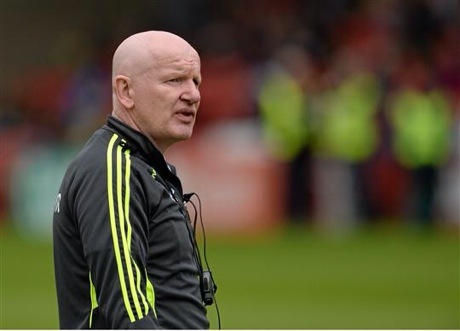 BY CHRIS MCNULTY
DONEGAL minor manager Declan Bonner is to meet the Northern and Southern Regional Minor Boards tonight, when he will appeal for a deferral to the start of the respective minor championships.
Bonner has guided the Donegal minors to a first Ulster MFC final since 2006 thanks to a 12-point win over Antrim in Clones yesterday.
"I want to make an appeal now that the minor championship doesn't go ahead," Bonner said after the win.
"It would really effect our preparation. We have a big three weeks now to get ready for the final. They are saying that the minor championship is due to start on Wednesday night. I will appeal to them to ensure that no stone is left unturned.
"This was our goal all along and we don't want any disruptions now. To have minor championship mid-week would be very difficult because we train Tuesday and Thursday."
Bonner was reminded that a similar previous appeal following the Minor League final fell on deaf ears and the Na Rossa man said: "I may have a few decisions to make myself if that's the case. We have to look after the preparation for the final."
Bonner is in his first year in charge of the minors and has already tasted League success. He added: "It's about communication and in fairness the boards have been very good."
The semi-final win was comfortable by the end, but the path towards the finish line wasn't all smooth.
Antrim led 0-6 to 0-5 after 25 minutes, but in the next twelve minutes of play Donegal had the game in the bag. The goals from Ethan O'Donnell – with the final kick of the first half – and Jamie Brennan early in the second half paved the way for a return to St Tiernach's Park.
Bonner said: "The boys were a bit nervous in the first half and we had a lot of mistakes. It was their first time in Clones for a semi-final game. We got them in and got them settled at half-time. The second half was outstanding."
O'Donnell netted just three minutes after being introduced as a sub for John Campbell.
Bonner said: "It was a crucial score. Ethan wasn't long on. It was a great finish and he did well to keep it down. We needed it. We kicked a lot of ball away and we kicked four balls into the goalkeeper's hands. That was down to nerves."
Brennan's goal, along with nine points from man of the match Lorcan Connor, steered Donegal to a one-sided win in the second half.
The manager said: "From the start of the second half we were outstanding.
"That 1-3 we scored killed the game. Antrim came with a very defensive game plan but we just had to break it down. We had to be patient and once they expressed themselves they were grand.
"When you come up against that system it's hard. Once we got on top that was the end of that system. You need to be patient because it does take time. The goals came at the right time."
The win ensures that Donegal will have a minimum of two more games this year, with the back door coming into effect after the provincial final. With his players now free from the pressures of exams with many having sat their Leaving Certificate papers in the last few weeks, Bonner will hope to crank up the volume.
He said: "That was a really difficult three weeks trying to get the lads together.
"It takes us into the Bank Holiday weekend, but all we're looking to is an Ulster final.
"We have 24 togged and we have another seven or eight who weren't togged but who are every bit as important in this squad."
Posted: 5:20 pm June 23, 2014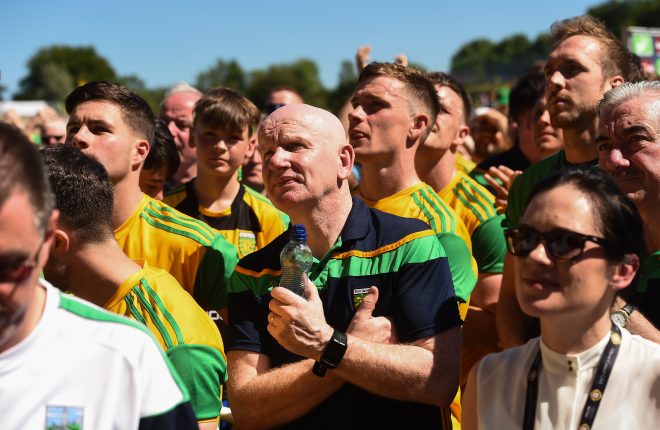 Last Sunday was one of those really special days to hail from Donegal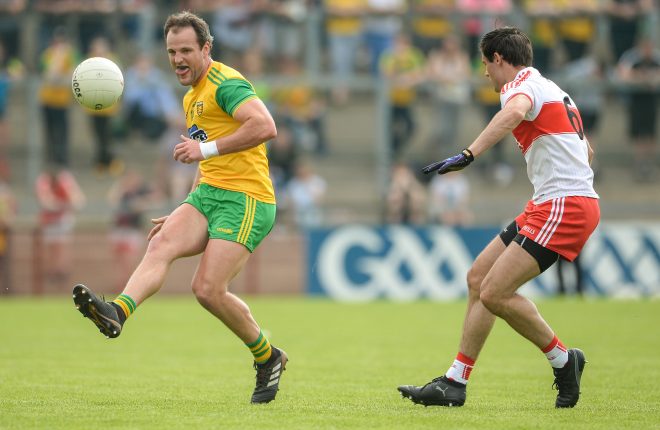 Donegal seniors and Under 20s both won in Derry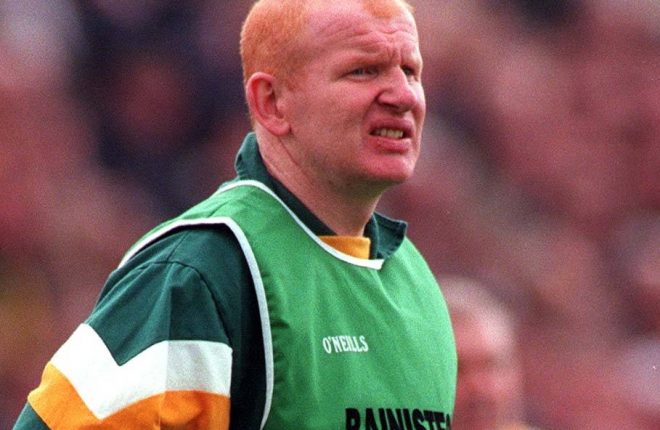 There are two big games down for decision in Derry.