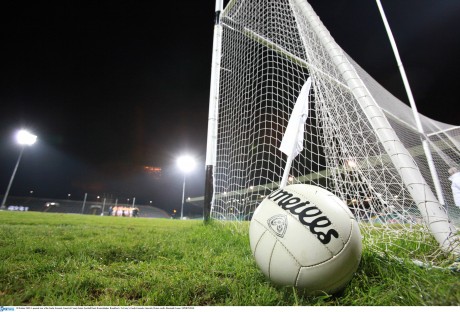 Naomh Adhamhn√°in
Good luck to all our members that will sit their Junior and Leaving Cert Exams in the coming weeks.
The Seniors had a mixed weekend in their two games getting a good win over Four Masters on Saturday before going down narrowly in Ardara despite dominating the second half. The Reserves lost a great game to Four Masters on Saturday and despite an improved 2nd half performance in Ardara were defeated again.
The Juniors got a good away win in Glenties on Sunday in another close game between these two evenly matched teams.
The Senior hurlers claimed another good win in the Ulster Táin League on Saturday, they are in action again this week playing Ballela this Saturday 7th in Garvaghey at 5:30pm.
The U14 Hurlers will take on Burt this Thursday in the championship q-finals in Burt at 7pm.
The U14 Boys Dev footballers take on MacCumhaills on this Wed. night (4th) in the Park at 7pm. The A team will probably also play MacCumhaills in the Northern semi-finals in the next week.
St Eunan's U9 (2005) blitz on Saturday (7th) in Glenfin. Bus leaving O'Donnell Park at 10:30am. Please, please text us by end of day tomorrow (Wednesday) if your wee star footballer can go and if they'll be going on the bus either accompanied or unaccompanied. Thanks Cathal Doherty (087-9380647) & Peter Curran (086-3852973).
The Training Pitch will re-open this Sunday, June 8th for the Sunday morning Academy. Thanks for your patience.
Cúl Camps will be on in O'Donnell Park on July 28th to August 1st (Football) and August 11th to 15th (Hurling & Camogie). You can book online on the Kellogg's C√∫l Camps website or with Paul McGovern (086-8114151).
Lotto numbers week ending 1st June 2014: 2, 6, 8, 9. There were 7 match 3 winners and they win €15 each. Jack McLaughlin, 26 Port Rd; Martin Gibbons c/o Glencar Inn; Mick Duddy, Glenwood Pk; Eunan MacCall c/o (All Adrian); Peter Cunningham, Bohirril; Brigid Lyons, Meadowhill and Brendan Roche 3 Ashfield (all card) . Next week's jackpot '€1,475.
Congratulations to Aidan McGlynn and his bride Cathy on their wedding last weekend.
An Clochan Liath
Dungloe U14 Hurlers have a very big Championship Semi-Final game coming up on Thursday, June 5th at home in Rosses Park at 6pm with the winners playing in the County Final on Thursday week. Best of luck to team and management.
Congratulations to James Hartnett who has been selected for the Donegal national school team to play against Down on the 15th June in Newry, the same day and venue for the senior championship match between these two counties. Good luck James!
Cloich Cheann Fhaola
The seniors had mixed fortunes at the weekend with a 1 point defeat against Glenfin on Saturday Cloughaneely 0 11 Glenfin 0 12 and with a victory against Mc Cools on Monday CCF 2 13 Mc Cools 0 12.
The reserves defeated Glenfin on Saturday with a score line of 1 11 to Glenfin 0 09. The final score on Monday ; CCF 0 10 Mc Cools 2 05.
Seniors and reserves are home this weekend on Sunday against Fanad at 1:30 and 3:00. Tickets.
Martin Duggan is now taking orders for the Donegal v Antrim game on 086 3119186.
Bord mionr The U6s and U8s had a very successful blitz in Termon Saturday, training resumes as normal on Monday at 5pm.
The U14s play Glenswilly on Monday 9th at 7pm. The U12s had a great victory against Downings on Sunday with a scoreline of CCF 4 04 Downings 2 05.
Their next game is at home on Monday at 6:30.
The U16s don't have any game now for the next three weeks, training continues as normal on Friday at 5:30.
Coaching continues with the local schools for the next two weeks and is a continued success. All parents are encouraged to come out and support the underage teams. We wish all club players the best in the Junior and Leaving Cert exams.
Four Masters
Congratulations: Well done to Mark Sweeney and his U14 Boys Hurling Squad who won the Div 2 County League Final against Setanta last Thursday evening in Convoy.
Well done: To the Senior Reserves who beat St Eunan's on Sat 31st May and Naomh Conaill on Monday 2nd June. Hard luck to the Senior team in both games over the weekend, incredibly tight games.
All County League games: Sunday 8th June Four Masters v Glenswilly @ Tir Conaill Park. Throw in Reserve 1.30pm, Senior 3pm. Please come along and support if you can.
Tir Conaill Park 60th Anniversary: The 60th Anniversary of Tír Conaill Park, will take place on the ground was officially opened on the 6th June 1954. The club is officially launching new fundraiser initiative "Tir Conaill virtual sod" on Friday 6th June 2014 @ 8pm in Public Service Centre of to mark this occasion, which is available on a new link on our website www.fourmastersgaa.com . Contact any club officer about details. Please support
Guess the Score: the following were the results of the guess the score fundraiser for Bord na nOg; Gareth Brooks package : Breege O' Keeney; Completed card draw: Ebbs Family (voucher for Abbey Hotel); Correct score : Mary Gorman Laghey, Donal Foy c/o Abbott's thanks to all who took part.
Gaeil Fhanada
U8 Blitz The U8 teams of Gaeil Fhánada, Na Dunaibh and St. Marys, Convoy had a very successful blitz last Friday (30th) in Portsalon. A big thanks to the visiting teams and management for making the journey down. Thanks to Michael Blaney, Joe Blaney and Niall Carr for refereeing the matches. Also thanks to those parents who provided the excellent refreshments during the blitz.
Jerseys There are still a number of U8, U10 and U12 jerseys missing. If anybody has any of these, please contact Martin as soon as possible.
Round 8 of the Senior and Reserve Division 2 League 31st May 2014 Gaeil Fhánada 1:12 v Na Cealla Beaga 1:11 Great team performance from both senior and reserve boys. Very exciting finish to a close enough game for seniors.
Seniors – Mark McConigley, Joe Blaney, Cathal Martin, Frank Sweeney (0:01), Mark Friel (C), Patrick McConigley, Ryan McGonigle (0:01), Brendan Callaghan, Michael Sweeney (0:01), Aidan McAteer, Seami 'Nanny' Friel (0:06), Johnny 'Nanny' Friel (0:01), Oisin Shiels (1:00), Seimi Coshia, Martin McAteer, Jimmy Coyle, Kevin McElwaine(0:01) (blood sub for Johnny 'Nanny' Friel) for Martin McAteer, Jerry 'Diver' Friel for Brendan Callaghan, Oisin Blaney, Ken Dempsey, Paul 'Doogie' Coyle.
Gaeil Fhánada Reserves 2:16 v Na Cealla Beaga Reserves 0:08 Reserves ' Paul O'Connor, Paul Martin, Ken Dempsey, Michael Heraghty, Shaun Coyle, Paul 'Doogie' Coyle, Conor McGonigle, Eamon Sweeney, Jerry 'Diver' Friel (0:01), Ciaran Carr, Brendan 'Nanny' Friel (0:02), Charlie Crerand (0:01), Shaun McGovern (0:05), Stephen McGonigle (1:00), Niall Carr (0:06), Kevin Loughrey (0:01) for Charlie Crerand, Declan Coyle for Michael Heraghty, Conor McConigley for Aidan Heraghty, Shaun Callaghan (1:0) for Ciaran Carr, James Martin.
Round 9 Senior and Reserve Division 2 League 02nd June 2014 N. Muire 2:13 v Gaeil Fhánada 0:10 Seniors – Mark McConigley, Joe Blaney (0:01) , Cathal Martin, Frank Sweeney, Mark Friel (C) (0:01), Patrick McConigley, Ronan McAteer, Kevin McElwaine, Michael Sweeney (0:01), Aidan McAteer, Seami 'Nanny' Friel (0:05), Johnny 'Nanny' Friel, Oisin Shiels, Seimi Coshia (0:02), Martin McAteer, Jerry 'Diver' Friel for Johnny 'Nanny' Friel, Paul O'Connor, Ken Dempsey, Paul 'Doogie' Coyle for Ronan McAteer, Colm McGonigle, Shaun McGovern, Brian 'Teddy' McVeigh for Oisin Shiels.
N. Muire Reserves 1:06 v Gaeil Fhánada Reserves 1:09 Reserves Oisin Blaney, Michael Heraghty, Ken Dempsey, Paul Martin, Conor McGonigle, Paul 'Doogie' Coyle, Eamon Sweeney, Colm McGonigle, Shaun McGovern, Brendan 'Nanny' Friel , Brian 'Teddy' McVeigh , Charlie Crerand, Stephen McGonigle , Niall Carr, Ciaran Carr for Charlie Crerand, Ultan McGettigan, Declan Coyle, Conor McConigley
Gaeil Fhánada Sports Day for Fanad & Kerrykeel schools is being held this year on 10th June in Portsalon. If any of you would like to help out on the day, please let Bridie Doherty or Margaretta McConigley know asap please. All help gratefully accepted. Parents are also welcome to come on the day to watch (or to help).
VHI Cúl Camp being held on July 14th to 18th Get your child's place booked as this Camp always proves to be a popular week of fun and games. For further info see www.kelloggsculcamp.gaa.ie or contact Fiona Shiels.
Killybegs
Club Meeting also Garda vetting 8 to 9 Tuesday 10th June in Eamonn Byrne club rooms. Monday results seniors 2.12 to 1.5 and res 4.19 to 0.04 we won both against downings. The best of luck to Fintra NS in the county final on Friday in Cuman na mBunscoil.
U14 boys are at home v Naomh Conaill on Wednesday 4th at 7.15pm
Under 10 Blitz in Fintra on Saturday at 11.00am.
Under 8 training Wednesday 6.30pm and Saturday 10.00am in Fintra.
Killybegs Gaa Club meeting is moved to Tues 10th June at 9pm. Garda Vetting for all those working with our underage will take place between 8pm and 9pm on the same night in the Eamonn Byrne Club Rooms.
MacCumhaills
MacCumhaills jackpot hits €0,000 There were no winners of this weeks Jackpot. Numbers drawn were5,18,19 and 23. There were 3 match 3 winners. Ruairi Callaghan, Joyce Laverty and Pauline Mc Laughlin receive '€50 each. Next weeks Jackpot is €10,000.
The eagerly awaited final of Family Fortunes takes place this weekend. Expect an evening of great craic and enjoyment. Doors open on Saturday at 9. No cover charge.
The club is running a fundraiser for the Under 14 Boys who will represent Donegal in this years All Ireland Feile. The Guest Tea will be held on June 14th at 8.00pm. There will also be a reunion of the last Mac Cumhaills Feile Team of 1988. There will be music on the night. Lets get down to the club and support these hardworking talented boys.
Fixtures Senior/ Reserve Football. Away to St Nauls Sun 8th June 1.30/3.00pm
Results Senior Football: Mac Cumhaills 1-17 Naomh Mhuire 1-13 Sat Cloughaneely 2-13 Mac Cumhaills 0-12 Mon
Reserve Football: Mac Cumhaills 4-17 Naomh Mhuire 0-07 Sat Cloughaneely 0-10 Mac Cumhaills 2-05 Mon
The Bingo is on in the Villa Rose hotel this week. All very welcome.
Na Rossa
The seniors had a terrific win at the weekend in what was a hard fought match against the travelling Muff side.
The game took place in Dooey on Saturday evening last with the lads securing the second straight win.
Final score Na Rossa 1-14, Muff 1-11. A busy week ahead for the seniors as they play Convoy this Thursday in Convoy. Throw in is at 7.30pm.
Then on Saturday evening they host Naomh Ultan with a 6pm throw in.
The lotto draw took place last Monday evening in the hall. The jackpot of €9000 (fixed) was not won.
Two lucky dip winners receive €50, Keelin Devenney, Meenagowan & Dim Melly, Rooskey.
The under 12s season got under way last Thursday against a very strong Killybegs team. Their next game takes place in Dooey next Monday evening against Naomh Ultan.
Naomh Colmcille
The seniors and U14s got back to winning ways this week with great away wins at Milford and Malin respectively.
The seniors travelled to Milford looking to end a run of two successive defeats. They ended up winning on a full time scoreline of Milford 0-9 3-8 Naomh Colmcille. Carndonagh are due to visit Newtown next weekend.
The reserves match at Milford didn't go ahead.
The U14s travelled to Malin with a place in the Division 2 shield final available to the winners of the match. Despite an early Malin goal, the lads quickly turned the game around and had built up a lead at half time. They extended the winning margin in the second half to run out comfortable winners. Naomh Colmcille: Rory Simmons, Daniel Mugan, Jason Fitzpatrick, Mark Friel, Oran Downey, Ryan Higgins, Ryan O'Donnell, Brendan Barr, Caoimhin Marsh, PJ McBrearty, Ronan McKinley, Jordan Gallagher, CJ Gibson. Subs Christopher Mugan, Oran Devine.
The U10s took part in the half time game at the Burt Legends v Friends of Letterkenny Hospital at Burt on Sunday. Well done to everyone concerned.
There was a great attendance at the U8 blitz at Pairc Colmcille on Saturday. All the players had great fun and there were some super individual performances on show from up and coming stars. Thanks to everyone from Buncrana, St. Eunans and Robert Emmetts for attending and big thanks to all parents who helped on and off the field.
This year's Run for Funds was deferred until next Saturday (7th June).
This year's Cul Camp runs from the 7th to the 11th of July for all children aged 6 to 13 years. Camp runs from 10 am to 3 pm. Please bring a packed lunch and dress for the weather! Tuck shop provided. All children will receive a full football kit and a bag (Donegal colours). Cost is 'Ǩ55 for the first child and 'Ǩ45 for each child thereafter. A week of fun and craic with qualified coaches. Contact Sharon on 087-9685558.
The Club are now taking Registrations for Adults, Family, Senior and underage players.Particular reminder for adult non-playing members that you need to be registered to request Donegal tickets. The deadline for registration is fast approaching. Contact Mark Ferry (087 9154559) or Breda Friel (087 6393503).
The club is again registered for the Sainsbury's Active Kids scheme so please hand in the collected vouchers so they can be sent away.
The Lucozade Sport Club Crusade promotion has now finished. Please continue to collect bottle tops in anticipation of future promotions. Thanks.
Check out the club's new Facebook page (Naomh Colmcille CLG 'Äì Donegal) for latest updates on training, match times etc.
Naomh Colmcille CLG would like to extend its sympathies to the McLaughlin family on their recent Bereavement.
The club would like to wish the best of luck to everyone from the club doing the Junior and Leaving Cert exams.
This week's numbers are 11, 12, 7, 1, 4 and the most correct winner (matching four numbers) is Richard McFadden (Peter's bar) who wins €75. Next week's jackpot €5,450. The club are seeking volunteers to act as Lotto sellers and join the existing rota. The Lotto is the main regular source of fundraising for the club so if you can spare some time to help out it would be greatly appreciated. Contact Breda Friel if you're able to help.
The Club would like to take the opportunity to thank everyone for their continued support of the Lotto as it gives the club the essential means of continuing to give our local kids and adults the chance to avail of a great and healthy pastime.
Naomh Conaill
Naomh Conaill lotto 27/5/14
Numbers 1-9-10-15 No winners
€50×2 went to Ann & Phil Gallagher (phildy) Glen rd
Daragh Gallagher Ard Patrick
Next jackpot €7500 Great start to the championship for our u14s who had a great win over St Nauls ,hopefully a sign of things to come,well done lads! Congrats to our Senior Men who had a win over Four masters on Monday with a score of 2 – 9 to 2 – 7
we would like to ask if there is any young person around the Naomh Conaill Area that would like to sell lotto in they're area or parish to please contact Daniel Mc Geehan on 086 858
We would also like to give a massive congratulations to our Naomh Conaill Members who ran in the Derry marathon on Sunday, well done everyone a great achievement.
Naomh Columba
Congratulations to Dermot Callaghan who will represent the club in the county final of the U12 skills in MacCumhaill park.
Congratulations to Bridget Byrne Malinmore the lucky winner of the €1000 first prize in our 50/50 draw.
Other lucky winners were:- €500 Prionseas Cunningham Cottages €300 Eamon Gillespie Cottages €200 Sharon O Hare Malinmore €200 Paddy Doherty Meenaneary €200 Anne & Sean Doherty Bogagh Rd. €200 Fr. Con Cunningham Carrick €100 Mark & Jennifer Cannon Cloghan €100 Rodger Curran Malinbeg €100 Damien McBrearty Meenaneary €100 Joseph McGinley Meenacharvey.
Thanks to all who entered the draw and to all who sold throughout the parish.
St Michael's Notes
Both teams were away to Ardara on Saturday evening last. The seniors lost on a scoreline of Ardara 2-11 St Michael's 2-8. The St Michael's scorers were Martin Mc Elhinney 1-1, Colm McFadden 0-5, Christy Toye 0-2 and Michael Langan 0-1. The reserves lost on a scoreline of Ardara 3-9 St Michaels 0-9. The St Michael's team and scorers were Dean Fleming, Neil Doherty, Stephen Horan, Denis Trearty, Peter Sweeney, Paul Creamer, John Sheridan, Brendan Devine, Chris Carr, Dara McCarry, Danny Langan 0-1, (Captain), John McFadden 0-1, Raymond McLaughlin 0-2, Eddie Patterson, Ryan Langan. Subs used Liam Paul Ferry for Niall Doherty, Stephen Coyle 0-5 for Chris Carr 1st half. Niall Doherty for Ryan Langan, Chris Carr for Eddie Patterson, Hugh McGee for Dara McCarry 2nd half. On Bank Holiday Monday last both teams were at home to Malin. The seniors lost by the narrowest of margins on a scoreline of St Michael's 0-12 Malin 1-10, the St Michaels Ciaran Gallagher Brendan Rodden Steven Doak James Alcorn Oisin Langan Ciaran Gallagher Anton Mc Fadden Lorcan Mc Daid Martin Mc Elhinney Chris Mc Elhinney Christy Toye Martin Breslin Lee Carr Colm Mc Fadden Michael Cannon Subs Liam Paul Ferry for Oisin Langan, Michael Langan for Lee Carr, Lee Carr for Michael Cannon. Scorers Colm Mc Fadden 0-3, Michael Cannon 0-3, Christy Toye 0-3, Lorcan Mc Daid 0-2, Antoin Mc Fadden 0-1. The reserves won on a scoreline of St Michael's 1-11 Malin 0-11. The St Michael's team and scorers were: Josie Gallagher, Shaun Doak, Stephen Horan, Eddie Patterson, Peter Sweeney, Paul Creamer, Denis Trearty, Oran McGee, Brendan Devine, Dara McCarry, Ciaran Kelly 1-2, John McFadden, Daniel Doak 0-1, Raymond McLaughlin 0-6, Danny Langan (Captain) 0-2. Both teams are away to St Eunans in Letterkenny on this Sunday the 8th June. Lotto Rota The St Michael's Lotto Rota for the next two weeks is as follows: 7th June Dunfanaghy Gerard Gallagher and Danny Langan, Creeslough Ollie Rodden and Paddy Coll. 14th June Dunfanaghy Liam McElhinney and Mickey McFadden, Creeslough Peter Sweeney and Christopher McElhinney. Anyone who is unable to carry out this very important job for the club is asked to get a replacement on the night. Bingo The 'Ǩ150 on the Snowball game at the Bingo session in Dunfanaghy on Sunday night last was won by Mary McConnell Churchhill. This weeks Jackpot will be 'Ǩ1360. Patrons please note that this months 50 Club draw will take place at the Bingo session in Dunfanaghy on this Sunday night the 8th June. Donegal V Derry Orders for the Donegal v Derry Ulster Semi final should be placed with Nicola Ferry or Patricia Kelly before Thursday the 12th June. Lotto There was no Jackpot winner in the St Michael's Mini Lotto on Sunday night Sunday last; The Numbers drawn were 2,3,5,6,,12,14; the 2 match 5 winners were John McClafferty Cahselmore and Mary Doherty Ray Grotto Falcarragh. This weeks jackpot will be €5,900. Runegal 2014 Runegal 2014 is taking place on Saturday 12th July. Time and entry fee will be confirmed later. Club Gear Anyone who would like to purchase club gear 'Äì hoodys, half zip tops, tee shirts or polo t shirts for adults or children please contact Nicola 0863084164 Clubhouse Key There is a Key for the Clubhouse in the Dunfanaghy Post Office during weekdays if required but anyone borrowing it must return the key to the Post Office. St Michaels Minor Board Coaching
Would anyone who is available to help coach some of the underage players please contact Manus on 087 647 0532.
Week 5 of the Parish League takes place this Sunday 8th June at 2pm at the Bridge. All donations of Sandwiches and home baking will be greatly appreciated.
The Parish League Finals are scheduled for Sunday June 15th, we expect you all to come along and support your children.
The under 8's Manger is Hugh Doyle and you can meet him at the Parish League.
The team travelled to Milford last Friday evening for their blitz. Best for St Michaels on the evening were Oisin McNulty, Daniel Hanlon, Aoibheann McGinley and Tom√°s Hughes. Well done to all who took part. The next blitz is scheduled for the weekend of June 14th in Macumhails with Fanad Gaels and Naomh Colmcille also taking part. Gunshields are compulsory and must be used. U10'S
The next blitz for the under 10's is on Saturday the 7th of June in Termon with teams from Termon, Letterkenny Gaels and Cloughaneely also taking part.
The under 12's continue their training on Tuesday and Thursday evenings from 6pm to 7.15pm at the Bridge.
No bus and gunshields are essential. The next under 12's match is at home to Downings on Monday June 9th.
The under 14's are playing away to Robert Emmets in the Championship semi-final of division 2 this Friday evening June 6th at 7pm. Good luck to the team and the management.
The Under 16's played Four Masters in a friendly match in Convoy last Monday evening and won by two points in a very good team performance by all.
St Marys Convoy
Bingo Continues in Hall on Tues at 8.30 This Tues 3rd June will be a Sterling Bingo .Club lotto Counties drawn WD SO KE MO, 1 matched 3, PJ Bonner Convoy. Jackpot next week e3350 Training for Senior Ladies Wed from 7 on Fri 7.30 and Sun at 10.30 New Players are always welcome Check FB page for updates or changes. Gaelic for Mothers and Others wed at 8.15 New Players welcome. Training for Underage continues on Friday from 6-7. St Mary's U8 were away to Fanad on Friday well done to all who took part and played so well. Thanks to coaches who looked after them.
St Mary's U 10 have a blitz This Sat Check FB for Details
Club Gear orders to Elaine Mc Dermott Order going in on the weekend of 14 June. I will be at the clubhouse on a Fri evening at 7 after the underage training to take orders and payments. To order the Jerseys need a minimum of 6 to order. We only order the Jersey twice a year go get your order in now Contact Elaine on 0860746540 Seniors V LK Gaels St Marys 0-11 LK Gaels 0-11 LK Gaels started the brighter of the two teams taking a 4 pt to 0 lead before Peter Blake pointed for St Mary's . Another 2 points from Peter Blake brings the score to 0-3 to 0-4 LK Gaels go in at the break 2 pts up 0-5 to 0-3 The Home side come out the stronger and scores from Peter Blake ,Simon Mc Gylnn and J.A.Kee they go ahead 0-7 to 0-5 LK Gaels reply and David Shovlin scores to hold that 2 pt lead . LK Gaels reply and a point by St Marys Jack Blake levels the game at 0-9 each. J.A.Kee points for St Marys 0-10 to 0-9 LK Gaels dig deep and score 2 points to go ahead 0-11to 0-10 but the last kick of the Game Peter Blake levels it up and steals a draw . St Marys: 0-11 LK Gaels 0-11 Scorers: St Marys P.Blake 0-6 J.A.K ee 0-2 D.Shovlin 0-2 J.Blake 0-1 Reserve Game St Marys 1-14 LK Gaels 1-05 St Marys continued their winning streak with an early lead over the visitors with scores from O.Quinn,G.Patton ,A.Mc Namee,G.Sweeney and R.Kettle and go in at half time 0-9 to 0-1 The home side keep the pressure on the LK Gaels and with P. Mc Glynn finding the back of the net they are well ahead 1-09 to 0-1 .LK Gaels peg back a few points and with scores from E.Kelly M.Ayton St Marys stay well ahead 1-12 to 0-3 LK Gael score a Goal but it's too late in the game Final Score St Marys 1-14 to LK Gaels 1-05. Seniors and Reserves at Home on Thurs v Na Rossa and Lifford on Sat check FB for Details .
Red Hugh's
The lads had a morale boosting victory over Carndonagh on Saturday evening. They put in a great display to run out comprehensive winners on a score line of 1-12 to 0-5 Next game is at home this Sunday to Naomh Columba Reserves throw in at 1.30 seniors 3pm. Training continues for seniors on Tuesday and Thursday at 7.30
Minor Board News
Under 8 boys and girls travelled to Termon on Saturday do their blitz they had two teams competing on the day and everyone got a run out. Well done to everyone.
Under 10 Boys and Girls have a home blitz this Saturday at 11am.
The U12 girls played their final blitz for the year in Glenfin on Saturday .The girls played great in all three games.It has been a great year for the u12 girls shown great fight,heart,determation in all the games.It has been great to watch them improve. Keep up the hard work.We will have a few friendly matches for the girls in a few weeks.And maybe an u13 league starting in August.
The under 14 girls play Urris at home Wednesday throw in 7pm. parents please Come out and support the kids
The under 12 boys had no game this week. Their next game is away to Mc Cumhaillls next Monday. Bus leaving the pitch at 5.45pm bring €2 for the bus.
The under 14 boys are playing their final game of the group stage in the championship away to Moville this Wednesday throw in 7pm.
Numbers Drawn were 8,7,6,3,5,2,4,1 Two winners matched three numbers were Brid Alexander Ballinacor and Gavin and Ryan Wright Magheraboy they receive €25 each. Next weeks jackpot is €4,025 100+ Club winner was number 19 Sean Brolly Raphoe receives €100 Thanks to everyone for your continued support.
Other News. Cake sale and coffee morning in the clubhouse this Sunday at 11am until 2pm. Proceeds in aid of underage girls football. Parents please call in and buy a nice cake and get a cup of tea or coffee
Winners of the guess the score card was. Angelina Martin receives €50 and Amy Callaghan received a meal voucher of €30 for the Cosy Corner.
Naomh Muire
It was mixed fortunes for the senior and reserve teams this weekend. The first game of the weekend produced a win for Se√°n Mac Cumhaill, leaders in the reserve league. In the senior game in Ballybofey it was a much tighter affair with the lead exchanging hands on numerous occasions. A late rally from the home side saw them secure all two points. In Monday's games at the banks the reserves put in a good performance but just came up short against Gaeil Fh√°nada. In the senior match the lads played well and the first half's groundwork seen them power on in the second half to take the points and see them move up the league table into fourth place. Both teams will play host to Na D√∫naibh next weekend as the league passes the halfway mark.
Well done to all the children that took part in the Blitz that was organised as part of Féile Anagaire.
Comhghairdeas le C.L.G. Cill Charthaigh a bhain Comórtas Peile na Gaeltachta i Maigh Chulinn Dé Luain agus go raibh maith agat do Roise Ní Gairbheith a rinne ionadaíocht ar ár son thíos ansin.
Is iad 3,7,13 agus 19 na huimhreacha a tháinig amach sa lotto an tseachtain seo. Níor bhain duine ar bith an potá óir. Beidh €1100 sa phota an tseachtain seo chugainn. Bhí 9 a raibh trí uimhir acu agus tá na sonraí le fáil ar www.naomhmuire.ie Comhghairdeas le Elaine Boyle a bhain €500 i gclub an chéid.
Letterkenny Gaels
With the summer holidays just around the corner we are pleased to announce that Letterkenny Gaels will be holding summer camps in Hurling, Camogie & Football. The Hurling camp runs from the 7th-11th of July, Camogie from the 16th-18th of July while the Football Cul Camp is on from 28th July to the 1st of August. For more information contact, 085 1743228 for Hurling, 086 8163605 for Camogie & 086 7325955 for Football.
The Seniors and Reserves were back in action last weekend in Convoy. The Seniors finished with a draw while the Reserves were beaten. This weekend we play Robert Emmetts. See Facebook for throw in times. Training continues at Pairc na nGael every Tuesday and Thursday at 7pm. New players always welcome.
Jim Farrell is currently co-ordinating the Cash for Clobber fundraiser. This is a great way of raising much needed funds for the club and also helps unclutter your wardrobes. Contact Jim at 086 0566893 to arrange your bag or give the clothes directly to any club member.
The U-8 footballers took part in a blitz on Saturday. Thanks to the Glenswilly club for hosting and to all the parents for coming out and supporting the teams. U-6, U-8 & U-10 Football continues every Sunday morning at 11am at Pairc na nGael.
We are currently looking for girls aged 9-12 to join our U-12 Gaelic football squad. Training on Wednesday evening from 6.30-7.30. Contact Jim Farrell on 086 0566893 for more details.
Camogie training continues every Tuesday evening at Pairc na nGael from 6-7pm for 1st, 2nd, 3rd & 4th class. 5th, 6th class & Secondary school on Monday evening 6-7.30pm at Pairc na nGael. Contact 086 8163605 for information. New players welcome.
The numbers in our club lotto have increased to 28. Any members of Friends of the Gaels wishing to change their weekly numbers should contact John McDermott or Sharon Harnet.
The U-16 training continues at Pairc na nGael every Wednesday & Friday at 5.30pm.
Hurling training for U-6, U-8, U-10 and U-12 continues at the pitch every Thursday evening from 6.30-7.30pm. Hurleys and helmets provided for training.
Club members wishing to avail of Club Donegal should contact Jim on 0862271435. Membership includes free admission to all Club League & Championship games in the county for 2014.
Sympathy is extended to the O'Donnell and Doran families, Glebe, on their recent bereavement.
For regular club updates and photos see our club web page, www.letterkennygaels.donegal.gaa.ie , Facebook page or follow us on Twitter @LetterkennyGael
Glenswilly
The under 14 girls team Qualified for the Divisional C semi final, details of which have yet to be confirmed.
This follows a successful league campaign,training continues on Thursdays at 5 to 6pm and Saturdays from 3.30 to 5 pm.
The under 14 boys played the All county league final on Friday evening last against Downings but unfortunately lost out by a single point.
They now go into the Championship and first up is Burt at home this Wednesday with a throw in at 7pm.
The Boys will also Play Cloughaneely at home on Monday June 9th at 7pm. Our under 12 boys are at home to Gweedore on Friday June 6th at 6.30pm.
The Annual 5k will be held at the club on June 25th and The organising Committee will hold a meeting on Wednesday June 4th at the club house at 9.30pm.
A lot of planning is required for such a big event and anyone who feels they can help with Teas, Registration Stewarding etc to please come along to the meeting.
Paul and Bernie Lapsley of Donegal Stationery have kindly offered to be the main sponsor of the event.
Our Adult teams had a successful weekend with all three teams recording good wins.
The Thirds beat Ardara by 2-7 to 17 points .
The Seniors and Reserves were away to Glenties with the Reserves winning by 1-6 to 2-7 and the Seniors followed this up with a 0-9 to 2-11 victory.
All Three are out again this weekend. The Thirds face Glenfin away on Saturday June 7th at 7.30, The Reserves And Seniors are away to Four Masters on Sunday June 8th at 1.30 and 3pm.The next Monthly meeting will be held on Monday June 30th at 9pm. There will also be an underage/coaching structures meeting at 8pm. on the same evening.
Glenfin
Lotto numbers for 27/05/14; Jackpot 'Ǩ3200: 3 2 4 1 8 7 6 5. Liam Breen matched the first 4 numbers and won 'Ǩ60. Next week's Jackpot: 'Ǩ3250.
Any club member looking for a ticket for the Ulster Semi Final please contact Kate McGlynn on 0877952880.
Although our Reserves were beaten by a strong Cloughaneely side, our Seniors grabbed a deserved win – 0-12 to 0-11!
Cill Chartha
Seniors Comhghairdeas leis an bhfoireann Chill Chartha a bhuaigh an Comórtas Peile na Gaeltachta 2014 teideal. Well done to our senior team who won the All Ireland Gaeltacht for the sixth time in the clubs history in Moycullen over the weekend, on Saturday afternoon.
They defeated Cill na Martha 5-16 to 1-06 then on Sunday evening they beat the host club 2-15 to 1-07 and in the final.
They got the better of Galway champions Micheal Breathanach by 3-14 to 0-13 to cap of a memorable weekend.
The next match for the seniors is a home match against Malin this Sunday at 3pm while the reserves are out at 1:30pm.
The under 10s have a blitz in Na Rossa this Saturday 7th June.
Our under 14s host Naomh Brid on Wednesday evening at 7:30 and Bundoran on Saturday in the division 2 county championship, our under 12s were due to play Naomh Columba on Monday but the game was postponed due to the Gaeltacht they now start the league campaign at home to Killybegs on Monday evening at 6:30pm.
This month's club meeting is in the Tea Rooms, Towney at 9pm Thursday 12th June.
For the latest news visit our website www.kilcarcargaa.com you can also follow us on Facebook and Twitter at facebook.com/CillCharthaGAA and @KilcarGAA
Posted: 9:34 am June 6, 2014