BY CHRIS MCNULTY
c.mcnulty@donegalnews.com
CIARAN Coll has been through the mill more than most during the first half of the season.
When Belgrove/Home Farm right-back Conor O'Keefe was sent off eighteen minutes into last Friday's FAI Senior Cup clash at Frank Cooke Park, it was Coll who was left sprawled upon the turf while O'Keefe made the walk of shame. It's been an unfortunately familiar feeling for the Finn Harps full-back.
"That's more marks on me," he smiles.
Next week's mid-season hiatus gives Coll a chance to recharge the batteries following a bruising opening half of the season.
The First Division was always regarded as being of the rough-and-tumble nature, but Coll has felt it sharply.
He's had his scares, too, to go along with the usual array of scrapes.
In the second week of the season, Coll was admitted to casualty at Letterkenny General Hospital with chest pains.
"I was crippled lying in bed and went to casualty," he says.
"During the week, I was in agony. They thought first I had an ulcer. My stomach and my chest were in bits. They figured out then that I had spasms in my chest."
Manager Ollie Horgan spoke of his concern for the player at the time with medics initially unsure of the diagnosis.
Last month, Coll left Eamonn Deacy Park in Galway by ambulance after taking a heavy hit late in the drawn fixture with Galway FC. A doctor rushed from the main stand to attend to the player, who was permitted to return home after being assessed at Galway Regional Hospital.
"Derek O'Brien put a cross into the box and I was half turned ready to clear it at the time," Coll remembers.
"Marty Owens was coming in to connect with it. I got one knee in the back of the head and the other in my ribs. They took me down to Galway hospital, but I was alright to come home again on the bus. It was just a wee bit of bruising in the end.
"They were worried enough about my kidneys. The x-rays came back alright, though.
"It was sore, but I was back training on the Monday night and played against Shelbourne the next week."
As if he hadn't ran the gauntlet already, Coll was involved in one of the big talking points of the night against Shels. Harps had lost Josh Mailey to an early sending off when, right on the hour mark, Coll was chopped down by Dylan Cashin on the stand side.
With Finn Park howling for a red, referee Adriano Reale brandished only yellow.
"Aye, he was a couple of seconds late, but the referee didn't see it that way," says Coll now.
"I've been in the wars alright."
Until Kevin McHugh's return to action the following week in Wexford, Coll had been captaining Harps.
Retaining the services of the 22-year-old St Johnston man was one of Horgan's first tasks when he accepted the Harps job in November. Having spent over an hour in his company, Coll agreed to sign and Horgan had no qualms about handing him the armband when McHugh was ruled out with a hamstring injury.
That night against Shelbourne saw a stirring finale as Harps came oh so close to snatching a winner.
In the frenetic late moments there were signs that the old ground was coming alive as Harps poured forward in search of a goal to go along with Ruairi Keating's equaliser.
"As soon as we got on top of Shels, the crowd lifted," Coll says. "Sometimes at games you come out the tunnel and you can hear the crowd buzzing. Last year in the Cup (quarter-final) against Drogheda, it was huge. You hear the crowd shouting on and it does give you a wee lift."
Harps are unbeaten in their last five, but have drawn their last three League games.
A five-point gap is between them and the next team up, fifth-placed Wexford Youths. The danger is that Harps could drift away, but Coll insists that won't be the case.
"We don't really fear anyone," he says.
"Longford have obviously a bigger budget than us and they've had some quality signings like (Stephen) Rice from Shamrock Rovers, but we aren't far away.
"Everything we need, we get it. Ollie and James have us so well prepared. It's really professional. It's very enjoyable at Harps now. It's exactly what we've needed. The boys leave nothing to chance.
"The League is very tight. After Longford we'll have played everyone twice. No-one will run away with it. Shelbourne are four ahead at the top, but they've been dropping points too. We haven't really clicked yet. It'd be brilliant to get something out of this week to go into the break. It'd be a massive lift."
For much of the season, Coll has been operating in a left wing-back position, a change from the left-back slot he was familiar with.
"I'm loving it," he says.
"I never played the position before. I've been on the left wing alright, but never the position I'm in now.
"I like to get forward and in this position I'm on the ball a lot. I'm involved further up the pitch.
Team selections have varied given the in-and-out situations Horgan has found himself having to deal with, but the return of McHugh has injected optimism within the ranks.
"When you have the ball, he's always showing and always wants it," Coll says. "When he gets it, you'll always get something off him. The pass he gave to Pat on Friday night was something else. It's great to have Kevin back. His link-up play is first class.
"Ruairi (Keating) has been feeding off him well and I think we'll really get better now with Kevin back in the team.
"Ruairi and Sean (McCarron) have been out at times, but if we can get everyone back we won't be far away. We probably should be further up the table now."
Posted: 12:30 pm June 13, 2014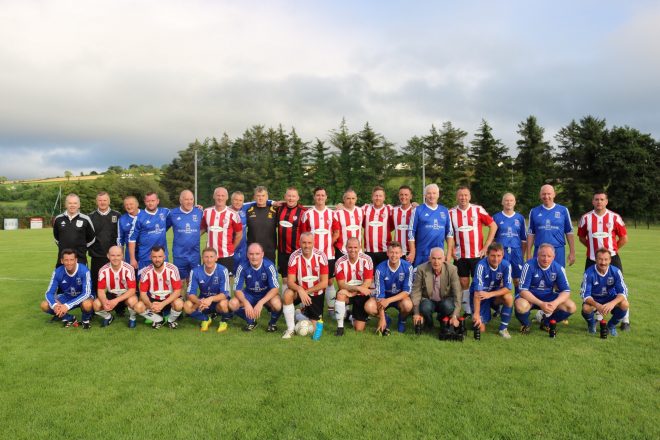 'Busty' would have enjoyed the craic while no doubt he would also have approved of the 'ground' football on...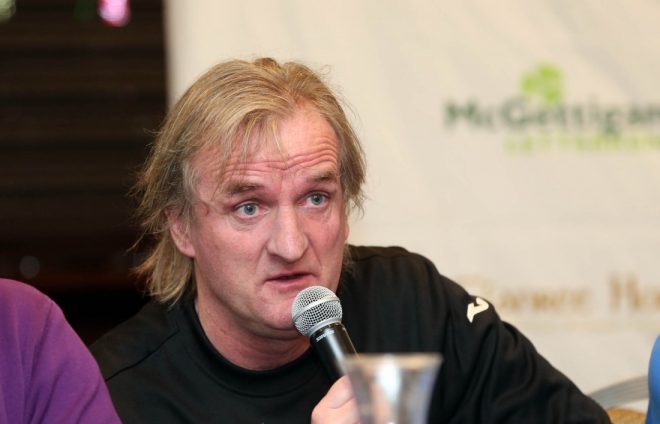 With the summer transfer window opening this Sunday, July 1, the Harps boss is instead content to spend every...