BY UNA MCCRORY
THE first ever Café Jerusalem rolls into Letterkenny next Thursday night.
A colourful caravanserai of Middle Eastern surprises, food and delights will transform the Grianan Theatre into a magical evening of cabaret, song, laughter, music and drama alongside a sumptuous spread of figs, falafels, olives, fruit, houmous, salads, flatbreads, red jewelled pomegranates, lemons and emerald vine-leaves brimming with delicious fillings. The best banquet this side of the Bosphorus.
Hosts Fadl Mustapha and Idan Meir wanted to celebrate their heritage with a cultural get together to share an evening of "fun". Inspired and encouraged by the success of Café Paris which ran at the theatre and the former Port na Failte the duo have garnered a bevy of enthusiastic actors, musicians, singers, friends and family who have all queued up to help create this unique event.
Idan, an Israeli and Fadl, a displaced Palestinian have forged an unlikely alliance since they met in their new home of Donegal. Coincidentally the two men moved here as their respective partners both hail from Letterkenny.
Their paths had started very differently in the Middle East. Fadl was born in Tal Izza'atar, a Palestinian refugee camp in Lebanon 42 years ago. Idan had been an Israeli soldier.
Their first introduction three years ago in the Grianan had a profound effect on the men particularly Fadl, who given his harrowing legacy had already started to seek out a way he could reconcile the experiences of his people's turbulent past. It was a painful road, which led to that fateful night in the theatre.
Fadl had already been living in Ramelton for six years with his wife and family when he met Paddy Logue from the Teach Ban Peace Centre in Downings.
"Paddy took me by the hand," said Fadl and "he showed me a way. It was Paddy Logue who was responsible for my change."
They later travelled to Belfast for a Peace and Reconciliation conference in the Le Mon Hotel in 2010. Two participants from Combatants for Peace, an organisation of former members of the Israeli military and Palestinian armed groups, who have renounced their weapons, were also present.
Nour Shehadah, a Palestinian, spent five years in an Israeli prison for his role in his local Fatah military and Chen Alon, a former soldier and Major in the Israeli army advocated the use of communication, dialogue and the theatre as a means to understand the 'enemy'. It was the beginning for Fadl. There was a way forward. The cogs were starting to move.
Later in November 2011, Fadl's wife Aoife, a teacher in Ballyraine National School, learnt that the actor, Charlie Bonner, was reading a play called 'Bassam' based on the true story of Bassam Aramin a bereaved Palestinian who lost his daughter when the little girl was shot dead by a rubber bullet by an Israeli soldier in 2007 in the Grianan.
A story about one man's journey from violence to non-violence and explores the broader moral themes of forgiveness and hope during the Israeli/Palestinian conflict.The play was written and directed by an Idan Meir.
The reading was part of Donegal County Council's 'Cultural Diversity Month'. Fadl admitted he was "very, very sceptical" of what he was expected to hear, a Palestinian tragedy, written by Jew? But he found himself, overwhelmed with its portrayal. He said: "It was very truthful, powerful and so moving." The cogs had started to move again for Fadl in his quest for an understanding of a wounded history said, "The wheel came full circle."
After the emotionally charged reading Fadl met Idan. The pair talked animatedly exchanging opinions. Idan expressed his desire to stage a full production of 'Bassam'.
Fadl immediately extended offers of help; "Please let me know, if you need anything," he declared. Little did he know that he would emerge a highly acclaimed actor in the lead role as the bereaved father Bassam? "I never thought for one minute I would be on a stage, acting in a play in Ireland," he said.
It was, he admits, a very challenging role, "It was tough. Tough not to show my real feelings, I had to keep my anger down, I had to try very hard to remain neutral, but with Idan's "excellent" direction and guidance over a three month period the play was ready.
With the goodwill and wide ranging support from those who believed in the project, and Idan mentions in particular Patricia McBride and the Grianan Theatre, Peace III funding and Donegal County Council – the play has reached and touched hundreds of lives. It is an electrifying and moving paean to the tragedy that is and continues to be the Israeli and Palestine conflict. 'Bassam' has played to schools, organisations and audiences and it resonates deeply with an Irish audience given our history and some would say present. Due to this eternal message and amount of interest the work has generated there have been numerous requests to revive the work."
Idan, who has worked passionately for years using the arts to unify people in conflict zones, hopes a work like 'Bassam' will reach new audiences. After his experiences as soldier he believes in the power of theatre as a means to convey humanity, to stimulate debate dialogue and compassion. He believes it to be an imperative towards an understanding "the other, the enemy."
In another coincidence, Idan closest friends and fellow theatre colleagues in the peace process are Chen Alon and Nour Shehadah from Combatants for Peace. Idan was a co-founder. They laugh and reflect on the parallels they have shared even living in the same town, Ramelton.
"I have also spent ten days at the Teach Ban Peace Centre in 2009 with a group of Palestinians and Israelis I never thought I would be back in Donegal, to live in Ramelton," Idan said.
But he did, as a renowned international dramatist he was invited to a conference at the Regional Cultural Centre in 2011 where he met Kate Brown and eventually moved to be with her. Fadl met Aoife Boyle at a St Patrick's Day Ball in Dubai. They have been married for eleven years now and have three daughters.
"The eldest A'alya," said Fadl, "plays GAA with the under Nines and she has been in two "competing" games so far, she's loving it, unfortunately she had no choice in the matter, either St. Eunan's or nothing," he said smiling. Granddad is Sean Boyle, current Club President of St Eunan's. Are the girls aware of their father's inheritance?
"I have a love/hate relationship with Lebanon. It feels home but not home at the same time that is due to the fact that I was born when my parents lived in a Palestinian Refugee Camp until I was four, then we moved into the city Beirut. I, along with many relatives had to escape the refugee camp during its siege and before it fell to opposing militias and many people lost their lives, some were family members," he stated. Fadl's family eventually moved to Dubai when he was nine. "As a refugee whose ancestors' home was taken away from by illegal means and force I am Palestinian by blood and heritage and I instil that blood, and rightful belonging into my girls too."
Idan said that his "heart, stomach and guts" belong to his homeland but "I have to do something. They are acting like criminals and should be on trial. I can't leave Israel and forget" He is compelled to alter perceptions, to shine a spotlight on injustices and suffering in the region. He will continue to work in "showing the other side of the story" both in his native land and with disadvantaged groups here who are marginalized here. He established an Intercultural Forum Theatre Group called Face to Face with the "incredible' support of Dr Karin White and the Regional Cultural Centre in Letterkenny. Dr White has also translated the text into German. He has also collaborated with An Grianan on a cross-border disability awareness Forum Theatre Project with a group of adults with physical disabilities and sensory impairments. He devised two plays based on their personal stories of living with disabilities. This work toured to audiences of over 500 people North and South of the Border. His vision is to "work together to change things…to move things. I want to convince people to take action."
It will they say be an entertaining night with a cabaret and a very "In Politically Correct" quiz amongst a few surprises. A vibrant and colourful night brought to you two men from two war-torn cultures that found themselves living in a village in Donegal. Kismet.
"Come join us," declares Fadl, "Let there be food, music, wine, love and peace"
Catch Café Jerusalem on Thursday, June 26, 8pm. Tickets available from Tel 07491 20777. €15/12
Posted: 5:33 pm June 17, 2014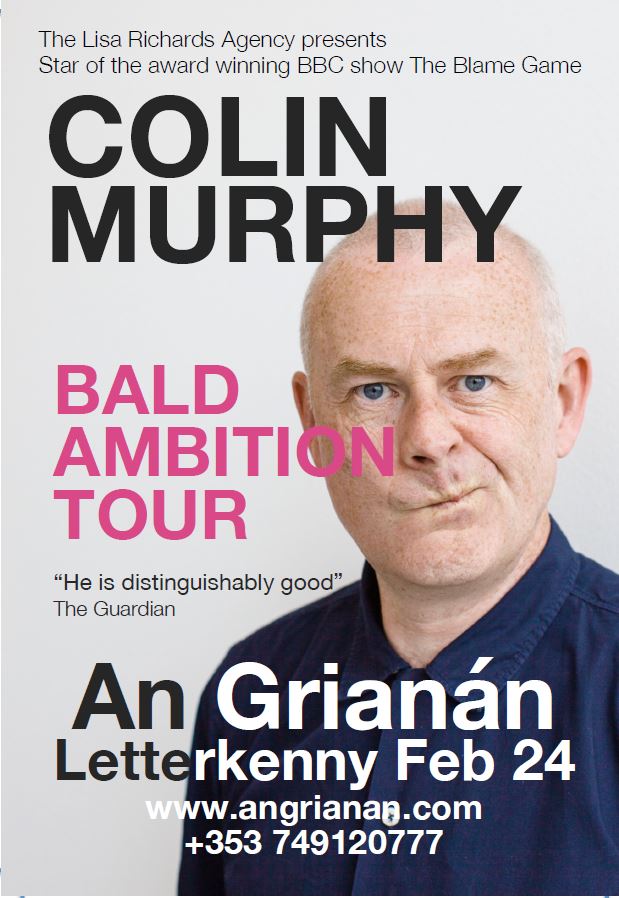 Celebrating 25 years still standing up, comedian Colin Murphy comes back to Letterkenny for one night only to An Grianan theatre,...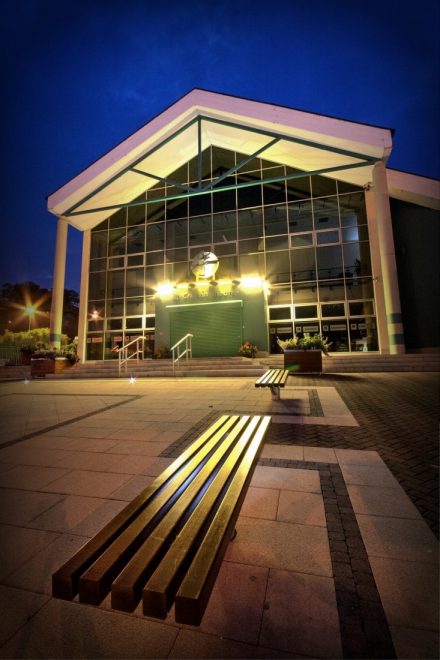 Buildings across the world 'Light It Up Gold' in September to shine a light on the bravery of children...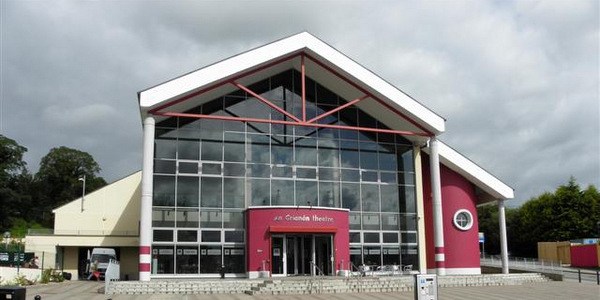 Twenty five students will perform a range of music from pop, rock and funk to jazz and blues.