BY CHRIS MCNULTY AT THE NATIONAL STADIUM
AUSTEJA Auciute landed her ninth All-Ireland title on Saturday as the Finn Valley ABC's golden girl overcame Ciara Sheedy to win the Under-18 64kgs title at the National Stadium.
Auciute begins her Leaving Certificate on Wednesday, but the St Columba's College student had to navigate a tricky exam in the form of Aglish's Sheedy, a European silver medalist.
Auciute, fresh from a semi-final demolition of Hillary Costelloe in last week's semi-final – a bout won by the Ballybofey bruiser inside forty-two seconds – wasn't allowed open up those deadly combinations which are her forte. Instead, Sheedy was an almost reluctant opponent and, strangely for a European medalist, went the whole third round and most of the second without landing a shot on Auciute.
And yet it remained a nervous eight minute for the Finn Valley contingent, with clean shots hard to come by, but it was the hand of their ace that was raised in euphoria.
"This means the world," Auciute said.
"It's my life, boxing. It's what I dedicate myself to. It's what I live for."
Auciute wanted this title badly and there were clear signs of a boxer on a mission and yet a little inhibited by the meaning of it all too.
A cagey and nervy first round was put aside once the solace of the stool arrived and a few words of wisdom from Billy Quigley in the red corner sent her out for the second.
"She (Sheedy) was a spoiler," coach Billy Quigley said.
"Austeja is a strong girl – when she hits, she hurts. Once Austeja landed a clean shot, she didn't want to know and it became a holding match. It was a scrappy fight, but whatever clean shots were landing were being thrown by Austeja. Boxing is all about landing shots and only one boxer was doing that. Austeja wanted it more; she was the hungrier girl.
"She's one of the most dedicated boxers you'll ever see. She was at my door on Friday evening at quarter to six, fifteen minutes early, and it's the same every night for training. She trains hard and puts the effort in.
"We were focussed on the job. We had a brilliant training camp with great sparring, pad work, bag work and the road work. We were down the road with no excuses."
A defeat to Amy Broadhurst in January's National Open Youths was biting at her mind ever since she closed the door of the Stadium behind her on that night. From there, the mission was to regain supremacy. On the ninth final of the day on Saturday, she bagged title number nine.
Auciute dug deep and in those moments where she was able to push Sheedy out to get to work it was the Finn Valley girl who undoubtedly was on top.
There were few occasions when Sheedy managed to land a blow on Auciute, who did well to avoid being drawn into the brawn of a wrestle by her Mayo opponent.
The judges concurred with Auciute getting a 10-9 nod in each of the four rounds to claim the Finn Valley ABC's 43rd All-Ireland title.
She said: "I knew it was going to be a tough fight – any day you're up against a European silver medalist isn't going to be easy. I knew that she was a good girl.
"A fight like that is very hard. You're thinking about what you're going to do all the time. It's more draining than if you're toe-to-toe just throwing punches. She has long arms which made it more awkward."
Posted: 8:00 pm June 2, 2014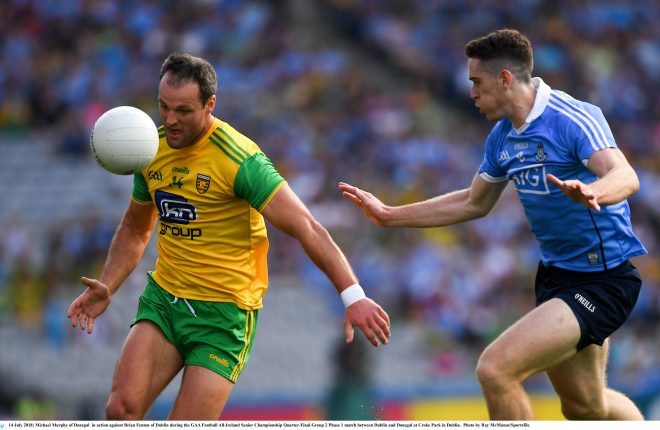 Dublin too strong in Croker.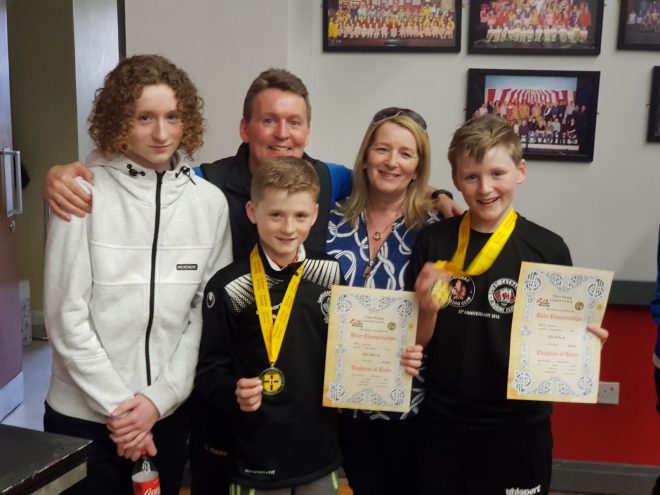 Seán Brady Devenney (11) and older brother Cathaír (12) from Corgary, Ballybofey, now progress to the All-Ireland finals in...