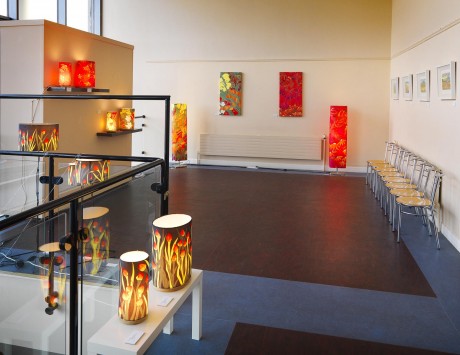 SIODA is an exhibition by local Donegal based artists Karen O'Kane and Fiona Higgins which is currently on exhibition at An Grianán Theatre, Letterkenny, until June 27.
Karen O'Kane of Kokodesigns is a textile artist based in Ramelton who hand paints silk with cold resist technique to make a range of bold and vibrant paintings which are constructed into lampshades, floor lights and all things illuminated.
Fiona Higgins is a batik artist working from her studio in Letterkenny. Her work depicts the beautiful scenery of Donegal in landscapes, seascapes and trees. She captures the ever changing light and colour of the shifting seasons and unpredictable weather.
Both artists are members of the Donegal Designer Makers and these two very talented Donegal artists joined forces to create the beautiful exhibition 'Sioda'.
Fiona's work is inspired by the Donegal landscape. She has been working full-time as an artist for the last ten years and she works in her studio from home.
She said: "In one work I might express the luminous quality of sunlight pouring through leaves in Spring, in another, I might represent the intense colours of the land and sky found after a Summer thunderstorm.
"I love the Donegal landscape and get a great sense of peace and excitement at the same time when I spent time by the sea or walking through the mountains.
"I want people to feel the same joy that I feel when I paint and that when they look at my work that it makes them feel content."
Last year Fiona won first prize in the Printed Textile category in the RDS National Craft Awards and her work is for sale in Geraldine Hannigan's, Port Road, Letterkenny Craft and Design, The Gallery, Dunfanaghy and An Clachan, Gaoth Dobhair.
Karen O' Kane was born in the Potteries, UK. She Studied Psychology in Edinburgh and stayed for ten years until moving to Dublin in 2002 and relocating to Donegal in 2008. Karen is a serti silk painter and she makes everything from hand painted silk, from fashion pieces to accessories. In recent years Karen has started making lampshades which have become larger and larger and now include her exhibition floorlight pieces. SIODA is the first exhibition of her work which is dedicated to lighting pieces.
Karen says that her grandmother was an artist and was very creative. She taught her lots of invaluable skills from a very young age and also inspired her with a can make attitude. Anything she liked, be it dolls, furniture or designer dresses she would see it as a project for that they could do together.
Karen is also inspired by the art of Marc Chagall and Freda Kahlo and Tiffany glass work, along with South East Asian art. Karen's work currently is inspired by flora and fauna of Donegal.
Karen has always made art and craft to sell but in 2010 I started Kokodesigns on a full time basis. She has a number of retailers but would like to increase numbers outside Ireland and work on more commissions from her new studio.
Karen said: "I like to make things that make people happy and bring colour and luxury to them in what they wear or in their homes.
SIODA runs until June 27 and I would highly recommend a visit to view these two talented artists' beautiful collaboration at An Grianán Theatre, Letterkenny.
Karen O'Kane can be reached on Mobile 086 3191514 at her studio in Ramelton or on-line at www.kokodesigns.ie as well as on Facebook 'kokodesigns'.
Fiona Higgins can found on www.fionahiggins.com, Facebook 'Batik Art by Fiona Higgins', Mobile 086 1578829, e-mail fiona@fionahiggins.com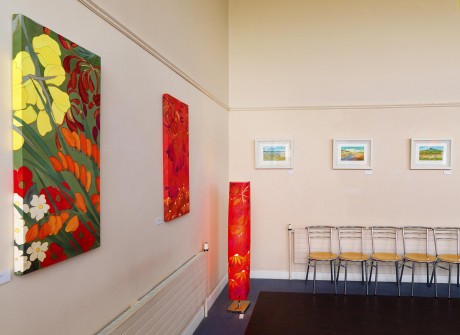 Zara McDaid can be contacted on Facebook, search 'Zara Mc Daid Art', www.zaramcdaid-art.blogspot.ie or e-mail is zaramcdaid@hotmail.com
Posted: 6:30 pm June 3, 2014