BY CHRIS MCNULTY
RORY Kavanagh might be missing Sunday's encounter with Derry, but the Donegal midfielder has had to keep the pedal firmly floored since being sent off in last month's Division 2 final defeat against Monaghan.
Kavanagh has been hit with a one-game suspension for his misdemeanour, but the St Eunan's man is confident Donegal can overcome his absence against the Oak Leaf side.
"You can't ease off in any way," he said.
"You have to keep the thing positive and you have to push the man you're marking as much as you can. That's the only way he'll get a benefit come the Championship.
"It's disappointing to miss out on the game against Derry. Hopefully the lads will do the business. We'll use the squad and that's what it's all about – men coming in and making a difference."
The last Championship game the experienced Kavanagh sat out was the Ulster quarter-final win against Derry in 2012, missing out on that occasion because of an injury. Donegal were comfortable victors on that occasion and Kavanagh believes Donegal have the firepower to score a win at Celtic Park.
He said: "Hopefully the boys coming in can do the business. We've a strong panel now and that's what Jim has been preaching all year. I believe if we can go and put on a good performance then we can surprise a few people.
"We're going about our business happy enough. People are talking about Derry so we're just happy to keep working hard and hopefully we'll produce a big one on the day.
"He's been trying out things in the League to see what fits best.
"Derry have been putting up very big scores so it'll be interesting to see how we can cope with that. They got to the final but will feel they didn't do themselves justice. Derry have a lot of quality players.
"For us, the League was good in spells. It was disappointing the last day against Monaghan. We just didn't click on the day, but you have to give Monaghan credit. It's all about building for the Championship. Hopefully we'll get the biggest performance of the year on the 25th."
Donegal rode the high waves in 2011 and 2012, but the surfboard went from beneath them last summer, left splashing by, first, Monaghan in the Ulster final and then by Mayo on that horrid August Sunday when the house of cards crumbled at Croke Park.
Kavanagh has been around long enough to expect these questions and, although coy on the subject of last year's defeats, you get a sense from the Scoil Colmcille schoolteacher that the pain hasn't exactly been wiped from the mind.
He said: "It has, once or twice, been mentioned, the manner in which we were beaten. It's something we want to rectify. We want to get back there again and get a wee bit of pride back in there again. We were at a low-ebb, but hopefully we can lift the spirits and drive the thing on again.
"If we get a result against Derry it could set us up well. It could lift the whole thing again. It needs a spark. Donegal just needs a wee spark. If we can get that from somewhere we could be set up nicely."
Kavanagh had been Donegal's most consistent player during the League, making his absence for Derry all the more noteworthy.
He said: "My injury had cleared up, I was training well and playing well which makes it really disappointing to miss the game."
Derry dined in Division One's surroundings this year and were exposed to the airwaves by the week as Donegal plodded to Laois, Galway, Armagh and Down for games in Division Two that were sideshows in comparison to Derry's dates with some of the so-called 'big guns'.
Despite being All-Ireland champions in 2012, Donegal are regarded as the underdogs by many ahead of the game in Celtic Park.
In Croke Park last month they were well below par against Monaghan, having returned from a training camp in the Algarve the previous week. It has been said that, perhaps, the toll of the camp was too much ahead of a game at headquarters.
"We can't use that as an excuse," Kavanagh said.
"You have to go and perform on the day. Monaghan were the better team on the day and won most of the battles – that's what it boiled down to. We didn't win the individual battles. It looked at one stage as if we were going to galvanise, but Monaghan are an experienced team now too – they're defending Ulster Champions – and they can handle that pressure.
"It was a bad day, but we just need to raise the spirits again. There is a good belief within the camp that we can spring a surprise."
Posted: 9:45 pm May 22, 2014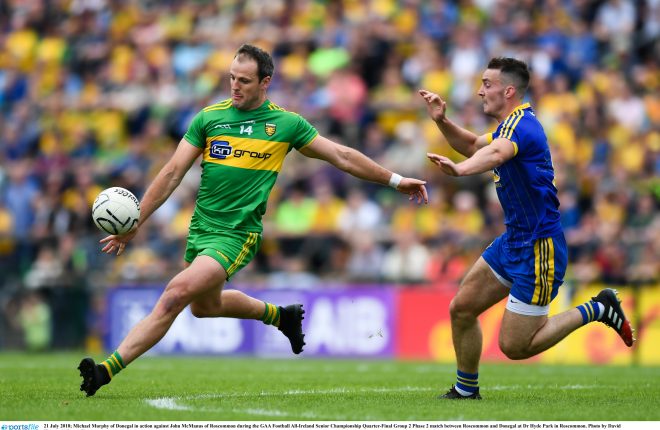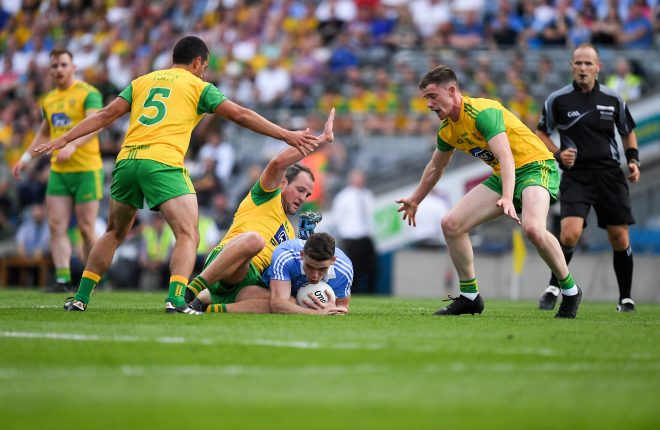 There were high hopes ahead of the first weekend of the Super 8s, but unfortunately the football didn't live...