TWO fantastic musical acts grace the stage at The Balor Arts Centre, Ballybofey this week – former Texas Artist of The Year Amanda Shires and Canadian folk legends The Paperboys.
Amanda Shires was named Texas Artist of The Year in 2011 on the strength of her critically acclaimed breakthrough album 'Carrying Lightning'. Even though this was the release which announced her arrival as one of America's most arresting new voices, Amanda is anything but a newcomer to the music scene.
She picked up her first violin aged 10 and spent her teens playing Western swing with the legendary Texas Playboys. She's married to Jason Isbell (formerly of the cult alt country band Drive By Truckers) and her latest album 2013's 'Down Fell The Doves' featured in many industry 'Best Of' lists.
She's a supremely talented artist – her supernaturally expressive violin, ukulele and quivering vibrato allied with a Tom Waits like poetic insight and femme-fatale conviction makes her an artist it's impossible to ignore.
The Paperboys are a near legendary Canadian folk band formed in Vancouver in 1991. They're a staple at folk, roots and bluegrass festivals in North America and Europe, routinely selling out shows in some of the most prestigious venues in both continents.
Their music has been described as 'Guinness with a tequila chaser while listening to an Americana julebox'. It has a deep respect and appreciation for the traditions of Bluegrass, Old Time & Celtic but is by no means traditional. It has healthy servings of Ska, Soca and African Highlife with a little White Boy Reggae and strains of Soul, Pop and Funk.
It's mostly acoustic but has electric guitars. It rocks incredibly hard and is extremely danceable but can also be mellow and slow and beautiful. It's not jazz although it can be jazzy, it's not heavy metal although they reserve the right to play a power chord. It's World Roots music that has a tendency to connect people and means a lot to many folks the world over.
In short, it's the best multi-cultural, multi-ethnic, multi-generational, multi-lingual, genre bending, co-ed band you're likely to hear this year!
Amanda Shires plays the Balor next Wednesday, May 28 at 8.30pm. Tickets are €12.50.
The Paperboys are at The Balor the following night Thursday, May 29 also at 8.30, admission €15. Tickets available from the Balor Box Office 0749131840 or online at www.balorartscentre.com
Posted: 3:35 pm May 23, 2014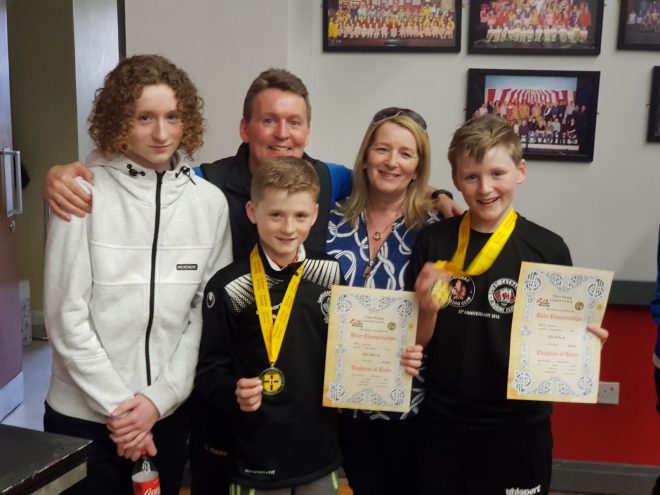 Seán Brady Devenney (11) and older brother Cathaír (12) from Corgary, Ballybofey, now progress to the All-Ireland finals in...
Inspired by the patchwork quilt 'Love Across The Waves' by Arranmore and Tir Boghaine Women's Groups, At The End...