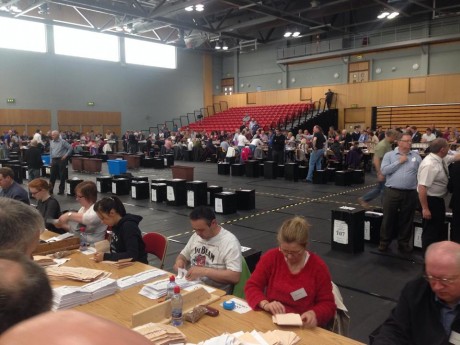 GLENTIES ELECTORAL AREA
By Harry Walsh
THE Ó Domhnaill name was top of the poll in the Glenties Electoral Area for the third time in a row yesterday as Seamus Ó Domhnaill led home the fourteen strong field.
The young 33-year-old Gortahork man, who topped the poll as an Independent in 2009, was back wearing the Fianna Fáil colours this time around. His older brother, Senator Brian Ó Domhnaill was the poll topper in 2004.
He will be joined in Lifford by Maire Therese Gallagher (SF), her party colleague John Shéamuis Ó Fearraigh, Enda Bonner (FF) and Micheál Cholm MacGiolla Easbuig (Independent) with the final seat going to outgoing councillor Terence Slowey (FG).
Electorate: 22,325
Total Poll: 13,035
Spoiled Votes: 136
Valid Poll: 12,899
No of Seats: 6
No of Candidates: 14
Quota: 1,843
FIRST COUNT
Bonner, Enda (FF) 1,244
Carr, Brian (IND) 550
Curran, John (FG) 504
Doherty, Pádraig (IND) 650
Gallagher, Maire Therese (SF) 1,754
MacGiolla Bhride, Hughie (FF) 546
MacGiolla Easbuig, Micheál Cholm (IND) 1,106
McCarron, Joe (DDI) 146
McClafferty, Michael (IND) 721
Molloy, Ian (FF) 895
Ó Domhnaill, Seamus (FF) 1,889
Ó Fearraigh, John Shéamuis (SF) 1,227
Rodgers, Seamus (LAB) 742
Slowey, Terence (FG) 925
Seamus Ó Domhaill (FF) elected, Joe McCarron (IND) eliminated
SECOND COUNT
The Distribution Of Joe McCarron's Votes of 146
Bonner, Enda (22) 1,266
Carr, Brian (5) 555
Curran, John (0) 504
Doherty, Pádraig (11) 650
Gallagher, Maire Therese (38) 1,792
MacGiolla Bhride, Hughie (2) 548
MacGiolla Easbuig, Micheál Cholm (12) 1,118
McClafferty, Michael (5) 726
Molloy, Ian (6) 901
Ó Fearraigh, John Shéamuis (3) 1,230
Rodgers, Seamus (20) 762
Slowey, Terence (6) 931
Non tranferrable 16
THIRD COUNT
Distribution of Seamus O'Domhnaill's Surplus Of 46 Votes
Bonner, Enda (4) 1,270
Carr, Brian (0) 555
Curran, John (9) 513
Doherty, Pádraig (3) 664
Gallagher, Maire Therese (2) 1,794
MacGiolla Bhride, Hughie (3) 551
MacGiolla Easbuig, Micheál Cholm (2) 1,120
McClafferty, Michael (10) 736
Molloy, Ian (2) 903
Ó Fearraigh, John Shéamuis (9) 1,239
Rodgers, Seamus (2) 764
Slowey, Terence (0) 931
John Curran (FG) eliminated
FOURTH COUNT
Distribution of John Curran's 513 Votes
Bonner, Enda (10) 1,280
Carr, Brian (5) 560
Doherty, Pádraig (72) 736
Gallagher, Maire Therese (22) 1,816
MacGiolla Bhride, Hughie (14) 565
MacGiolla Easbuig, Micheál Cholm (26) 1,146
McClafferty, Michael (132) 868
Molloy, Ian (3) 906
Ó Fearraigh, John Shéamuis (30) 1,269
Rodgers, Seamus (33) 797
Slowey, Terence (94) 1,025
Non Tranferrable 72
Brian Carr eliminated
FIFTH COUNT
Distribution of Brian Carr's 560 Votes
Bonner, Enda (30) 1,310
Doherty, Pádraig (9) 745
Gallagher, Maire Therese (74) 1,890
MacGiolla Bhride, Hughie (2) 567
MacGiolla Easbuig, Micheál Cholm (14) 1,160
McClafferty, Michael (20) 888
Molloy, Ian (213) 1,119
Ó Fearraigh, John Shéamuis (1) 1,270
Rodgers, Seamus (61) 858
Slowey, Terence (79) 1,104
SIXTH COUNT
Distribution of Hughie MacGiolla Bhride's 567 560 Votes
Bonner, Enda (112) 1,422
Doherty, Pádraig (87) 832
MacGiolla Easbuig, Micheál Cholm (67) 1,227
McClafferty, Michael (15) 903
Molloy, Ian (20) 1,139
Ó Fearraigh, John Shéamuis (161) 1,431
Rodgers, Seamus (28) 886
Slowey, Terence (2) 1,106
Non Tranferrable 75
Padraig Doherty eliminated
SEVENTH COUNT
Distribution of Padraig Doherty's 832Votes
Bonner, Enda (54) 1,476
MacGiolla Easbuig, Micheál Cholm (114) 1,341
McClafferty, Michael (59) 962
Molloy, Ian (10) 1,149
Ó Fearraigh, John Shéamuis (185) 1,616
Rodgers, Seamus (123) 1,009
Slowey, Terence (57) 1,163
Non Tranferrable 230
Maire Therese Gallagher's surplus of 47 votes will now be distributed
EIGHTH COUNT
Distribution of Maire Therese Gallagher's surplus of 47 votes
Bonner, Enda (2 1,478
MacGiolla Easbuig, Micheál Cholm (5) 1,346
McClafferty, Michael (1) 963
Molloy, Ian (11) 1,160
Ó Fearraigh, John Shéamuis (12) 1,628
Rodgers, Seamus (10) 1,019
Slowey, Terence (6) 1,169
Michael McClafferty eliminated
NINTH COUNT
Distribution of Michael McClafferty's 963 votes
Bonner, Enda (40) 1,518
MacGiolla Easbuig, Micheál Cholm (67) 1,413
Molloy, Ian (22) 1,182
Ó Fearraigh, John Shéamuis (236) 1,864
Rodgers, Seamus (77) 1,096
Slowey, Terence (42) 1,211
Seamus Rodgers eliminated
TENTH COUNT
Distribution of Seamus Rodgers' 1096 votes
Bonner, Enda (151) 1,669
MacGiolla Easbuig, Micheál Cholm (199) 1,612
Molloy, Ian (91) 1,273
Slowey, Terence (188) 1,399
NT 467
Enda Bonner, Micheal MacGiolla Easbuig and Terence Slowey elected without reaching the quota
Posted: 10:00 pm May 25, 2014