BY CHRIS MCNULTY
IN the days after Dublin won the Allianz League Division One final, wing-back James McCarthy attended a promotional event at Croke Park and told reporters that he felt he couldn't have made the breakthrough had he been in full-time employment rather than living the student life.
25-year old McCarthy is completing a Sports Science degree at DCU and isn't based too far from Dublin's training base. The Ballymun man watches the bread-winners among the Dubs' squad arrive for training following a day's toil and considers that it wouldn't have been for him.
"You would be tired from working nine to five every day and then rushing out to St Clare's or wherever or Inisfails for six," McCarthy said.
"If you have a niggle you'd be trying to get out and see the physio for five or half-past five.
"We're basically professional in everything but name. Just the recovery…you're getting up training Monday, Tuesday, Wednesday, Thursday and then training nine to five.
"Being at college helps. Looking at some of the working lads coming to training, I think they looked a bit wrecked."
The day after Donegal's defeat by Monaghan in the Division Two final, Karl Lacey took to Twitter to express a similar thought. The Donegal town native is based in Limerick these days, taking a Masters in Sports Performance at UL.
Once a week he and Michael Boyle make the commute from Shannonside to Ballybofey to train with Donegal. Lacey echoed the sentiments of Gaelic footballers the country wide when he Tweeted: "It's days like this you wish you were professional, recovery session done but now it's a 12 hour marathon in the library ?#HeadWrecker"
Frank McGlynn was that soldier once upon a time.
When he was first asked to attend a trial game by the then new Donegal manager Brian McIver in December 2005, McGlynn was a student in Galway. Commitment is something he's always had to appreciate the full value of.
"For the early part of my career I was in Galway, coming up and down," he says.
"I came up one night a week. It's a hard slog. You're playing college football too and you're just trying a balancing act really. For the students it's a full year of football.
"There's a lot of traveling for the boys who are at college down the country. Counties who are more centrally located with the universities close by will, naturally, have it easier than the likes of ourselves. The boys are putting in massive effort when you consider they're driving up and down from Limerick or Dublin one night a week to training. Only for that we'd be down a lot of numbers. It's vital."
McGlynn is one of a rare breed at the cutting edge of the Championship: He's in full-time employment. There is a growing number of senior players who now have 'student' scrawled aside their name on the pen-picture page in the match programme.
A teacher at Stramore National School in Glendowan, McGlynn has two young children, Harry and Gracie, at home, but credits his wife, Diane, with being able to comply with the demands of the game.
"I'm lucky that I have a good family at home to support that," he says.
"When I come in the evening from work, sometimes I'm heading back out in an hour or a short time later, but I've a great support system around me that allows it to work. That means a massive amount.
"I'm also lucky that I'm close enough to work and close enough to Ballybofey, Letterkenny or Castlefin where we usually train. Because of that I'll have time in the mornings to get some gym work or recovery work done. The commitment is massive, but it's worthwhile when the rewards come your way."
Three mornings a week, McGlynn will be up at cockcrow to attend a gym session with Donegal team-mates in Letterkenny. Living in his native Glenfin, McGlynn is located within touching distance of training and work. He had been rumoured to have been considering stepping away from the inter-county game last autumn, but those fears proved unfounded even if they would have been understandable.
This year, in the Dr McKenna Cup against Armagh, McGlynn made his 100th Donegal appearance. Even in the eight years he's been on the go, the demands have rocketed but there are few complaints coming from the quiet-spoken wing-back.
He said: "Every county seems to be increasing the level of preparation for games. That means an increase in the commitment players need to give. It's a good thing for spectators because the players are so fit and you can tell by the look of their physique that they're in top shape.
"The levels of general fitness have increased massively, but you just have to keep up with it."
Posted: 11:45 am May 22, 2014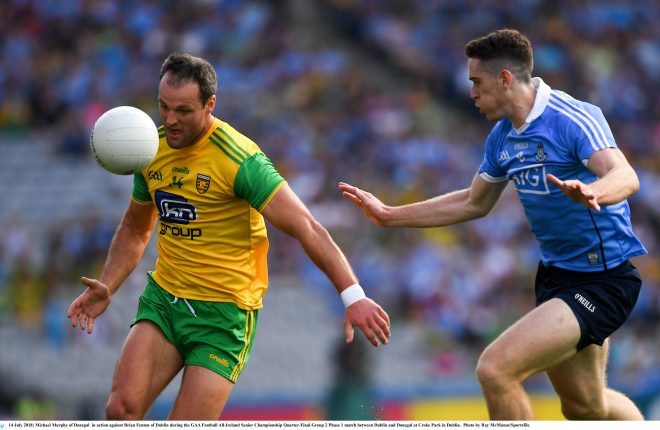 Dublin too strong in Croker.