BY CHRIS MCNULTY
FINN Harps will be without striker Sean McCarron for the next month at least after the Derryman fractured an ankle at training this week.
McCarron fractured a bone and also sustained ligament damage when he went over on the ankle at training on Monday.
It is the second injury to sideline the attacker this season after a fractured cheekbone kept him out of action earlier in the season.
Having been restored to the squad wearing a protective face mask over the injury, the latest set back is a huge blow to Harps, who have just welcomed their captain Kevin McHugh back to action. The Killea man is now likely to make an earlier-than-expected return to the starting XI given McCarron's absence.
"It's so disappointing; he'll be a big loss," Harps manager Ollie Horgan said ahead of Friday night's clash with Wexford Youths at Ferrycarrig Park (8pm).
"You get McHugh back and now you lost McCarron to a broken ankle. He'll be out until the end of June at a minimum.
"We had hoped to get Kevin back in gradually and ease him back into it. Now, we may have to give him a bigger part to play. Kevin isn't fully match fit yet, but that's the situation we're in. I thought that things were improving, but there you go.
"We're just not having much luck."
Harps are without the suspended pair of Caoimhin Bonner and Josh Mailey. Bonner was hampered by an ankle injury anyway, but serves a suspension following his recent sending off in Galway. Last Friday Mailey was sent off after only 15 minutes of the one-all draw against Shelbourne at Finn Park.
Mailey had already served a suspension this season following an earlier dismissal against Shelbourne at Tolka Park and the Letterkenny native now faces a lengthy ban from the FAI's Disciplinary Control Unit. No confirmation of the severity has been confirmed.
Mailey's sending off was the fifth red card for Harps this season and Horgan voiced his displeasure after the game.
Having gone one-nil down to Lee Desmond's goal early in the second half, Harps hit back and Ruairi Keating levelled in the 66th minute to earn them a point.
A rousing finish might well have won it for Harps, with Packie Mailey and Damien McNulty going close.
Horgan said: "We were excellent in the last half-an-hour. We played decent football; it wasn't just heart and passion.
"I felt that we didn't have any fight in the first half, which was disappointed. The last half-an-hour was very positive. We could have and should have scored from a couple of set pieces late in the game but, look, to be fair Shelbourne could have scored with a couple of glorious chances themselves. We could have two down."
As they left the pitch at the end, most of the home supporters stayed behind to applaud their team, clearly encouraged by their endeavours in the closing chapter of the contest.
"It wasn't a big crowd, but they really supported the team," Horgan said. Just over 500 were in attendance on Friday night and already this season there have been signs that a run of results could spark a significant rise in the numbers creaking the turnstiles.
"Imagine if we had the effort and performance of the last half-an-hour every week," Horgan said. "People stayed back and they were fairly clapping. Of course people can be cynical and will give out, but they also appreciate genuine effort."
The game in Wexford marks a big personal milestone for Harps centre-back Keith Cowan who will make his 100th appearance for the club.
Cowan will become the 62nd player to reach the century with five of the current squad having gone before him – Kevin McHugh, Michael Funston, Ciaran Coll, Thomas Bonner and Mark Forker.
Wexford are second in the standings and Horgan anticipates a difficult evening at the office, with Harps not having a great record at Ferrycarrig Park, a ground at which they haven't won since Blain Curtis netted twice in a 2-0 win almost three years ago.
Horgan said: "Wexford are flying – and I can see why. They are pushing at the top of the table. They're very strong, very fit and they play good football. They aren't just in second place by coincidence. They could have won in Tallaght on Sunday (against Shamrock Rovers 'B') by a lot more that two goals.
"They have power and pace up front with Danny Furlong, Ben Ryan and Aiden Keenan and play very decent football.  Harps haven't a great record in Ferrycarraig Park at the best of times so we know how difficult it will be."
Posted: 11:40 am May 29, 2014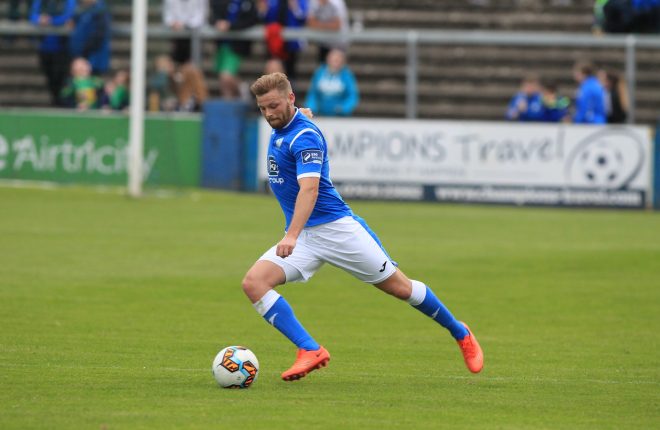 Cobh made the long journey home with the three points.
Ciaran O'Connor netted the winner.