BY CHRIS MCNULTY
c.mcnulty@donegalnews.com
WHEN Jim McGuinness is on form being in his company feels like a privilege.
This time of year brings the best out in the Donegal manager. Bar his post-match thoughts or his weekly briefings to the local press corps in Donegal, McGuinness keeps his media duties to a minimum. When he holds court, then, in a pre-Championship press conference, it's generally worth paying attention.
Meeting room 4 in the new building at Jackson's Hotel in Ballybofey is a bit like a boardroom. Last Saturday, McGuinness held court for close on an hour, fielding questions about all things Donegal, surrounded by around a dozen members of the fourth estate.
We don't hear them too often, but his views on the wider stratosphere of the GAA world are worth listing to. Articulate and knowledgeable, devoid of cliché, he comes across sometimes as if he's rehearsed, but the truth, simply, is that he's a man at ease speaking about the finer details of the game. And he never offers an opinion without having knowledge of the subject matter.
The big talking point as regards Gaelic football's evolution this year has been the introduction of the black card. Donegal haven't fared too badly with just four players – Rory Kavanagh, Ryan McHugh, David Walsh and Colm McFadden – having had the black card waved in their directions, but McGuinness remains unconvinced by the merits of the new system.
"I'm not 100 per cent confident sitting here today going into Championship with the black card," he says.
"When we got the tutorial from the referees it was very clear and very simplistic in terms of the application of it. If you're dragged to the ground, you trip somebody or you step across somebody and took them out, for me I see black cards for other things and it doesn't make sense.
"You have other situations as well where fellas are playing the game, they are grabbing jerseys and they are not letting go and that is more cynical than anything but it is not in the book. So for me, I am not convinced. I see some tackles now that are yellow cards they are hard tackles that are late and they are ending up as black cards. I am just not convinced about it but I like the concept of it.
"The black card has created a fear in defenders, I have no doubt about that. It has enabled teams to be more aggressive in terms of running at opposition defences. It definitely has helped that and it has tidied things up but as a manager or coach going into championship you need to know where you stand I and I don't know where we stand with the implementation at the moment.
"It needs to be revisited, it is too narrow. We are letting other fouls come in that are not black cards. You train all year and this is the key time of the season now and to think that you might get your marching orders in a game, which might impact on whether you can play in the next game, it is a difficult one."
McGuinness believes that defenders are now almost scared of making tackles and is concerned what is on the horizon for the sport.
"You are talking about a player who has been conditioned into how he plays the game over years and in the back of his mind now in the clutch moment they are thinking…you can see it in the body language, you can see them readjusting in the course of the tackle," he says.
"For me, they are just going to be hard tackles but they are afraid if they are really hard on impact that is them gone.
"When I was playing against Armagh at their peak, the Armagh players would break you in the tackle. If they got the chance they would break you in half in the tackle but most if it was very fair. They were hard but fair and there would be the odd missed tackle that would not look every good, it was hard and fair whereas at the moment it has become very sanitised, the game has become very sanitised.
"We are losing a bit of our indigenous approach as to how we are playing the game. There is more of a soccer dynamic at play now with the cards, and when player goes past (signals with his hands raised) where they will jump out of the way because they are thinking: 'I can't do that'".
McGuinness himself played in many the rough and tumble clash in the bear pits of Ulster. Recent developments in the changing of the rules, or rather the attempting to change, is seen in many quarters as attempts to remove the 'physicality' from the game.
McGuinness says: "Maybe the thing is to sanitise it. Maybe that is the goal: to make the game more open and load it in the favour of the forwards and make it more aesthetically pleasing. So maybe what's going on is exactly what was hoped for. My opinion is: that's great but you still need what we were all brought up with. The competitiveness and the tackle is what defines the sport."
Following Donegal's All-Ireland win in September 2012, McGuinness was appointed as a Performance Consultant with Celtic FC in Glasgow. Soccer's dark arts, he feels, are beginning to creep under the door into Gaelic football and it's not a development that sits easy with a man who played hard and who has made plain from day one that his teams might be on the edge, but are always 'coached to the rules'.
The very notion of diving on the Gaelic football field is enough to make men turn in graves, but McGuinness warns that an increase is almost inevitable as a consequence of the new disciplinary systems.
He says: "It is becoming very, very prevalent and that is only going to get worse because when the stakes get really high players will do anything to win the game. I see that in my mind's eye that as a debate on the Sunday Game. I see a lot of them flash-points popping up in the Sunday Game this summer because a fella will have walked to the line feeling hard done by. I think that is going to come into it.
"Forwards are thinking now, instead of fearing the defender coming at then they are thinking 'How can I use this situation" and that is a big shift and you do feel for the defenders in that situation.
"I was watching some of the Division One games on television this year and there was hardly a tackle in 35 minutes of football. It was just score, score, score and, I need to be careful what I say here, but I think people enjoy physicality in our sport. I think people enjoy seeing a player coming though the middle and a big man coming out on him and the two making significant impact, and the ball spilling from it and a fight for the ball ensues.
"Whereas if it is a game that is up, down, up down, I think it will become boring. I got that sense from some of the games that I watched, but then if you say that people will think you are saying that because you are not kicking that amount of scores."
It was a discussion that brought out his passion for the game. Asked if he would call for an end to the black card system if he could, he added: "We are in no man's land now anyway so if we reversed it we would still be in no man's land because they are half-conditioned for the black card but time will tell."
Posted: 9:00 am May 16, 2014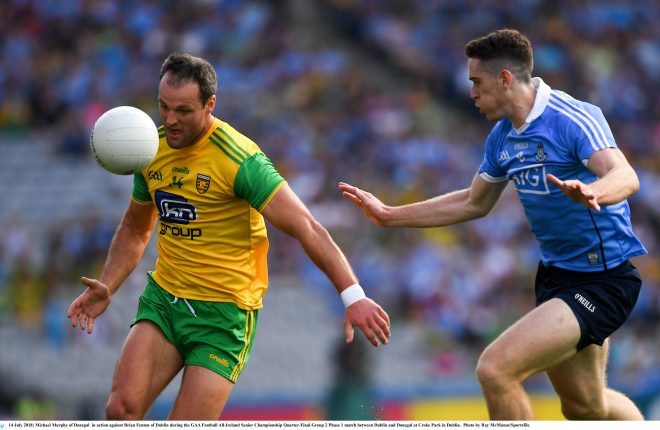 Dublin too strong in Croker.