BY CHRIS MCNULTY
ON the one hand, Michael Murphy would just love to park the 2013 inter-county season somewhere in the back of his mind; on the other, the lingering thoughts from the dust of last year are fuelling his desire to take Donegal back to the top again.
With his club, Glenswilly, Murphy enjoyed the best of years in 2013, winning their second Donegal SFC title and reaching the Ulster final. That came after he'd risen from the ashes of a year to forget with Donegal. Trouble is, he can't forget it.
In 2012, they'd been kings of the land, but their hands were removed slowly and painfully from the handles of the Anglo-Celt and Sam Maguire Cups last summer.
Caught on the hop by Monaghan's energy and desire in Clones, the manner of their defeat to Mayo in the All-Ireland quarter-final was a brutal infliction of ruthlessness on Donegal by the westerners.
The hurt in the eyes is still plain, even now, nine months on.
"I'd be lying if I said that we've just forgotten last year," says Murphy, Donegal's captain for a fourth campaign.
"It has given us an extra wee bit of motivation. There was a lot said and written about our lack of competitiveness and we had big defeats in the Ulster final and All-Ireland quarter-final. That does add to our motivation.
"Without doubt it was disappointing the way it happened. In both games, we were fairly well gone by half time. We tried our best to keep in the games, but it just didn't work.
"All of that's in the past and we feel that we're in a much better place now."
Champions of Ulster in 2011 and 2012, Donegal's machine shuddered to a halt last summer, but now they're back with a renewed verve. They hit the roadblock that halts the march of many champions. The trick now will be returning to those heights scaled in the previous two electric summers.
Murphy says: "We want to do our talking on the pitch now this year. There was a lot of talk last year and even this year there have been a lot of references to last year and what happened. We have to take it on the chin and we have to live in the present. We want to grasp every opportunity available."
The 24-year old has had his surroundings changed this campaign. He shelved plans to start a Masters in Queen's University, having completed his studies at DCU last year. Living at home in Bomany again, he'll return to college in the autumn. For now, his mind is trained on Derry; traditionally the rivals with whom Donegal have had their fiercest battles down the years.
"Derry won't worry about us and what we've done or haven't done," Murphy acknowledges.
"They've had a superb National League. Their form was excellent, but we're happy where we are ourselves. It'll be hell for leather in Celtic Park, that's for certain. Derry, after the League they've had, will start it as the favourites. It's been the manner of it that has impressed more than anything. They are playing a brilliant brand of football and this is against top teams who will be in the shake-up for the All-Ireland at the end of the year."
In the home dug out at Celtic Park, wearing the Bainisteoir bib will be a man familiar with Murphy and Donegal. In 2007, on the advice of Donegal selector and then Glenswilly manager Francie Martin, Brian McIver named a young St Eunan's College student by the name of Michael Murphy on his Donegal senior football panel. McIver handed Murphy his senior bow for Donegal and later that summer gave him the keys of the kingdom in introducing him to his first senior championship contest, a qualifier win over Leitrim.
Typically, he found the net that afternoon.
He holds McIver in high esteem and speaks almost reverently about Derry's manager, whom he calls 'a brilliant man-manager and a brilliant tactician'.
He says: "I still carry things I learned from Brian.
"I'll be forever indebted to him for giving me my Donegal debut. It was a massive thing to do. He put his neck on the line for me really, I was so young and had no experience, but he gave me the chance.
"He was always very meticulous and there was a real degree of professionalism about him. He was always very passionate and he had his teams playing the right way, if there is a 'right' way. You can see that style in the teams he's been with, at Ballinderry, Donegal, Down and now Derry. The success he had in Donegal I'm sure has really helped in the last couple of years."
2013 was a reminder of how things can change in almost an instant. The road to the summit is pock-marked again by boulders all along the way – starting with the Oak Leafers.
"You need to dream big, yeah, of course you do, but in Ulster football you've to keep your mind on the game of the time too," Murphy says.
"We would be foolish to start looking past Derry. There'll be no holding back against Derry. All our preparation and focus will be on Derry – nothing else.
"We just want to be competitive. We try to be competitive in every game we play, whether it's a McKenna Cup game in January or an All-Ireland final in September. I know that's a boring answer, but it's the way we operate. It is something that we'll never move away from and it's a philosophy that we stick by religiously: It's one game at a time."
Posted: 3:54 pm May 20, 2014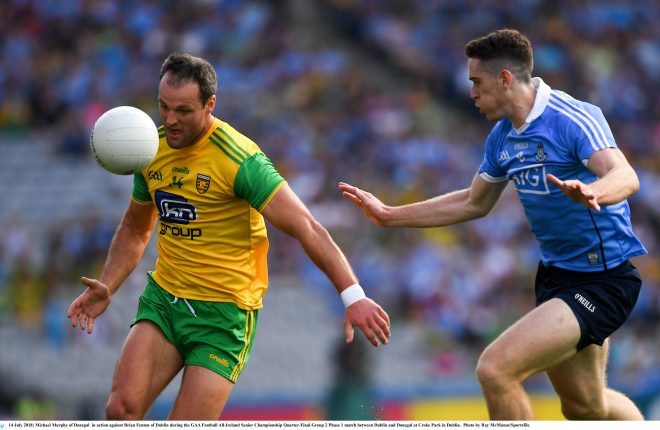 Dublin too strong in Croker.