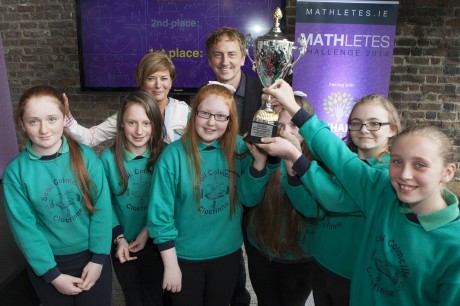 STUDENTS from Cloughfin National School in Lifford were named the top MATHletes in the country at the national finals in Dublin on Saturday.
The event took place at The CHQ Building at Dublin's IFSC.
Out of the 3,000 students from 5th and 6th classes in the junior cycle and 1st, 2nd and 3rd years in the senior cycle who have taken part in the MATHletes Challenge 2014, 150 qualified for the National Finals, having come through as a top performer in the MATHletes Challenge Provincial Finals.
Competing for over €20,000 in prizes and the title of MATHletes Challenge 2014 national champion, the winners of the MATHletes Challenge 2014 national finals were determined by the students who had the highest scores following a multi-event format, consisting of three maths events designed to test the full range of the students' maths abilities.
The competition was launched at the beginning of February and is the brainchild of Cork based tech entrepreneur Sean O'Sullivan of SOSventures.
He said that "Ireland is languishing in the middle of the European pack when it comes to the STEM subjects (Science, Technology, Engineering and Maths).
"The introduction of the Khan Academy to Irish students through the MATHletes Challenge is just one part of an overall strategy to improve the standard of Irish students in maths.
By developing a stronger foundation in maths, Irish students will be well-equipped with key skills that are required to take up jobs in export-led high-tech that are so desperately looking for talent."  
Posted: 11:21 am May 27, 2014