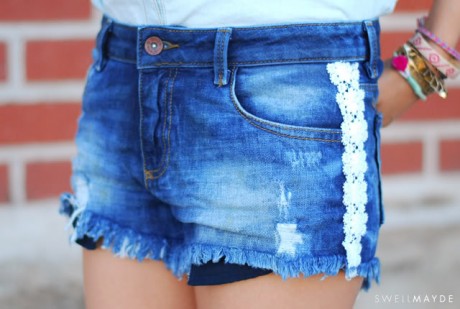 SUMMER is finally here, which means that ladies all over the country are updating their wardrobes to be on trend for summer. I think you will agree that we will find ourselves spending some serious cash updating our wardrobes, while trying to stay 'on trend', we can tend to get carried away!
But there is one item that pains me to pay retail for, the current on – trend summer wardrobe staple, cut-off demin shorts. I think this is because I know that this look can easily be achieved with a sharp pair of scissors and an old pair of jeans!
So recently I got to thinking about DIY cut-offs and their advantages over store bought versions. I found that there are tons of ways to customize them, so you're wearing something unique that's a reflection of your individual style.
And given that these shorts were made by me, I'd likely grow attached and get lots of wear out of them, weather permitting of course!
In consideration of these musings, I was a woman with a mission: make the perfect pair of D.I.Y cut-offs at home. Below you'll see exactly how I did it and walk away with the skills to make this your next Sunday afternoon project, that'll have you digging out those castoff ratty jeans you no longer wear and turning them into a fabulous pair of cut offs.
DENIM CUT-OFFS
What you will need
A pair of old jeans or even jean shorts that are too long
Xacto knife, preferably a pair that are a little bit dull
Scissors
Cutting board or something to line your surface
Step by Step guide – Cut-Off shorts
1. Put your jeans on and measure to the desired length. Mark the length with a safety pin or white chalk
2. Start by cutting one leg off. I cut slightly up, creating a curved hem line. This is entirely up to you.
TIP: I'd suggest not cutting too short on your first try. It's always better to have them longer and adjust then having them too short to start off with!  
3. Once you're done with one leg, fold the jean legs on top of each other..
4. Cut the second leg by tracing the hem for the first. Make adjustments as you need.
5. Line your jeans on a cutting board (or similar) and start creating marks with the xacto knife.
6. Keep cutting over the same mark several times until you get the pattern/hole/cuts that you want.
TIP: using a duller knife gives that rough edging. 
7. Once you've creating all the holes/marks/cuts you want on the pant legs, work on the actual hem line to give it a rough edge.
8. Use the xacto knife and cut along the edge of the hem, go over it several times.
9. Snip some of the excess fray off with scissors (you can also leave them hanging too!).
10. You can also see here the effect of cutting a slight curved hem. I think it gives the illusion of longer legs. Give it a try!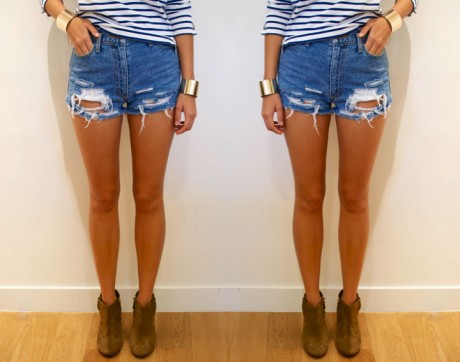 Lace It
What's better for turning a smart pair of shorts into a summertime staple than a little bit of lace? Let's face it, you can't wear your favourite jean cut-offs every day…so a touch of this delicate fabric can add ladylike charm while maintaining a smart and stylish feel.
To create: Cut two pieces of lace trim long enough to wrap around each leg opening with fabric scissors. Fasten trim to the inside of the shorts with straight pins. Lastly, sew the trim to the inside of the shorts to secure using a needle and thread.

Zara McDaid can be contacted on Facebook, search 'Zara Mc Daid Art', www.zaramcdaid-art.blogspot.ie or e-mail is zaramcdaid@hotmail.com
Posted: 6:30 pm May 20, 2014