CAOIMHE Friel is a young artist about to launch her new collection as part of the Belfast School of Art final year show.
This will be the start of an already promising future for the Creeslough girl. After returning to the costume department of Game of Thrones in June to work on the up coming season, Friel will be heading to Norway for two weeks as artist in residence at Galleri Hildreland in the beautiful Vesteralen in northern Norway.
 
The residency in Norway is part of the project entitled Edges – Three Sides of The Same Sea, which is a transnational cultural partnership of Donegal County Council Cultural Services, East Iceland Cultural Council and Vesteralen Cultural Council in Northern Norway.
Each country will be co-ordinating a series of themed Artists' Residencies in each of the regions' municipal museums.
Friel will spend two weeks in Vesteralen creating a body of work based on the embroidery of traditional Norwegian costume known as the bunad.
Her work focuses on the history of domestic textiles and their makers. Through a playful fusion of traditional patchwork and embroidery techniques, she creates dramatic, large-scale work.
A careful blend of colour and composition reflect painterly influences while the complex layers of embroidery suggest an intimacy between maker and object.
Her organic working process is closely linked to fine art processes like collage and painting, which she uses alongside her textile work.
She uses a mixture of found and dyed fabrics, which are of particular significance to her. The dramatic colours and composition in her work capture the viewers' attention
While the fine areas of detail commemorate the centuries of sewing carried out by women in the home. The degree show at Belfast School of Art will commence on Friday the 6th of June. It is open to the public and all are welcome! For more information about Caoimhe Friel, you can find her at www.caoimhefriel.com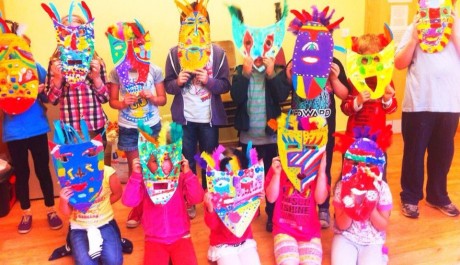 CreativeKIDZ Art Summer Camp
I am now taking bookings for the exciting new CreativeKIDZ Art Summer Camp 2014 Programme which will be held in the Ramelton Town Hall from Monday, June 30, to Friday, July 4, every day from 10.30am to 3pm.
Hedge your bets with the weather this summer. There will be lots of creative art activities indoors and when the weather is fine we take the children outside for organised fun and games.
CreativeKIDZ was established in 2008 to help encourage children to use art as a means of self expression, problem solving and to have fun with art.
A a professional art teacher I believe in art for art's sake, but I also believe that art, design, craft and creativity have a very important role to play in childhood, business and leisure.
Early introduction and training in the arts opens a world of creativity and opportunity for your child. They will learn valuable art skills through our classes but more importantly they will build the confidence to create and innovate through many different media.
Structured Approach – We are fully qualified primary and secondary school art teachers so our curriculum is structured. We set learning objectives, creative challenges and quality targets for every class.
Classes are focused on two main age groups: Juniors – 6 – 8 yrs – Inroduction to art concepts and techniques; Focus on confidence building and having fun.
Juniors – 9 – 13 yrs – Deeper exploration of various art techniques, taking a mini-project approach; All art equipment and materials included in the cost. 
Old clothes and packed lunch required each day.
For bookings email Zara at her address below and if you have family or friends with children in Sligo let them know that Zara will be holding her CreativeKIDZ camp in the Sligo Golf Academy, Ransboro from July 7 to 11.
Zara McDaid can be contacted on Facebook, search 'Zara Mc Daid Art', www.zaramcdaid-art.blogspot.ie or e-mail is zaramcdaid@hotmail.com
Posted: 5:30 pm May 27, 2014