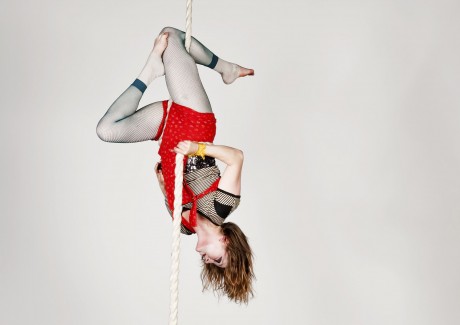 THIS Sunday aerialists participating in this year's Irish Aerial Dance Fest (IADF) will attempt to break a Guinness World Record.
Fidget Feet and other aerialists will attempt to break the 'most people performing aerial silks' record, during the IADF, which begins this weekend, at 4pm in the Aura Leisure Centre, Letterkenny, on Sunday.
At present this record is set at 25 people performing at once, but Fidget Feet are determined to go down in Guinness World Record history with 30.
Why not call down to this Free event and be a part of history.
Fidget Feet Aerial Dance Theatre are Ireland's foremost aerial dance company. In ten years Fidget Feet has grown exponentially, performing across five continents and to audiences of over 100,000 people.
In addition to creating work, Fidget Feet is a strong advocate for the development of aerial work in Ireland. The company was not only the first to teach aerial dance in Ireland, but founded the Irish Aerial Dance Fest – one of the largest aerial festivals in Europe. Run annually, the Irish Aerial Dance Fest hosts more than 100 classes over three weeks, and is attended by participants from all over the world.
Fidget Feet are artists in residence at the prestigious Irish World Academy of Music & Dance in the University of Limerick until 2017.
WHAT IS THE IRISH AERIAL DANCE FEST
Have you ever seen a high-flying trapeze or watched an aerial circus performance? We take the thrill of aerial circus and combine it with the beauty of dance. For three weeks every June, the IADF provides three weeks of workshops and performances for anyone who's ever wanted to learn, from professionals to absolute beginners.
This year the IADF is five years old and will boast 110 students from over 10 countries and 2 continents. The festival is presented by Fidget Feet, An Grianan Theatre and Donegal County Council. If you're interested in joining in, please visit www.irishaerialdancefest.com for full details.
Posted: 12:34 pm May 29, 2014