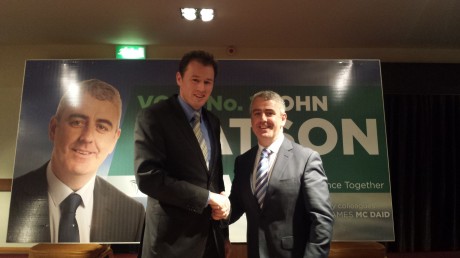 By C.J.McGinley

FIFTEEN years after he stood in a local election Letterkenny businessman John Watson launched his campaign as he seeks a seat on Donegal County Council.
The 43-year old former President of Letterkenny Chamber of Commerce is the proprietor of Watson Hire and employs 23 people.
He is a former member of the Fianna Fail National Executive and polled over 900 votes in the 1999 local elections.
He will join sitting Councillors Ciaran Brogan, Liam Blaney and Mr James Pat McDaid in the race for election.
Mr Waston is the son of Leonard and Kathleen Waston from Iona and got his first job with Ben Sweeney on the Port Road.
Among the priorities he has identified protecting businesses' against possible rate hikes, a new road over Scribley-Leck, the retention of a specialist diabetic paediatric nurse at Letterkenny General Hospital, Child Psychology Services and SNA's in schools.
Mr Watson is also fighting to retain Protestant Schools under threat in rural parts of the country.
Speaking at the launch, Mr Waston said he was extremely proud of Letterkenny and what it has achieved against many obstacles over the years.
"It was this sense of pride that lead me to accepting the position as president of Letterkenny Chamber of Commerce in 2012.
"I served the Chamber well for two years and in that time I gained a lot of experience and knowledge of what we need to achieve for our town and indeed the wider area to prosper.
"I am on record saying that I believe the abolition of our town council is going to be detrimental to Letterkenny`s progress.
"I also believe that this move will be damaging to business and the wider community. We will lose control of many aspects of the day to day running of the services.
"But that decision has been made and we must now look to what we need to do to protect the future of Letterkenny and the smaller surrounding towns and villages.
"I believe we must elect strong voices to our new council. We must elect people who will demand that Letterkenny and its environs gets the resources it needs to progress and prosper.
Posted: 8:44 pm April 8, 2014