BY CHRIS MCNULTY
AS Copany Rovers gathered in the compact home dressing room at Killowan Park in Laghey in the moments before Sunday's crunch game against Raphoe Town, captain Thomas Given scrawled three characters on the inside of his left arm: 'AS 7'.
He passed a biro around the dressing room. Many of his team-mates did likewise.
Around two hours later, Given, clutching the Donegal League CT Ball Division Two cup, delivered a poignant address to a joyous crowd that had borne witness to Copany's first winning of a League title in twenty-three years.
In December 2012, former Copany Rovers captain Aaron Scott died by suicide. His passing hit hard. Scott, who had previously been on Finn Harps' books, was the soul of the party. He was an integral part of Copany's squad. Without him, their circle had been broken.
His number 7 shirt was retired, signed and presented by the club to his grief-stricken parents. Veteran defender Given, who has been with Copany since the club's formation in 1988, came up with the idea of writing his initials and the number 7 on his arm.
"It was there was a reference, just something to have a peek at when things were getting tough during the game, when we hit the wall," says the 43-year old.
"We had a lot of inspiration on Sunday, but Aaron was the big one."
Scott's brother-in-law, Nick Maskery, played at right-back on Sunday as Copany clinched the League title. Emotions ran high. As the celebrations began, Copany players posed behind a sign: 'Legend #7'
Nick and his wife Donna (Aaron's sister) are doing the Darkness into Light 5k run on May 10th in aid of Pieta House. Given and some of his team-mates will take part, carrying the 'Legend #7' sign.
"Aaron was a big part of the club and the team," says team manager Stephen Johnston.
"He was a huge loss to all of us. He was a big part of this season and a big part of this title. It was difficult. There was a lot of emotion before the game. There were a lot of things going on, but Aaron was the main catalyst for us. Aaron had been the captain of the club for a while."
Copany secured the draw they needed to win the title with David Graham's first-half goal helping them to a one-all draw, but not before being put under stern Raphoe pressure with Stephen Laird's late leveler making for a couple of nervy concluding minutes.
Liam Farren's final whistle brought out a couple of years of pent-up emotion for the club and completed a remarkable turnaround.
Twelve months ago, Copany were the Donegal League's bottom team in the Sunday divisions.
They ended the 2012/13 season with one win and only seven points. The rumour mill had it that they'd either join forces with a neighbouring club or permanently pull down the shutters.
But they circled the wagons and are now looking forward to the environs of Division 1.
"It has been a fantastic effort by the boys. It's all down to them, the players," Johnston says.
"It is the same pool of players that we had last season, by and large. The difference this year has been the commitment."
Johnston doubles up as the club secretary and was heavily involved in organising the 25th anniversary celebrations of a club formed by men like Denis McMullen and David Johnston in 1988. Given played in that first season and is still soldiering in the yellow and blue.
They put together a commemorative booklet and Finn Harps took a select over to play in a friendly.
"When the boys saw the book and all the records they maybe realised that it was time to step up," Given says.
"All of the activity around the celebrations for the 25th anniversary really got the boys focussed.
"There players were always at the club, but it was a matter of getting the focus and commitment sorted. Stephen managed to do that. The work he put in was just phenominal."
Earlier in the season Conal Rooney sustained a horrific leg break in a game against Convoy Arsenal. He, too, was part of an inspired tale on Sunday, as was Francie Johnston – the club's top scorer with 156 goals – who had jointly managed with his nephew, Stephen, last season until he took ill and had to take a step back.
This was Stephen's first full season in the hot-seat having had a previous stint as joint manager with Russell Gorman that brought promotion in 2008/09.
Johnston says: "We were relegated the following year, so we'll try and put that right next season. It will be a big step up for us, but we'll hope to learn lessons from the last time."
They lost just three League games all season, with Pauric Rooney and Glen Harron among their top players, while goalkeeper Stephen Doherty made what his captain called a 'title-winning save' on Sunday when defeat would've meant a play-off against Whitestrand.
Given, who is just eleven goals behind Francie Johnston's 156, is considering his options now after seeing another League title return to his beloved club. "I'm still going, but I don't know about the going strong," he says.
"I'm not too sure if I'll be there, but there's no reason the club can't get established in Division One and push on. Plenty of clubs have pushed on and we have a good squad of players here.
For the first time in around ten years, Copany are fielding underage teams and as Given saw on Sunday as he uncorked the biro there is a spirit that runs beyond the jersey but bonded by the crest.
Three characters, but from which they gained endless inspiration: The memory of 'AS 7' lives on.
Posted: 8:00 pm April 18, 2014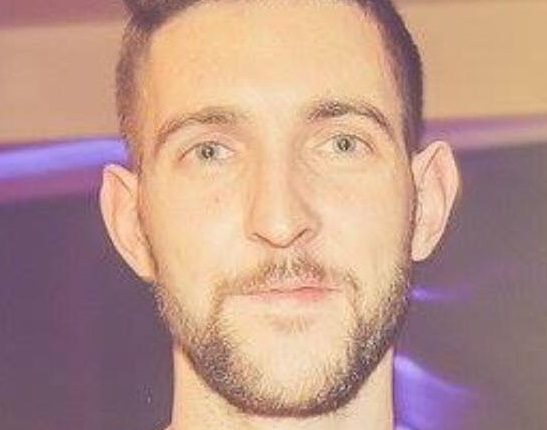 Christy Bogle gave us an insight into the Raphoe Town dressing room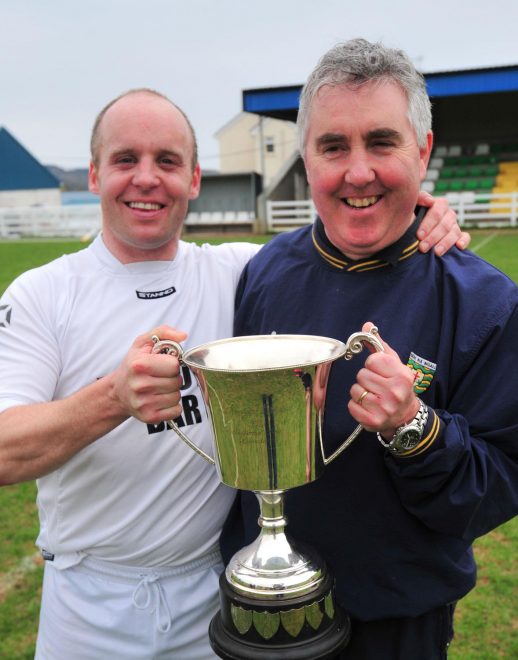 The Inver based club were unable to travel to play Gweedore United last weekend, resulting in a 3-0 win...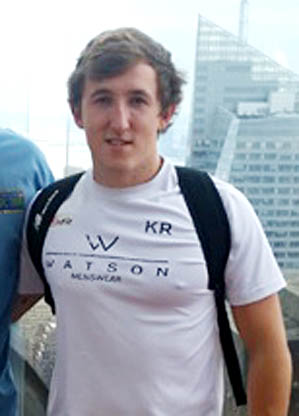 Gavin McBrearty gives us an insight into the Raphoe Town dressing room.