BY CHRIS MCNULTY
WITH Josh Mailey suspended following his red card against Shelbourne last week, Finn Harps manager Ollie Horgan will welcome on-loan striker Ruairi Keating back into his starting line-up when they face Wexford Youths at Finn Park on Friday night (kick-off 8pm).
Keating missed last week's two-nil defeat because of a suspension, but the Mayo native, on loan to Harps from Sligo Rovers, is available again and will take the place of Mailey in attack. Mailey made his first start of the campaign against Shels, operating in an unorthodox attacking position in the absence of Keating, Sean McCarron and Kevin McHugh.
Captain McHugh is still sidelined through a hamstring injury that has not cleared.
The veteran striker has not featured since the opening night scoreless draw against Waterford United and there is not yet a confirmed timeline on a return. McCarron will be sidelined for another month with a fractured cheekbone, but Horgan is expected to include new signing Caoimhin Bonner in his ranks this week.
The Derry native's international clearance has been processed by the FAI and now the 21-year-old former Derry City and Kilmarnock player will go into the squad for the Wexford game.
Bonner had been injured, but he has returned to full training within the last week. "He won't be far away," Horgan said.
"He may yet feature for us this week at some stage.
"He has shown he has  the qualities required to become a League of Ireland player. He has previously played at both centre-back and full-back so he offer us another option. Caoimhin has just turned 21, so if he buys into the standards we expect here, he can fulfil his undoubted potential at Finn Harps."
Packie Mailey will be fit for duty after suffering a couple of heavy hits last Friday in Dublin.
In making the challenge on Dylan Connolly for the first-half free kick scored by Gareth Coughlan, Mailey hurt an ankle. As if that wasn't bad enough, when the ball bulged out of the net after Coughlan cracked home, the frustrated Keith Cowan took a swing at the stray football, inadvertently smacking it square onto the face of Mailey.
"Looking at it, I just thought that he had damaged his foot making the tackle, but it was only after I saw it later on the video that I realised that he'd been whacked in the face by the ball," Horgan said.
"He wanted to play on and he's a brave, tough boy.
"His ankle was bruised and swollen, but he'll be ok to play on Friday."
Josh Mailey's sending off late on was compounded further when Shels netted a penalty through Keith Quinn after Cowan was adjudged to have fouled Connolly.
A first-half penalty miss from Michael Funston was a golden opportunity for Harps to get level, but they fell to their first defeat of the campaign.
"The penalty miss was of course disappointing but not a turning point," said Horgan.
"In fact we had much of the play after this miss in the second half but couldn't convert into goals.
"The three forwards out wasn't a help but at same time it wasn't an excuse. We still had enough chances to get something out of game.  Shelbourne took their chances and we have no complaint on the result as such."
The Harps boss has again urged caution ahead of the visit of in-form Wexford. Shane Keegan's team are second in the table and Horgan's network of people around the League have delivered some stern warnings to Finn Park.
"The word coming back to us is that Wexford are the fittest team and best organised team that a lot of sides have come up against," Horgan said.
"It took Shelbourne, for example, eighty-eight minutes to break them down. The feeling around the League is that Wexford will be there or thereabouts this season. This will be a very difficult test for us.
"They are a very physical side and then when you throw a player of Danny Furlon's calibre into the mix then you can see what we'll be up against.
"Someone asked me earlier in the week if this was a 'must win' game, but we aren't in a position to call any game 'must win' lest of all one against a side like Wexford Youths.
"When Shelbourne beat them, they got the first goal in the 88th minute and they broke away for a second well into injury time.
"We know what we're going to be facing here. This is the best squad that they have assembled and will take some beating."
This is Harps' only home game during the month of April and the club has launched a draw to help cover running costs for the period. Prizes are: 1st – €300, 2nd – €200, 3rd – €100. Harps can be contacted via the club office between 10-2pm mon-fri on 074-9130070 while tickets are also available online at www.finnharps.com
Posted: 8:30 am April 11, 2014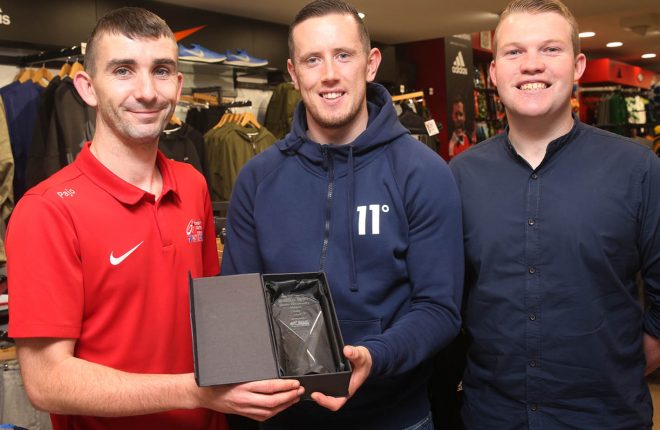 Gallagher was awarded the Donegal News Sports Personality of the Month award for July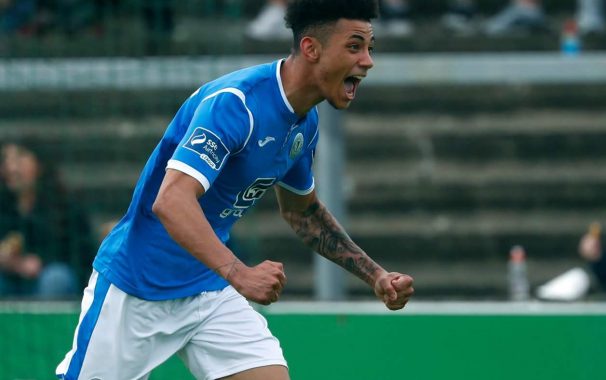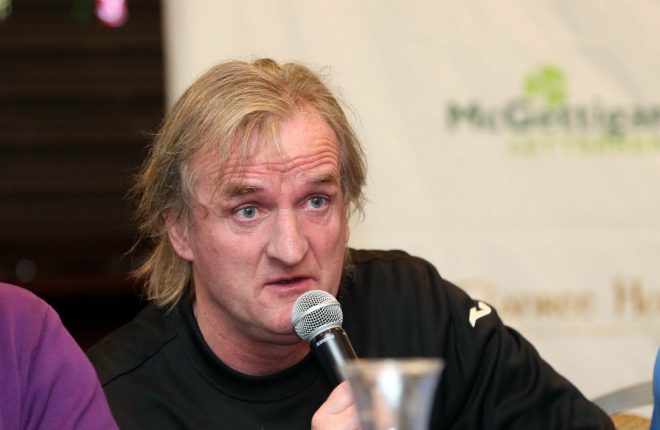 FINN Harps manager Ollie Horgan is wary of Galway United as they make their way to Ballybofey for a...