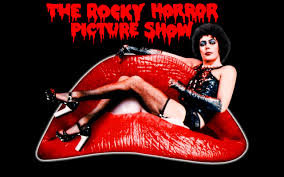 Lovers of the cult musical movie – the Rocky Horror Picture Show – are in for a treat this week when the Regional Cultural Centre in Letterkenny is transformed into a pop-up cinema showing the movie for one night only on Friday night!
The madcap movie – famous for the massive hit 'The Timewarp' – has a huge international cult following and audiences are usually well-prepared to get fully involved by dressing up as characters from the movie and joining in the fun.
"We're certainly encouraging people to get into costume and join in the fun on the night. It will be an interactive cinema experience and it is not something that anybody ever forgets in a hurry," said Lorraine Porter, captain of the Letterkenny Musical Society's Relay for Life team who are hosting Friday night's event.
She added: "We really wanted to do something musical and fun as one of our fundraisers and The Rocky Horror Picture Show certainly fits the bill. It is just one of those shows that lives long in the memory and we're hoping that as well as dressing up people will also bring props like water pistols and newspapers, flashlights and rubber gloves!"
The LMS team captain however did stress that tickets for Friday night's show (they cost €10 and it starts at 8pm) are strictly limited and she urged anyone interested to get in touch to book a ticket.
"The Regional Cultural Centre is going to be a superb venue for this but it does have a limited number of seats and while it's possible that there will be tickets on sale on the night, I'd really urge people to make sure they get their tickets in advance to ensure they get in. And let's face it, this is a one-off experience that you really don't want to be missing!"
Some tickets are available at the Regional Cultural Centre or you can pre-book by sending an e.mail to lmsrockyhorror@gmail.com
Posted: 5:56 pm April 9, 2014