ARMAGH 1-08 DONEGAL 2-10
Report by Chris McNulty at The Athletic Grounds
DONEGAL are back on the top rung again after two Michael Murphy goals saw them defeat Armagh at the Athletic Grounds.
Murphy netted in either half to confirm their passage back into Division One, with a Division Two final against Monaghan to come in three weeks' time for Jim McGuinness's side. For Armagh, the connotations of this result bring all sorts of problems home to roost, not least that they are heading for Division Three after a performance here that was well beneath what we'd come to expect from men wearing those orange shirts.
Donegal, with Rory Kavanagh once again outstanding in the middle of the park, didn't quite have it all their own way, but there was a clear distinction between the team taking the elevator to Division 1 and that headed below the watermark.
Aside from Jamie Clarke, who scored 1-1, Armagh didn't have an awful lot to trouble Donegal, although they were well in the game for the most part.
Donegal weren't at their fluent best, but with Kavanagh immense and with Karl Lacey giving his best performance in a Donegal shirt since the 2012 All-Ireland final, Donegal had built up an early lead that would stand them in good stead throughout the contest.
Murphy netted from a penalty in the 16th minute, but Clarke forced home just two minutes later. Donegal had the upper hand, 1-5 to 1-3, at half-time and when Murphy powered to the net just four minutes into the second half.
Donegal knew that avoiding defeat would ensure there was no need for the sums to be totted as regards their placings, but they were in no mood to hand around and they quickly asserted their mark on things.
Frank McGlynn returned from an injury to take the place of Declan Walsh again, while Neil Gallagher was restored to the midfield, with the big Glenswilly man included in the void left by a hamstring injury sustained by Mark McHugh in the week, for what was his first start of the League.
It was a landmark day for Colm McFadden, who was making his 148th appearance for the county, going out on his own in second in Donegal's all-time appearances list, the St Michael's man now only eleven games off Brian Roper's record of 159. McFadden's kicking was imperious again, hitting five points in all, two of them from frees in the opening six minutes.
Those placed balls by McFadden bookended a brace from Kavanagh, whose first was a well-worked score. Murphy fetched a long ball by Anthony Thompson and off-loaded for the in-rushing Kavanagh to point. A fabulous point by the St Eunan's man, 30 metres out and from a position not too far off the sideline, he arched over the black spot.
Kyle Carragher and Aaron Kernan got Armagh off the mark, but Donegal took a big step when they were awarded a penalty after McFadden was hauled down by Finian Moriarty. Murphy stepped forth and shot, right-footed, across himself into the bottom right-hand corner of Philip McEvoy's net.
However, Armagh responded just two minutes later. Clarke had been a peripheral figure up until then, but with his first purposeful touch of the ball the Crossmaglen ace blasted past Durcan after being set up by Kevin Dyas, who collected Kyle Carragher's long ball in.
A magnificent Clarke point announced Armagh's arrival into the contest, but McFadden curled over a free won by Lacey to give Donegal a two-point lead at the break.
Armagh came alive after Clarke signalled their intent. Donegal were thankful for Paul Durcan denying Stefan Campbell with a brilliant save after he was put in the clear by a clever pass by Clarke. Durcan narrowed the angles and made a strong save while the rebound was taken off Campbell's instep by Thompson.
As things stood at half-time, Armagh could feel relegation's cold finger tapping on their shoulders. Word filtered through that they state of play had them joining neighbours Louth in bidding Division 2 farewell.
Beforehand, Paul Grimley, their manager, could be heard firing his side up during the warm-up, talking to them about the importance of surviving in Division Two. Grimley went for the experienced heads. The old dogs for the hard road got the nod with Aaron Kernan in to make his first League start of the year, and the likes of Moriarty and Charlie Vernon called into combat.
Armagh started Gary McCooey on Murphy, but it quickly became apparent that he was in trouble and Vernon was moved in to shadow the Glenswilly giant. The pair had a good, old-fashioned tussle for the duration.
Tempers boiled when Armagh felt they should have been awarded a penalty on the half-hour mark as Eamon McGee appeared to have made a foot block to save a goal-bound shot by Campbell. When Fergal Kelly, the referee, shook his head at their appeals, the Longford official found his credit rating falling rapidly.  Kieran McGeeney, Paul Grimley's right-hand man, let his feelings be known to the official.
Donegal's second goal was route one at its best, with two kicks taking the ball right into the edge of the square for Michael Murphy to do as he does. After Tony Kernan scored a '45 for Armagh to bring them to within a point, Durcan's kick-out was plucked from the sky by the excellent Kavanagh, who drove direct and precisely into Murphy. After getting goal-side of Vernon, Murphy smashed past McEvoy.
Murphy was the provider again for a lovely score by Kavanagh, selling a dummy that had two Armagh men swinging flailing arms in the slipstream of the Donegal man.
Donegal introduced Patrick McBrearty and the Under-21 captain was on the mark with two wonder scores. McBrearty is pushing hard to win his place back in the starting XV again and his twenty minutes here will have done no harm. In the 56th minute, he reminded the attendance of his talents when he delightfully hit the target from distance and showed it was no fluke ten minutes later after being set up by the rampaging Neil McGee.
The fitting cherry was placed by McFadden, from a 45-metre effort from play that put the nail in it.
Armagh had valiantly attempted to stay in touch, but Donegal just had too much, with McFadden's point clinching a five-point win.
For the second time in three years Donegal have relegated Armagh, having sent them to Division 2 on the last day of the League season in 2012. That will surely have tasted sweet in many corners of Tir Chonaill, but equally as luscious is the prospect of Donegal's return to both Croke Park and Division One.
Mission accomplished.
ARMAGH: Philip McEvoy; Michael Murray, Gary McCooey (0-1), Andy Mallon; Aaron Kernan (0-1), Charlie Vernon, Finian Morriarty; Stephen Harold, Kieran Toner; Stephen Campbell, Kevin Dyas, Eugene McVerry; Jamie Clarke (1-1), Tony Kernan (0-3, 2f, 1 '45), Kyle Carragher (0-1). Subs: Aaron Findon for A.Kernan (49mins), Ethan Rafferty for Dyas (52 mins), Rory Grugan for McCooey (54 mins), Robbie Tasker (0-1) for Clarke (67 mins).
DONEGAL: Paul Durcan; Eamon McGee, Neil McGee, Karl Lacey; Frank McGlynn, Leo McLoone, Anthony Thompson; Rory Kavanagh (0-3), Neil Gallagher; Martin McElhinney, Christy Toye, Odhrán MacNiallais; Colm McFadden (0-5, 4f), Michael Murphy (2-0, 1pen), Dermot Molloy. Subs: Patrick McBrearty (0-2) for Gallagher (49 mins), David Walsh for Toye (56 mins), Ryan McHugh for Molloy (56 mins), Hugh McFadden for McElhinney (64 mins), Declan Walsh for David Walsh (72 mins, black card)
REFEREE: Fergal Kelly (Longford).
Posted: 9:10 pm April 6, 2014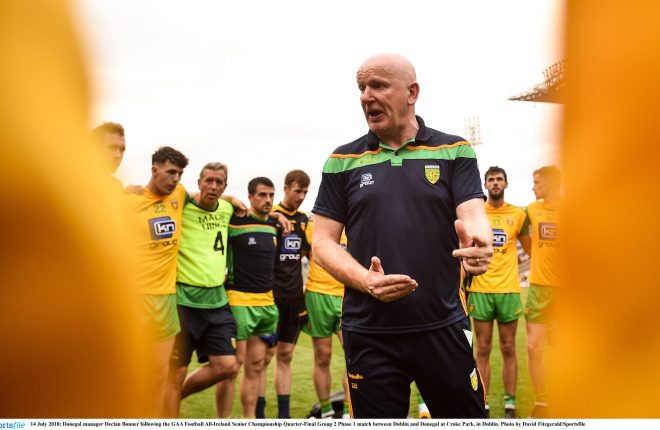 Donegal face Roscommon in Dr Hyde Park on Saturday at 5pm.