BY CHRIS MCNULTY
NEIL McGee is back on the building sites around Gaoth Dobhair this week, having returned from a week-long, warm-weather training camp with Donegal in the Algarve.
The surroundings are quite different as he heads off to work with Sean 'Nancy' Gallagher, the former Gaoth Dobhair manager.
Last week, the Atlantic lay peacefully next to the golden Portuguese beaches with Donegal spending their time living the life of professional sportsmen.
It was back to porridge for McGee this week. As the 2012 All-Star full-back went for his day's toil, the Atlantic's waves now swept high in over Bloody Foreland's rocks in a gentle reminder that he'd returned to the grindstone.
The week in the Algarve was Donegal's first training camp on foreign soil. In previous seasons, Carton House and Johnstown House were their preserve.
The next month could be a defining one in the tale of Jim McGuinness's team, with Sunday's Division Two League final against Monaghan coming four weeks out from the Ulster Championship clash with Derry.
"It was an enjoyable week, but it was tough work," McGee says of their week in the sun.
"We're only four weeks out from the Championship and it was ideal place to fine tune the preparation. We were training twice a day for six days so there was very little else to do, bar training and eating.
"We got through it well and it was probably noticeable that a lot of men came back and played well for the clubs at the weekend."
If 2013 wasn't quite an annus horribilis then it was a fair comedown from the dizzying, electrifying heights of 2012 when they planted Donegal's standard at the summit.
Now they stand at the foot of the mountain again and have been encouraged by the past four months. A defeat by Down and a draw against Meath were the blots on the copybook. A League campaign that provided as many questions as it did answers has gone down well within the confines of that tight circle.
"It's been a good League for us," McGee says.
"The League is really all about trial and error: Some things will work and others won't. It's about testing things out and seeing what suits. I mean, there's no point heading to try them out for the first time in the Championship.
"We were disappointed with the Louth game – conceding three goals just isn't like us at all. It was just more about errors than anything else. We pride ourselves on keeping goals out. But we've been trying to correct the things that went wrong that day.
"We're fairly happy how we've been going so far. We have some young lads coming through and the injured boys from last year are back again. Fitness is building nicely for us. We just need to put a big push on it now."
Donegal have only ever won four national titles at senior level: Their All-Ireland SFC's of 1992 and 2012; Division One in 2007; and Division Two in 2011.
Donegal lost Division One League finals in 1993, 1995 and 1996, while Louth defeated them in a Division Two final replay in 2006. McGee says Donegal must win to 'get the tails up for Championship', which looms ever-menacingly in the distance.
In '07, Donegal crashed and burned in the summer after winning Division 1, but in 2011 a Division Two final win over Laois gave them a kick to go and win a first Ulster title in nineteen years in a campaign that saw them reach the All-Ireland semi-finals.
"We were a bit naive in 2007," McGee says.
"We played Tyrone and sure we thought we were the best thing in the world. We beat Armagh after winning the League, but we got a wild reality check when Tyrone beat us. We thought we were cruising, but we got an a shock to the system come the summer.
"We won Division 2 in 2011 and that set us up nicely for the Championship. It lifted us, big time. That is the target again, to get buzzing for the Championship.
"The Tyrone game in the Championship was the real turning point in 2011, but the League final gave us a nudge in the right direction. It definitely got us started on the right footing.
"Everyone is well aware what this is about. We know that there is the bigger picture, but we can hardly turn our noses up at silverware, can we? We went long enough without winning a thing. Monaghan will be in the same boat, though. We'll try to win whatever we can. It could give us a big lift for the summer if we can win on Sunday."
This final sees Donegal return to the scene of where Mayo eased Tir Chonaill's fingers off Sam Maguire last August – 'Mayo were on fire and we weren't in the right state that day,' McGee reckons. The Donegal full-back can't wait to get back into headquarters.
"The plan is always to be in Croke Park come the August Bank Holiday weekend," he says.
"It'll be good for the young lads to get their first taste of playing in Croke Park and the surroundings. It's good for the rest of us, too: Sure, there's never a bad time to be heading to play in Croke Park. It's a great place to play in as a footballer. It's where you have to perform. It's where players are made."
Posted: 8:30 am April 25, 2014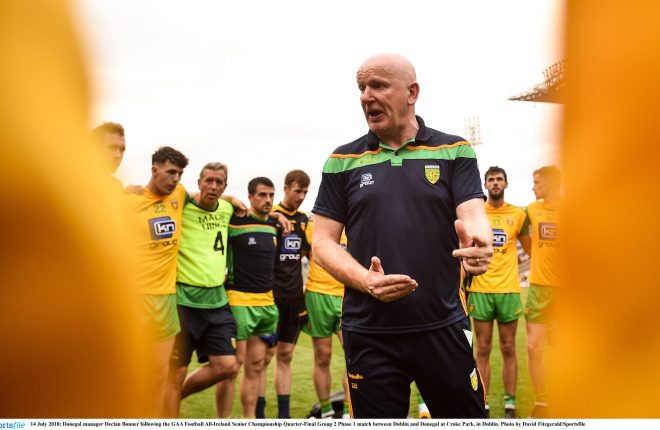 Donegal face Roscommon in Dr Hyde Park on Saturday at 5pm.