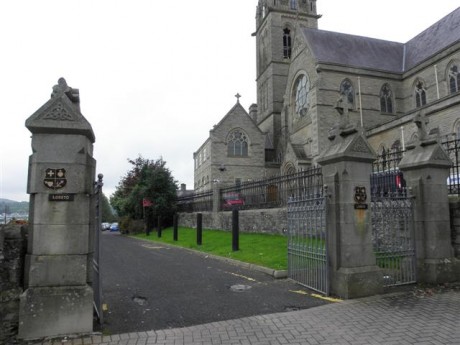 YOUNG people from Loreto Convent, Letterkenny have been shortlisted to contend for the prestigious title of "Young Social Innovators of the Year 2014".
The new title holders will be announced at the 13th Annual Showcase of Young Social Innovators supported by its official partner Vodafone Ireland Foundation.
The event, which will host up to a record breaking 6,000 young people, will take place at the Citywest Convention Centre on 7th May 2014. Loreto Convent's project entitled 'Donegal Cancer Care Bus – Don't stop the bus!' which is among 62 shortlisted for the title, looks at raising awareness for the service provided by the Donegal Cancer Bus.
This year over 380 social action projects were completed across Ireland by 6,000 young people who participated in Social Innovation ACTION projects, organised by Young Social Innovators. Social Innovation ACTION projects give young people the skills and know-how to examine social problems and bring about the changes they wish to see in their communities and wider society.
The projects addressed a range of social issues of concern to young people including cyber bullying, mental health, LGBT rights, homelessness, urban farming, the plight of the honey bee, human trafficking, racism, peace and reconciliation, respite care and alopecia to name a few. Last year the title 'Young Social Innovators of the Year 2013' was awarded to the YSI team "Organ Donation in Education" from Eureka Secondary School, Kells, Co Meath for their promotion of organ donation awareness amongst teenagers.
Over 75,000 young people have participated in YSI programmes and have undertaken more than 3,000 youth led social innovation projects since the organisation was founded in 2001. Young Social Innovators' aim, in conjunction with its official partner, the Vodafone Ireland Foundation, is to create 100,000 young social innovators by 2015.
Announcing the shortlist, Rachel Collier, Co-founder and Chief Executive, Young Social Innovators, said "These youth led social innovations address some real challenges we have today in Ireland. We are impressed by the standard and innovation achieved by young people this year. They show that Ireland's youth are innovating for the common good, they are not happy with the status quo and once given an opportunity, they themselves can play an active part in resolving some of our most pressing social issues. If anyone doubts the power of social innovation education, then they need to come to this year's Showcase to see these projects" she said.
"The Vodafone Ireland Foundation is very proud to be the Official Partner of Young Social Innovators. We're greatly impressed by the fresh perspectives young people are taking to social issues as well as the manner in which they have gained support for their initiatives, in some cases involving entire communities. Their creativity and resourcefulness are to be commended," said Natalie Hodgess, Vodafone Ireland Foundation.
In addition to its partnership with the Vodafone Ireland Foundation, Young Social Innovators is supported by its lead partner, the Department of Environment, Community and Local Government as well as World Wise Global Schools, the Department of Children and Youth Affairs, the HSE (NOSP & HPU), and the Department of Education and Skills. Additional support is received from the Department of Social Protection and the HSE Crisis Pregnancy Programme. It is also supported by members of its Company for Social Innovation Network including NTR Foundation, Sierra Support Services Group, AbbVie, and The Ireland Funds.
Posted: 12:47 pm April 10, 2014